The mobile web channel mainly applies to Nokia's Series 40 devices (i.e. not Symbian). As a result of the removal of the requirement to log-in, downloads significantly increased. The biggest increase was in India where downloads tripled. Series 40 devices now account for approximately a third of downloads from Ovi Store.
Nokia Developer News notes that:
Ovi Store daily download requests recently soared to 7.62 million, crossing the 7-million milestone for the first time and beating the previous record, set only few days earlier, by 840,000 downloads.
While daily download numbers will vary from day to day, it is safe to assume that the average daily download rate is now over 7 million. A rate of 7 million downloads a day rate annualises to 2.55 billion downloads a year.
The daily download rate has been growing steadily for the last two years, as illustrated in the charts below: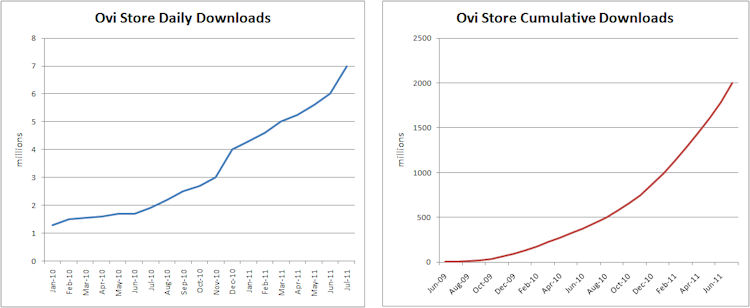 Ovi Store downloads up to July 2011
All About Symbian tracking numbers
All About Symbian's tracking estimates that there have been around 1.95 billion cumulative downloads from Ovi Store since it launched in June 2009. Of these, more than 1.5 billion have been in the last 12 months, and around 560 million in the last three months.
We estimate that Ovi Store will pass 2 billion cumulative downloads in August 2011 and 3 billion cumulative downloads by the end of the year.
See also our news story on Ovi Store passing 6 million downloads a day (June 2011), where we also made some comparisons with other app stores.