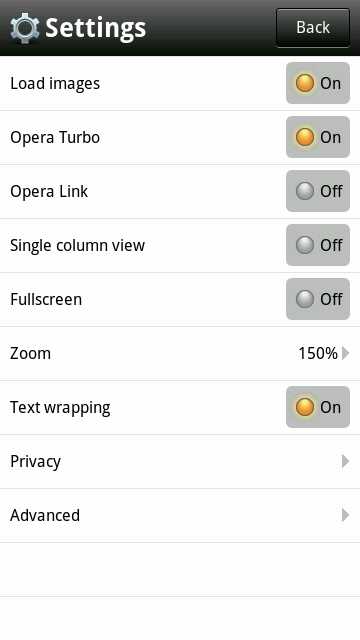 Changelog, from Opera's release page:
One field does it all

You can now type both web addresses and search queries in your browser's address field. Or, if you prefer, you can still use the search field with your favorite search engines.

Auto-suggest saves you typing

Suggestions from Google search and your browser history appear as soon as you begin typing. Select what you want, and you're done.

Address entry is finished for you

Domains such as .com, .org, or .net are added automatically when typing a URL. Now, they also learn more from the sites you visit—such as .gov, .edu, .co.uk or that of your country.

Easy and powerful text selection

When you want to select text, hold your finger on what you want. Handles appear around a word that allow you to select precisely. You can then copy the text or search with it.

Complex pages made simple

An option to have webpages laid out in a single-column view makes it easy to read large webpages with many parts on a small screen, without needing to scroll back and forth.

Opera Turbo, enhanced for speed

In Opera Mobile, you can enable Opera Turbo for a big boost in speed on slow connections and also lower your data use by up to 80%. We have taken Opera Turbo to the next level, making it significantly faster.
More HTML5 and web standards support

Also in Opera Mobile, CSS gradients and multiple columns are now supported. A rendering engine upgrade to Opera Presto 2.8.149 offers many enhancements and further support for HTML5, CSS and more.
In case you're confused as to which of the two browsers to install, I'd say install both. Opera Mini saves the most data and uses the least RAM by virtue of transcoding all web pages into a more efficient transmission stream, while Opera Mobile is more akin to a traditional web browser (albeit with some transcoding optimisations, which is where 'Opera Turbo' comes in.
The changes above all come on top of the existing benefits of the two Opera Mobile browsers, both offering responsive page navigation, speedy rendering, multi-touch zoom, multi-tab browsing, automatic text reflowing, and much more. Highly recommended.
Steve Litchfield, AAS, 30 June 2011