NB. Here's my original feature, from mid 2009 - allow me to quote a small section from it:
"Now, you're unlikely to be checking your email or editing a document in the full sun (unless you're a real workaholic!), but you are likely to want to see the screen to:
see who's calling you
see the image of the thing you're trying to photograph
see a map of where you are and where to go next
And so on. Over and over again, I believe that some manufacturers neglect to think about screen contrast in all conditions, with resulting poor choices in terms of technology and materials. "
As we try to do more and more on our smartphone, and especially as screen sizes increase, we need to actually read their displays. Some of the latest app trends include augmented reality, 720p 'HD' video capture and walking navigation, for example, all of which need you to see your phone's display very clearly while out and about.
But add in the full sun, not unknown even in the usually rain-soaked UK, and you've got a huge headache. And I just do not see why manufacturers continue to ignore this problem.
To prove the scale of the issue, I took a number of current 2010 (equivalent) devices, cranked up their screen brightness and brought them out into some direct June sunshine. I tried to photograph what my eyes were seeing as accurately as possible. In each case, I've cropped the photo to show a few icons from the device's main applications menu from the centre of the display.
In a very rough order of worst to best (the exact order being, arguably, subjective!):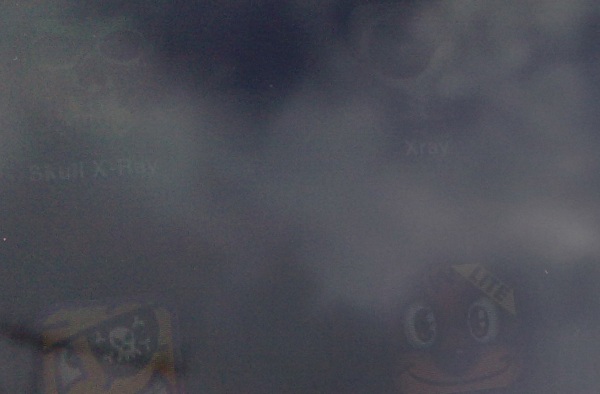 IPS TFT (this is the screen technology used in the Apple iPad and upcoming iPhone 4. The IPS bit stands for 'In-Plane-Switching' and refers to the way the liquid crystals are aligned parallel to the screen rather than perpendicular. The claimed advantages are wider angle of viewing and better colour accuracy, but, as we can see here, an IPS display is extremely hard to read in the sun)

TFT (the lowest common denominator in LCD displays, the TFT bit stands for "Thin Film Transistor". Advantages are low price and good brightness - indoors. Outdoors, it's a different story, as you can see above, modelled on the Motorola Milestone/Droid. A huge number of touchscreen phones and a smaller number of non-touch ones use TFT, including the Nokia N97 mini, Nokia X6, Nokia 5800, Samsung i8510, Motorola Milestone and almost all Windows Mobile handsets)

OLED (or, more usually, AMOLED, standing for (Active Matrix) Organic Light Emitting Diode, this technology is particularly interesting because it doesn't need a backlight, giving theoretical power savings - though see here - and because the colours emitted are particularly strong and vibrant - again, indoors. Take an OLED display out into the full sun and results are unfortunately similar to TFT and IPS displays. OLED screens are used in the Nokia N86, Nokia N85, Samsung i8910 HD, HTC Desire, Google Nexus One, among others, and - notably - the upcoming Nokia N8. Interestingly, there's a variant, 'Super AMOLED', which achieves better sunlight contrast by combining the capacitive touch and OLED layers - I've yet to see a Super AMOLED screen in person though)

Transflective with resistive touch layer (in this case on the Nokia N97, though the Sony Ericsson Satio also uses this screen. The 'transflective' term refers to a special polymer layer, the transflector, that both allows light through from behind (e.g. a backlight) and also reflects light coming from in front (e.g. the sun/natural light). Thus indoors you get good brightness from artificial power. Outdoors, the sun easily overpowers the backlight but it's not a problem since the sun's light is reflected back through the LCD, giving, if anything, better contrast. Great theory, but then if you want a resistive touchscreen as well, then the gel layers for this have to go on top and they'll significantly dull the transreflective properties. As here on the N97 screen. Contrast is better in sunlight than TFT, but only marginally.)

Transflective with black background (see above for the tech explanation. Modelled here on the Apple iPhone 3G, but also used in the 3GS and related products, like the iPod Touch. The iPhone is almost always used with a black theme, making the icons here harder to read than they should be, but trust me, the iPhone screen, with its capacitive touch layer, is about the best there is in sunlight)

Transflective with light background (modelled here on the Nokia N96, but transflective displays are also in just about every Nokia non-touch smartphone from the last 8 years [N76 and N93i excepted]. Having the light/white background gives maximum effect for the natural light to reflect back through the LCD and give great contrast.)
__________
Given the superiority of transflective displays, seemingly without any real disadvantages, it beggars belief that manufacturers continue to pump out devices which turn into mirrors when you leave your house in nice weather. The upcoming Nokia N8 uses OLED technology (not Super AMOLED) and the upcoming iPhone 4 uses IPS technology, so I fully expect to wander round with each, this summer, trying to shade the screen in order to be able to read their displays properly.
Or I could just pull out one of my many older non-touch Nokias (or a previous iPhone, to be fair) and see exactly where manufacturers keep going wrong my maps, my messages, my social networks. And enjoy some sunshine at the same time.
Steve Litchfield, All About Symbian, 9 June 2010