The announcement should help Nokia sell more phones because it means every Nokia Symbian phone can have a label on the box that says 'Comes with Navigation', without adding any extra (visible) cost. Providing free, voice-guided, turn-by-turn navigation, traffic information and travel guide functionality with global coverage is a very significant consumer draw, which other manufacturers will find difficult to match.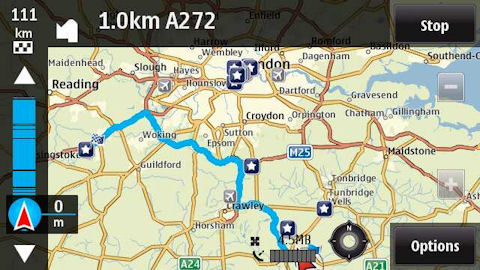 Previously Nokia was charging around £50 per region for one year of car navigation, and a further £16 for traffic information. Regular travellers were able to take advantage of short term licenses (typically £1.50 for a day or £6.00 for a week), but such costs could add up quickly, potentially costing several hundred pounds.
With ever increasing numbers of phone having integrated GPS, products from Tom Tom, Garmin and other stand-alone PND manufacturers were already in decline and this announcement is likely to hasten this trend. Standalone devices are likely, in time, to be restricted to specialist niches and high intensity users. For example, from tomorrow it will be possible to buy a Nokia 5230, which is available for around £100 on PAYG in the UK, and immediately have access to free GPS-based, real time, voice-guided, car and pedestrian navigation with global coverage. The cheapest standalone GPS units cost from £60-£100 (Tom Tom's entry level device is £99), but these typically only include maps for one country, do not include traffic information and (sometimes) do not allow for map updates.
Nokia's press release provides some interest context for the impact of this announcement. It quotes figures from research firm Canalys that suggest there were approximately 27 million people using GPS navigation on their mobile phones. With today's announcement, Nokia estimate that the potential size of this install user base grows 'overnight' to almost 50 million people. Canalys figures suggest that in 2009 the install base of smartphones with integrated GPS was 163 million, of which Nokia accounted for 51%, having shipped a total of 83 million GPS-equipped devices. Nokia will certainly add significantly to that total this year, with the majority of its Symbian phone portfolio now including GPS functionality.
"We want to make using your mobile for navigation as familiar as using it to send a text or take a picture. We believe that making the best maps with voice guided navigation available for free will be the catalyst to do this," explained Anssi Vanjoki, Executive Vice President, Nokia. "Why have a mobile phone and a separate car navigation system that works in only one country or region? Put the two together, make it free, make it global and you have something that is truly useful and can help you get round almost any city in the world whether you're on foot or driving."

"This is a game changing move. By leveraging our NAVTEQ acquisition we can now put a complete navigation system in the palm of your hand, wherever in the world you are, whenever you need it - and at no extra cost," continued Anssi Vanjoki. "By adding cameras at no extra cost to our phones we quickly became the biggest camera manufacturer in the world. The aim of the new Ovi Maps is to enable us to do the same for navigation."

Key features of Ovi Maps
Global navigation coverage - navigation functionality is available for 74 countries in 46 languages. Car navigation is via voice guidance with turn by turn directions and on-screen directions. Traffic information (congestion, safety [camera] warnings) is available in 10 countries. Pedestrian navigation is via on-screen prompts and a breadcrumb trail, which shows you where you have been and where you are going.

No hidden costs - all navigation, traffic information and travel guide information is free of charge for the lifetime of the smartphone. Although it should be noted that you may be charged for any data usage by your operator.


Hybrid technology - Maps and navigation routes can be downloaded over the air. However, maps can also be side-loaded via a PC and the navigation system still works even if there's no online connection (good for areas of low signal coverage o r when roaming). The maps are vector-based, which are less data intensive than bitmap-based maps typically used by other services.

Typical mapping and GPS navigation functionality includes: maps for 180 countries with 2D and 3D maps, satellite and terrain maps, saving of favourites and routes, powerful postcode-level search and points of interest database, context sensitive weather and local event information, and editorial travel content for more than 1,000 destinations with listings for sights, restaurants, hotels and more from Lonely Planet and Michelin.


Desktop sync - Sync with the PC, browser-based, Ovi Maps (maps.ovi.com), which allows you to transfer favourites (locations) and routes in both directions. PC browser compatibility: Windows (Internet Explorer 6, 7, 8 and Firefox 3, 3.5), Mac (Safari 3, 4).


Social sharing - Nokia's Lifecasting concept, which was previously available as a stand alone beta, has been added to the new version of Ovi Maps. It allows you share your current location, status and photos direct to Facebook.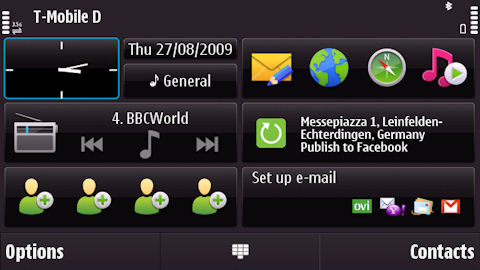 Social sharing from the homescreen (also available within Ovi Maps).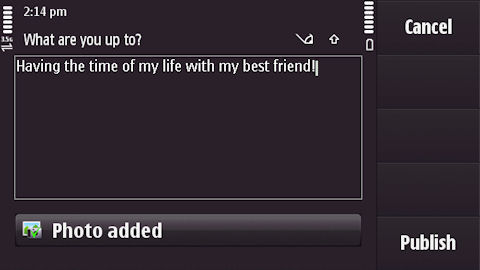 Status updates, with optional location information and attached photos, are sent directly to Facebook.

Download and compatible devices
The new version of Ovi Maps (3.3) is available to download from nokia.com/maps.
The initial list of compatible Nokia devices includes: the Nokia N97 mini, Nokia 5800 XpressMusic, Nokia 5800 Navigation Edition, Nokia E52, Nokia E55, Nokia E72, Nokia 5230, Nokia 6710 Navigator, Nokia 6730 classic and Nokia X6.
Further devices will follow over the next few weeks and months, following testing and customisation. (In particular, the Nokia N97 isn't supported because the Maps 3.3 installer needs (in the order of) 20MB free disk space on C: and this would present problems for many users - a workaround is apparently coming in a week or so, possibly in the form of building Maps 3.3 into the firmware itself, eliminating the need for a separate download)
From March 2010, new GPS-enabled Nokia devices will include the new version of Ovi Maps and will be pre-loaded with local country maps. Additional maps can, of course, be side-loaded via Nokia Map Updater/Loader on both Windows and Mac desktops.
For those of you didn't know it seems Steve may be a little psychic. [or maybe this is proof that Nokia listens to me after all? - Ed]
Strategic implications (or Ovi Maps ecosystem is a 'chicken' for LBS)
Nokia's decision to make Ovi Maps free for consumer usage it is also a major strategic move against Google's (and, to a lesser extent Microsoft's) mapping services and products. On one level, this is about a consumer navigation proposition, but it is clear that both companies intend to build ecosystems on top of their mapping products, which will open up new revenue streams.
Google has a clear advantage in advertising services and technology. On the other hand, Nokia's control of Navteq, which it acquired in 2007, gives Nokia unparalleled access to the building blocks of location data. Google's web-based Maps product (for the PC) is more mature and much more widely used than the equivalent Ovi Maps web product. However, the PC will likely be only a bit part player, the real action will be happening on mobile devices.
Google has developed a number of its own mobile services (Latitude, Layers) on top of its basic mapping product and more are likely to follow. Nokia is a step ahead of Google in building an open ecosystem around its mapping services. The flexible and technically sophisticated 'apps on maps' platform (Ovi Developer SDK), which is built on web technologies and allows third party developers (e.g. Ground Guidance) to build apps and services on top of Ovi Maps (both inside and outside the Ovi Maps mobile application), has been under development for the last year. Services and apps utilising this technology will likely appear in the next major Ovi Maps update.
In giving away navigation services to consumers, Nokia will be giving up substantial revenue potential. However, they will grow their installed user base much more quickly and, given their market share, are almost certain to become the dominant GPS-based navigation service provider. This user base will make the Ovi Maps platform look very attractive to any developer looking to build contextual, location aware services or applications. Furthermore, consumer GPS navigation revenue looks very small next to located-based service revenue as a whole. Thus the announcement might be seen as the first move in the race to next generation of the location based service revenue.
Location-based services have been 'the next big thing' in mobile for the last ten years. Hype has certainly been a significant issue, as have various technical obstacles, but it has also been a chicken and egg problem. However, with the evolution of the Ovi Maps offering and its associated ecosystem tools, Nokia is, perhaps, creating that much needed chicken...
Rafe Blandford, All About Symbian, 21st Jan 2010
PS. Here's Nokia's launch video for the free version of Ovi Maps: