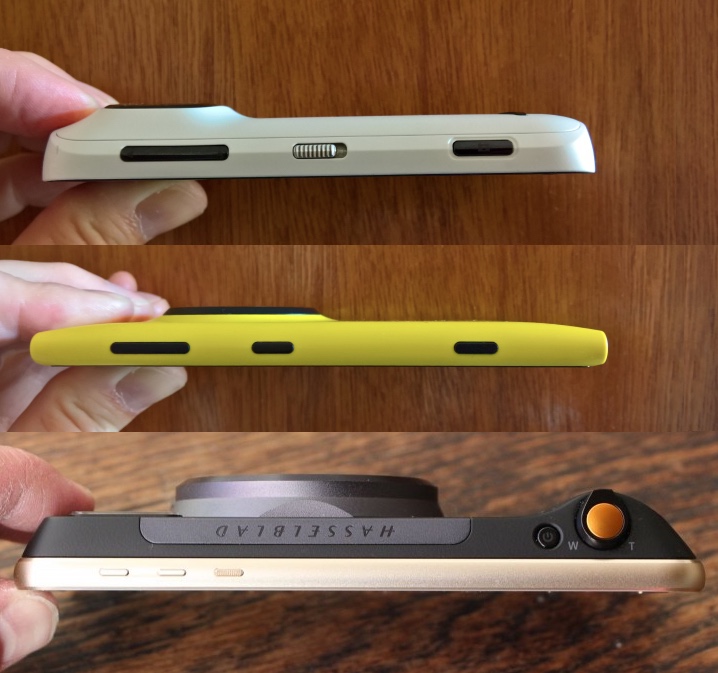 From PhoneScoop's coverage:
First, the True Zoom is not an independent camera. You cannot use it without a Z Droid; it has no battery of its own and needs power from the Z Play. That's kind of a bummer. The True Zoom completely covers the phone's camera, where other mods leave the camera exposed. That means when the True Zoom is attached to the Z Play, you're using the True Zoom and not the internal camera to take pictures. Ironically, the True Zoom is about the same size as an independent camera.

It snaps onto the back of the Z Play like any other mod. It fits firmly and won't fall off, despite its weight. Yeah, this thing is heavy. I don't have an actual number, but the phone+camera is weighty — and bulky — as hell. In fact, the combo was too big for my jeans. The added physical controls might be worth the bulk.

The Hasselblad has its own shutter button, zoom dial, and power button. Pressing the power button turns on the camera and wakes the Z Play. Alternately, you can wake the camera directly from the app or the writ-twisting gesture common to Motorola phones. I love having the zoom dial and two-stage shutter button to focus and snap the shutter.

The True Zoom has its own 12-megapixel sensor and xenon flash. The flash is hella bright, and images are automatically stored in the phone, not somewhere in the camera.

What are the benefits of this mod? There are several. First, 10x optical zoom. You get the benefit of glass to help in and in so doing retain all the pixels of the image. Second, optical image stabilization. This helps reduce shake. The flash is much brighter than any available on a smartphone. Last,it can capture images in RAW format, which aids in editing after the fact.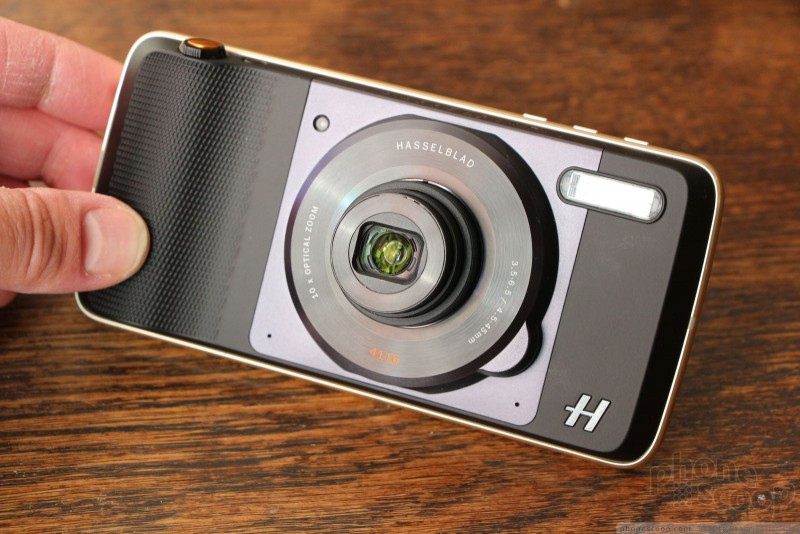 Which all sounds interesting, with the caveat that the snapped-on Mod is pretty huge - think a Lumia 1020 with the official DSLR Grip clipped on. Plus, as you'll see from Michael Fisher's hands-on below, the True Zoom mod is also incredibly slow at focussing, almost unusably slow - probably a byproduct of having to use the phone's CPU to do most of the contrast-based auto-focus, I suspect, and this through a pogo-pin interface. Let's hope that software updates can improve things.
See the last section of Michael's review here:
It's all a tiny bit underwhelming, we wouldn't expect sub-Lumia 1020 focussing performance in 2016 tech. Even though Xenon fans will be waiting to see my own verdict on this when review loan hardware becomes available.
PS. Here are the official specs of the Hasselblad True Zoom, is it wrong of me to say that I'd still much rather have a Lumia 1020, with much larger sensor, full OIS when shooting video?
Dimensions

152.3 x 72.9 x 9.0 - 15.1 mm

Weight

145g

Sensor resolution

12MP

Video resolution

1080p Full HD at 30fps

Mics

2

Sensor type

BSI CMOS

Sensor size

1/2.3-inch

Pixel size

1.55 um

Aperture

f3.5-6.5

Zoom

10x optical/4x digital

Focal length

4.5-45 mm (25-250mm 35mm equivalent)

Macro

5cm @1x - 1.5m @10x

Flash

Xenon flash

Flash modes

Auto, on, off

Image stabilization

Still: OIS Video: EIS

ISO equivalent

Auto, 100, 200, 400, 800, 1600, 3200

Capture modes

Photo, panorama, video, professional, night landscape, night portrait, sports, day landscape, back light portrait

Focus modes

Manual focus: select focus ROI Focus lock

Pro mode

Focus, white balance, f-stop, ISO, exposure

Red eye reduction

Auto

File format

Still: JPG, DNG (RAW) Video: MPEG4

Carrying case

Included