From Garry's illustrated piece:



I took some pictures of the Zenfone Zoom through the perspex and then I asked if I could hold the device. I was, but I couldn't turn it on as the software was not complete. I was glad I asked as when you are holding this you can feel the quality of the fit and finish that Asus have worked into the phone.
Here are some of the specifications:

2.3GHz GHz 64-Bit Intel Atom Z3580 Quad Core Processor
2GB/4GB LPDDR3 RAM
5.5 inch 1080p Display
Dual Micro SIM
13MP Camera with 3X Optical Zoom Laser Auto-Focus and Dual-Color Real Tone Flash
5MP Front Camera
GPRS, 3G, 4G
WiFi 802.11ac
3000mAh Battery
158.9×78.84×11.95 mm
185 g
Android 5.0 at launch
You can see all of Garry's photos in the full article.
The smartphone side of things is decent enough, though not exactly cutting edge - but then this thing was announced back at MWC 2015, nine months ago! And it still isn't even in demonstrable form, making even Microsoft's development timescales look speedy!
The camera's optical zoom is mounted transversely, with a dual prism arrangement meaning that the sensor itself can still be in the plane of the smartphone body, but the lengthy zoom optics can stretch out too.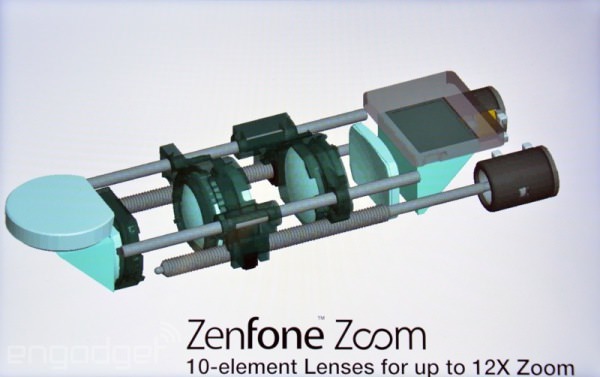 It's a very interesting idea, though the biggest problem with optical zooms in phones - as Nokia found when it started the whole, alternative, PureView zoom system - is that zooming in reduces the effective aperture, i.e. letting in less light. Add in the sheer number of optical elements (including two prisms here!) and you have a recipe for a camera phone which performs badly in low light if you zoom in, rather restricting the use case for buying something so specialist.
Of course, you can tell a real camera champion in the phone world by the presence of Xenon flash. Oops, it's just LED here.
So, interesting overall, but perhaps not the 1020 and 808 replacement that many have been looking for?