Here's screenshot proof: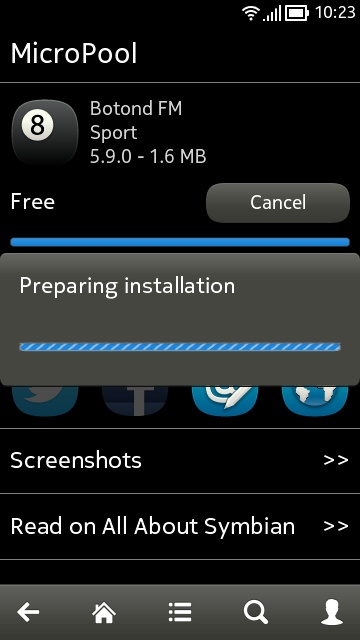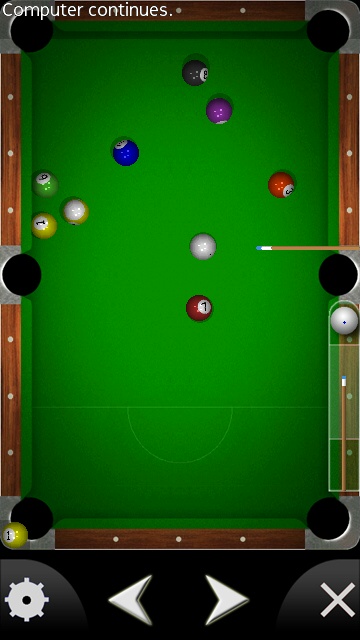 From the AppList description:
MicroPool is an award winning pool simulator. The key strength of Micro pool are great atmosphere, realistic graphics and sounds. The extremely fast loading time and the convenient user interface makes it a good companion for your free time.

Features:
- 4 pool games (8-Ball, 9-Ball, Killer and Speed)
- 3 tables
- Adjustable opponent strength for beginners and pros
- Wonderfully simple user interface

And here's part of my original review:
But let's not get too negative. Micropool is smoothly and beautifully animated, with crisp sound effects, realistic gameplay and it behaves impeccably when put into the background under Symbian OS - Botond FM really have game behaviour mastered - many is the time I've realised after a day or two that I still had Micropool sitting patiently in the background waiting for me to take my shot - without having had ANY effect on processor load or battery life. In fact, even leaving the game in the foreground pops up a message after a bit to announce that it's going to turn the display off and let the OS dim the screen in the usual way, to save power. Very nicely done.

In a theme that I'm going to come back to in an editorial, Micropool is also one of those game titles which effectively have infinite game play - no two games are ever the same, partly explaining why I've not only become addicted to the title, I also never get tired of it. There's always a new frame to win, a new pattern of balls to weave and blast my way through.

If you only ever download one pool game for Symbian (there are several) then grab Micropool (which has been 'on sale' now for two years!) - it's the best of the bunch by far.
Hopefully the AppList Store is working out for you all. See here just in case you haven't already got this installed or if this is new to you. Also, if you have custom firmware installed, make sure you tick the option in settings to show 'unsigned' applications, you'll see extra applications!