Here's the email, anyway:
Dear Nokia mobile phone customer,

We wanted to let you know of important changes affecting people who use Nokia Sync on Nokia Series 40, N9 and Symbian phones. Nokia Sync is the service that synchronises your contacts, calendar appointments and notes between your phone and the cloud.

We are planning to discontinue the Nokia Sync service on 5 December 2014. After 5 December 2014, you will not be able to access your data through the Nokia Sync service. We strongly encourage you to export and/or migrate your data from the service before this date.

Beginning today, you can use the following options to ensure you can continue to access your data. This includes the option to export your data so it can be imported into other services, or migrate your data to secure, cloud-based services from Microsoft.

Option 1: Export
Option 2: Migrate

In the interest of information privacy, all data that is stored in Nokia Sync will be destroyed following termination of the Nokia Sync service.

We apologize for any inconvenience this may cause. If you have any further questions, please see our CARE support site CARE Nokia Sync.

The two links provided are actually quite useful. The first (after signing in) lets you download a standard .csv delimited text file of contacts, for re-import somewhere else, while the migration tool leads directly into a Microsoft/Live/Outlook account and is of obvious interest to anyone switching from a Nokia Sync-ed Symbian phone to a Windows Phone.
To be honest, I'm surprised the service lasted this long, and well done to all concerned for providing two useful exit strategies.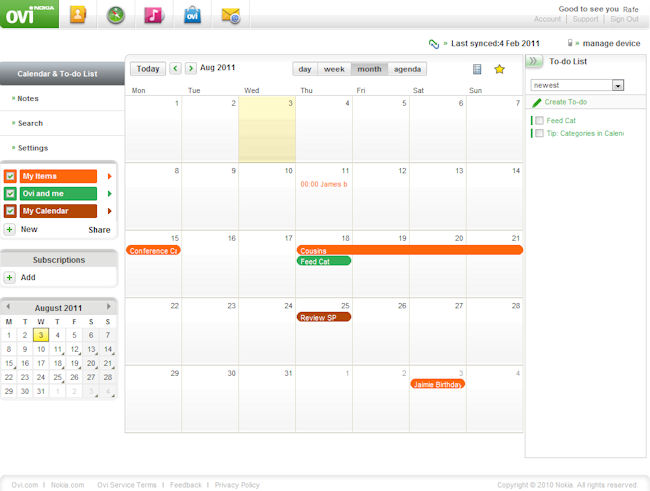 From back in the day, Ovi Calendar, which used to sync to a S60 phone's on-device calendar....