The all pervasive 'app store' environment in the mobile world in the last few years is going to have to give way, to some extent, to more direct contact between end user and developer - at least if both want to liase in terms of updates. It's interesting to see Harald quote, on each purchase page:
Purchasing apps directly on our website instead of in app stores has several advantages:

More payment options including Paypal and wire transfer
You own the installation file and do not rely on the app store's availability
No internet connection is necessary during installation
The big one here, for me, is emboldened above. Although Harald asks for your phone's IMEI during the purchase price, this is almost certainly just for his records and the SIS installation file is generic. Essentially, should you have to reset your Symbian device in the future or replace it altogether, you'll have this SIS file archived and can re-install directly. With no reliance whatsoever on an abandoned manufacturer application store.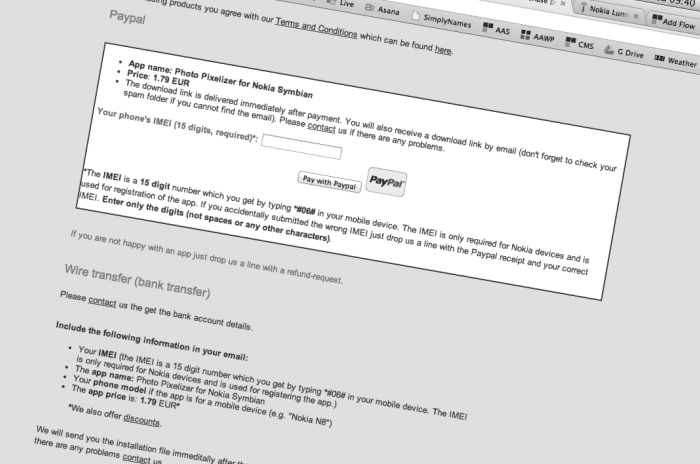 Also important to some may be Paypal handling - this should be just as convenient as paying through a credit card in the Nokia Store, and there's the benefit to the developer or getting a lot more of the purchase price than was the case with Nokia Store transactions.
The downside of going 'DIY' in this way, of course, is that there's less chance of end users discovering one's applications in the first place - which is why curated application directories like this may become more important as time goes on.
Comments welcome on this way of discovering, buying and archiving Symbian applications.
For reference, here's Harald's current list of Symbian applications:
| App Name | Download / Purchase |
| --- | --- |
| | Download and Purchase information |
| | Download and Purchase information |
| | Download and Purchase information |
| | Download and Purchase information |
| | Download and Purchase information |
| | Download and Purchase information |
| | Download and Purchase information |
| | Download and Purchase information |
| | Download and Purchase information |
| | Download and Purchase information |
| | Download and Purchase information |
| | Download and Purchase information |
| | Download and Purchase information |
| | Download and Purchase information |
| | Download and Purchase information |
| | Download and Purchase information |
| | Download and Purchase information |
| | Download and Purchase information |
| | Download and Purchase information |