There are no huge surprises at this point, we're looking at something in the Lumia 920 form factor but with a large circular raised area on the device's back, to house the twin capacitors driving the full strength Xenon flash, plus the flash itself and a large camera body, probably the same 1/1.2" unit as in the 2012 Symbian-powered Nokia 808 (judging by the teaser claims coming from Nokia ahead of next week's event). It's not clear yet whether 'PureView phase 2' (i.e. optical image stabilisation) will also be present. The lens assembly in the 808 is significantly larger than that in the likes of the 920 (and other modern smartphones) and I'd imagine there are engineering issues with actively driving such a large optical assembly at the high frequencies needed. But I'd love to be proved wrong!
Here are the two press shots, side by side (from evleaks):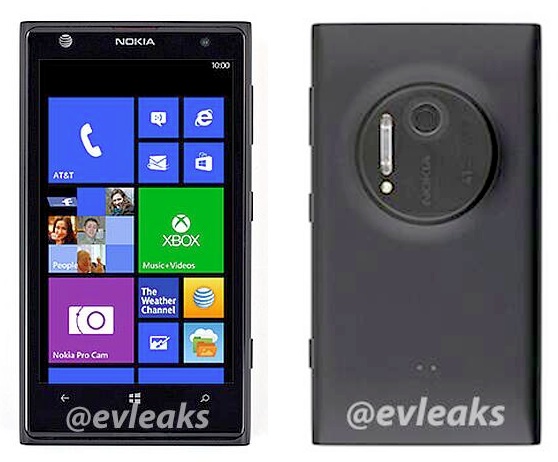 Also notable from the (alleged, downsampled) press shots are that Nokia has programmed a new Camera application, 'Pro Cam', almost certainly to allow the user the same level of control as on the current Nokia 808 PureView, with control of everything from ISO to ND filter to sharpness, saturation, and more. Plus support for PureView zooming, probably using the same swipe system as on the 808.
In addition, there are the two charging dots on the bottom of the back, indicating that the innards are going to be similar to the 925, i.e. without wireless charging, but relying on a clip on cover for Qi charging if the user wants this.
Next week is shaping up nicely, don't you think? I wonder what else will be 'leaked' out in such controlled fashion before the 11th?
Although the shots here are for AT&T, I'm sure the device (rumoured to be the 'Lumia 1020' or 'Lumia 909', according to who you believe) will be made available to most other major markets, since this (like the 808 PureView) will be a groundbreaking device in several ways.