Over to Marc:
I was getting pretty frustrated by the fact that I never could manage to get a good (not even reasonable) shot from the full moon, and after sharing my frustration on Twitter, I almost directly received a fantastic tip from @Massis_ about which settings to use.

If you don't know what you're doing, you'll get a result like this – it could be a lamp post on a foggy night.

Seeing this, you'll understand why I was disappointed. This evening I got the tip to use these settings:

- Nokia 808 PureView in Creative mode
- choose full resolution in 4:3 for 38MP resolution
- put ISO on 50
- ND and Flash ON
- Exposure on -4 (that's minus!)
- don't forget to choose 'infinity'!

This is the crop from the very first result I got from these settings – and I didn't even use a tripod (but rested my hand on the balcony).
Aha! A great example of lateral thinking, to deliberately snap the moon with flash turned on! The idea here is that the phone reduces the exposure time drastically (down to around 1/100th of a second) because it knows the flash has been fired. Otherwise you get much too much light, as shown at the top.
The 'infinity' reference is because there's nothing to really focus on (in terms of contrast), so you have to long press on the 808's screen and pick from the various focus modes. This avoids the usual low light 'what the heck do I focus on' issues....
As luck would have it, it was a full moon yesterday here last night, so I braved sub-zero temperatures and had a go myself: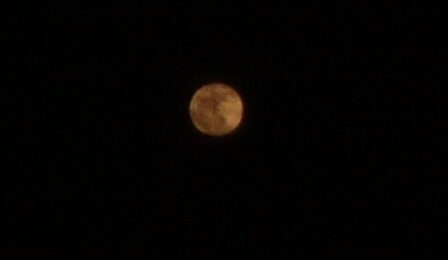 Hmm.... not as clear as Marc's attempt. And I think I know a few things that I might have done wrong:
The instructions said to use 38MP mode, i.e. the sensor at its native resolution. I tried to second guess this and used the PureView zoom all the way, figuring that this effectively amounted to the same thing, i.e. using sensor pixels 1:1. Maybe involving the PureView processing at all has a detrimental effect?
In an attempt to reduce hand shake, I was resting the 808 on the edge of a garage roof, but I'd forgotten that the forced Xenon flash would bounce some light off the roof below and back into the sensor. I would have done better to find a flat and hard edge with nothing beneath it, I think.
In addition, having grabbed the shot, I should have checked it immediately, found it was a little dark and fuzzy and gone out to try again. By the time I realised that it wasn't perfect, clouds had crept across the sky....
The forecast isn't bad for night time snapping today and tomorrow though... How about other 808 PureView owners pop out and try the settings above on the moon in the next few days? Post your (cropped) results below and let's see how well the 808 can do!