The Nokia N95 is an impressive device, and one that is set to become the top high end smartphone for 2007. What impresses about the N95 is that so many features have been packed into a relatively small device. Within a device little bigger than the N73 is a 5 megapixel camera (with VGA video capture too), connectivity options galore (USB, Infrared, Bluetooth, GSM, WCDMA, HSDPA and WLAN), integrated GPS, 150MB of internal memory (expandable via a microSD slot), and a feature packed and application laden software platfrom - S60 3rd Edition Feature Pack 1. But what's it really like to use? Here are some first impressions.

On picking up the N95 for the first time, it is evident that this is a smartphone that has gone a diet compared to some of its predecessors. It is light in the hand and, as is typical of slider phones, has short stubby dimensions. The N95 manages to fall into the camp of phones that feel smaller than their dimensions suggest. Compared to both the N80 and N93, the N95 feels considerably smaller. It compares favourably with the Nokia N73 (it's shorter, but slightly wider). There's a large 2.6 inch screen which looks absolutely great, below this are the main control keys. First impressions are that these keys are well laid out and easy to use. The big S60 application key is particularly good. A quick push on the bottom of the device pushes the screen up to reveal the full keypad. Each row of keys is on its own ridge and there is good tactile feedback. They feel a little cramped after the large keypad on the N93, but are a big improvement over the N73's and N80's keypads.

On either side of the device there are speakers. These produce surprisingly good stereo sound - certainly giving some of the best speaker-only audio output I have heard on a phone. The left hand side also houses a 3.5mm audio jack. It really is good to see Nokia adopting standard jacks like this. In the box a remote control / microphone unit is supplied, which means it is still possible to use the phone in hands-free mode. There is also a microSD card slot, which takes card up to 2GB in size. On the right hand side of the device there are various keys used in conjunction with the camera (capture, gallery and zoom).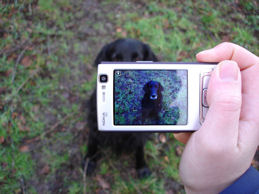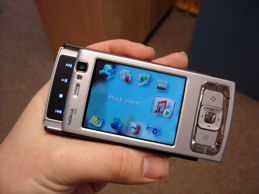 N95 in camera mode and N95 with music keys slide open. Click through for full size images.

The camera, which is 5 megapixels and uses Carl Zeiss optics, is on the back of the device and is accompanied by a 'ring-slider' which open and closes the shutter. Opening the shutter activates the camera application. To take pictures, the phone is held horizontally with the screen used as a view finder, as on the N73. In this mode, the capture key is on the top right of the device. This means the N95 is used in the same way as most point and shoot digital cameras, and it captures this experience more closely than its predecessors. The camera application has a number of extras, camera options now include 4 ISO settings, contrast and sharpness adjustment, and an enhanced burst mode (now with gaps of up to 15 minutes).
The GPS functionality is the major addition to the N95 and marks a step forward for convergence. The onboard software is the key to this. The new Maps application allows you to browse around maps (which are downloaded onto your device over the air) in 2D or 3D and do route planning. The map coverage varies by country, but many places are covered down to street level. The software includes the ability to find addresses and location by street name, location and postcode. The onboard GPS allows you to jump to your current location and track yourself as you go. Automatic turn by turn voice instructions are a premium service that can be upgraded to from the handset (other premium services include city guides), but basic route planning and tracking (i.e. manually stepping through the route) are free.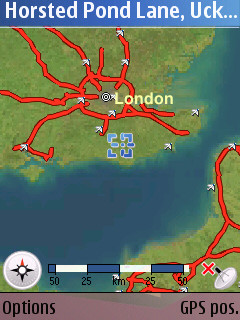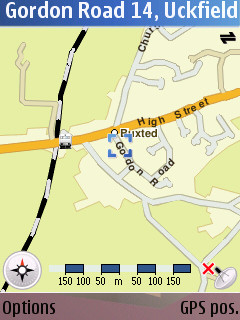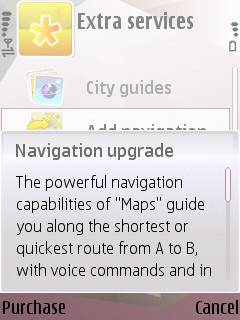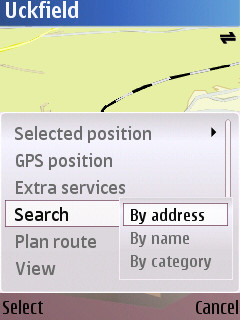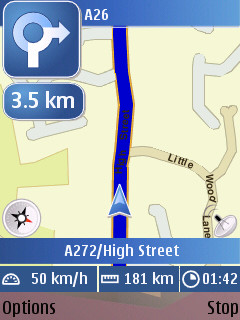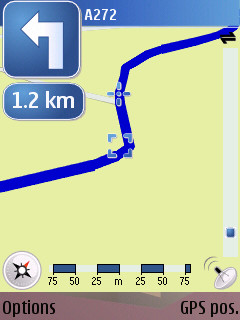 Other features include finding the nearest location in a certain category from a Point Of Information database (e.g. finding your nearest public transport station), storing landmarks (favourite locations), and switching to night colours. Maps is a very impressive application, which we will be covering in more detail later. In use, I found the GPS took a few minutes to 'lock on' when inside (next to a window) from a cold start; outside it was much quicker, as expected, and soft starts were faster still (a matter of a few seconds). A subjective first impression suggests the N95 has similar capabilities to SIRF II GPS chipsets. As with any GPS, performance will vary on your location and degree of visibility of satellites.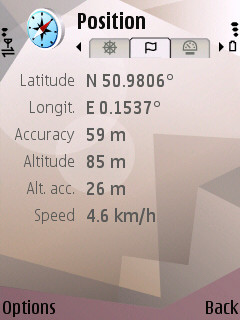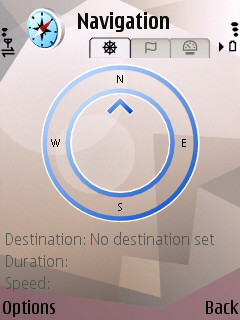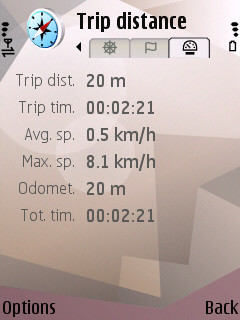 Pulling down from the top of the device reveals the N95's second slider, this time for multimedia controls. These include forward, back, stop and pause play. These buttons control the Music Player application (or will start it, if it is not already open). In this mode, the N95's screen switches into landscape and stays that way (notably including in slid-closed mode) until you open up the keypad again. In landscape mode, the N95 feels like a 'pad' like device and much of its functionality, such as web browsing and viewing multimedia, works best in this orientation. The control keys remain comfortable to use and I think that use in this mode is one of the N95's less obvious assets.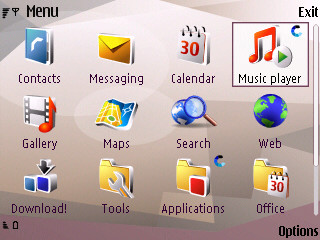 The N95 retains and adds to the multimedia capabilities of previous Nseries devices. A new way to access these is provided by a redesigned menu, accessed by pressing the multimedia key. This carousel-like launcher is fully customisable - you can add or remove applications, bookmarks and radio presets. Music Player, Visual Radio and Real Player are used to playback music, listen to FM radio and watch video respectively.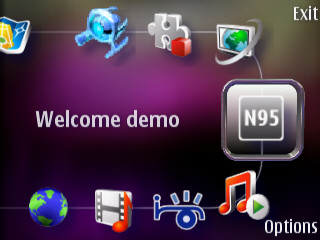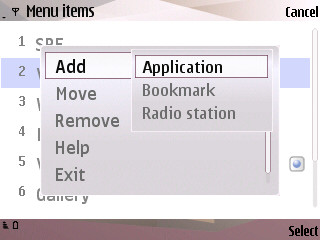 Audio output via the audio jack is excellent, and the N95 now has the option to stream stereo music over Bluetooth (A2DP). However, for video, the N95 has an extra trick up its sleeve in the form of a new application called Video Centre. This gives easy access to videos from various online sources. By default there are two services available - Nseries (various Nokia themed videos) and Internet videos. The latter is essentially an RSS videocatcher, it allows the downloads of video via RSS feeds with enclosures. Thus any video source that provides RSS feeds can be used in this section provided the format is supported by the N95. For example you can add the AAS videocast feed here and download them direct to the phone. I'm sure in time more services will be added. I imagine Nokia are talking to video providers like YouTube and Blip.tv as you read this.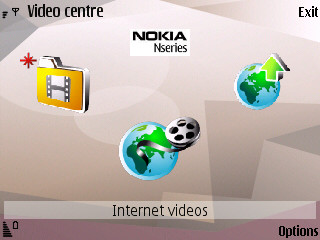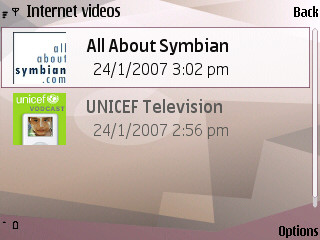 The N95 runs S60 3rd Edition Feature Pack 1. This is the latest version of the S60 software platform, and although only a relatively minor update compared to the changes between 'Editions', still manages to add a number of new features. There is a new version of S60 browser than combines Services and Web into one application and adds a number of new features, including improved RSS and Flash Lite support and a quick access toolbar. There is also support for more Bluetooth profiles (including the aforementioned A2DP stereo audio profile), while SIP functionality (for VoIP) becomes a standard part of the platform. There have been a number of UI changes too, these include a notification graphic over the icons of applications that are open, more application layout options (accessed via an extended Themes application) and a redesigned and reordered Settings application (hoorah!).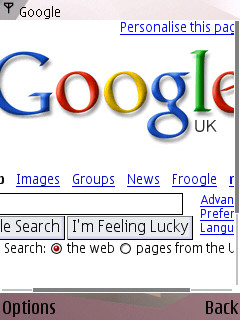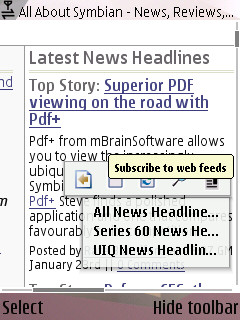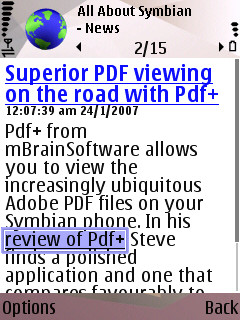 I have only scratched the surface here, the N95, more than any other smartphone that has gone before, is a truly feature packed device. Over the next few weeks we will be featuring different aspects of the N95 and will have a full review in due course. If you have any questions you would like answered please let us know (via the contact form or the comment thread).
Rafe Blandford, All About Symbian, 25th Jan 2007
The N95 Unboxed
Click through for larger version of these images. These images and more are available on this Flickr Photo Set .
---
Our in-depth N95 Review Series

Nokia N95 - Part 1, The Navigator (Smart2Go)
Nokia N95 - Part 2, The Music
Nokia N95 - Part 3, The Camera
Nokia N95 - Part 4, The Video
Nokia N95 - Part 5, The Battery
Nokia N95 - Part 6, Initial Conclusion

Earlier Coverage and Resources
Nokia N95 First Impressions Preview (prototype model)
Nokia N95 Video Review
Nokia N95 - Your Questions Answered (prototype model)

Nokia N95 Software Directory / List