Now, there's a lot more to YouTube than simply playing videos, so let's set a few minimum ground rules. A workable solution must:
let me 'sign in', so that I can see the latest videos from my subscribed channels
stream reliably in 360p or greater (remember the Symbian touchscreen is 360p)
copes with 'special' channels like VEVO
works in landscape mode (so no twisting and turning all the time)
offer a search system that produces helpful matches
(optionally) download videos for offline use
With those in mind, let's examine the possible solutions. (Note that some obviously named contenders in the Nokia Store have been deliberately omitted because they simply weren't good enough.)
It's very tempting to just head for the Web, since following the revamp less than a year ago, most of YouTube's account features are now available and usable on mobile. However, Web itself adds too much screen furniture in landscape mode, so the experience is cramped, plus YouTube has started clamping down on what videos it'll allow through which browsers. In this case, protected channels like VEVO simply pop up a 'not available' error message.
Playback quality for most content is very good though (probably 360p, so a good match for Symbian's nHD) and there's a certain reassurance that everything you're grabbing is coming directly from Google, videos, comments, links, and so on. Obviously, there's no downloading facility!
Rating: 67%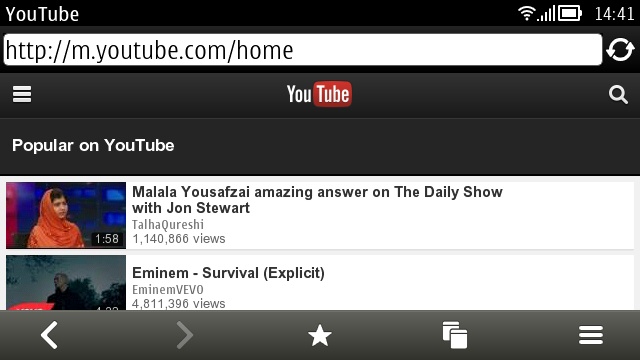 The front page before I've signed in... Note all the wasted screen space in Web.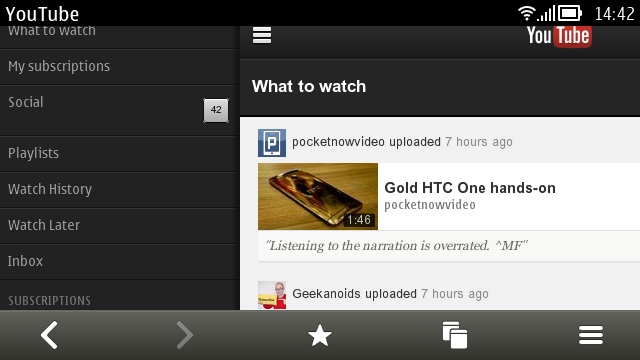 The HTML5 pop-out interface works well, with easy access to all your YouTube 'stuff'.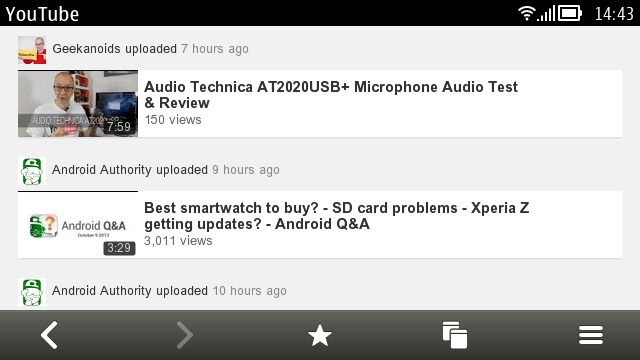 Signed in and browsing my subscriptions...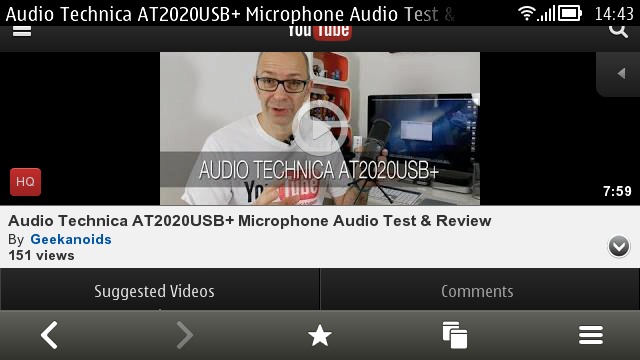 A 'play' icon shows you what to do - it effectively kicks off the streaming of an MP4...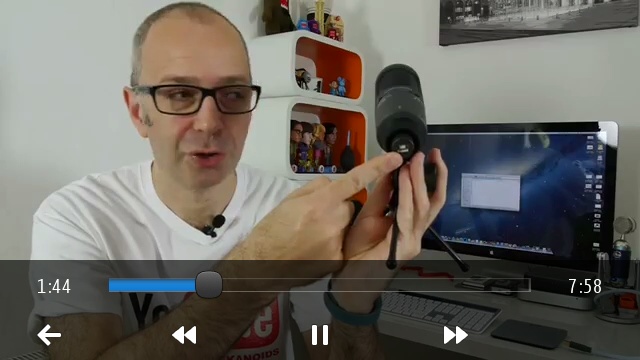 Picture quality is excellent, as we expect these days from quality channels on YouTube...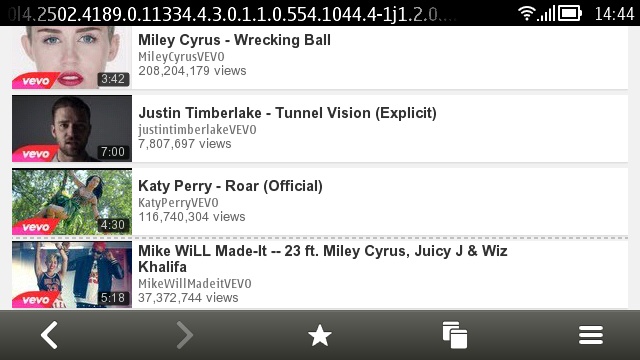 Special channels like VEVO do get searched properly, but...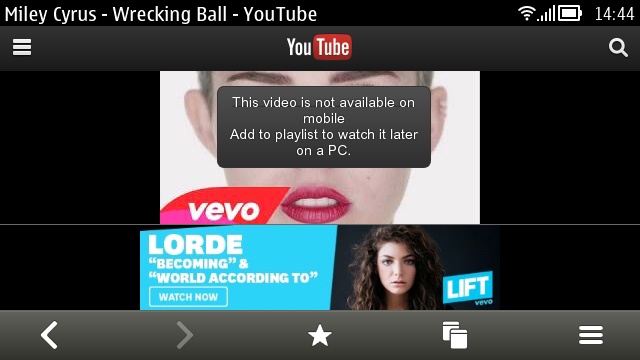 ....it's all to no avail, since the mobile interface can't serve up the content!
_____________
This longstanding client got off to a bad start by not working in landscape mode at all and then immediately highlighting all the developer's own videos. There's no YouTube sign-in here, so no possibility for subscriptions and favourites, etc. and there's no support for special channels like VEVO, so although you can find these music videos, they generate an error when you try to play them. At least the download system works as advertised, for supported content at least.
Rating: 54%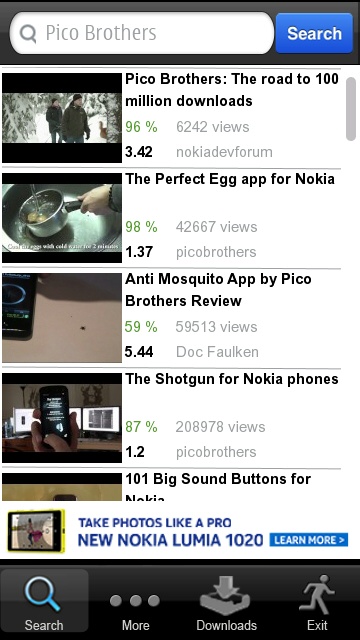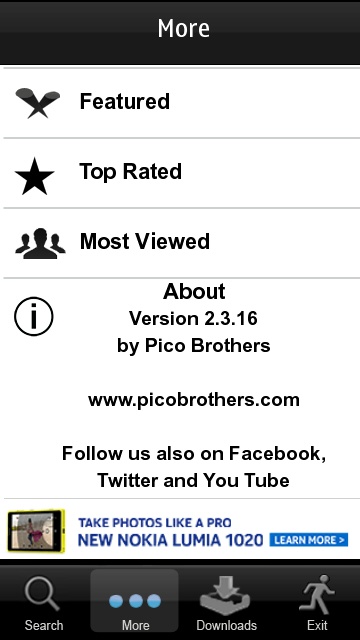 A somewhat self-promoting start screen and no way to log in - what you see is what you get!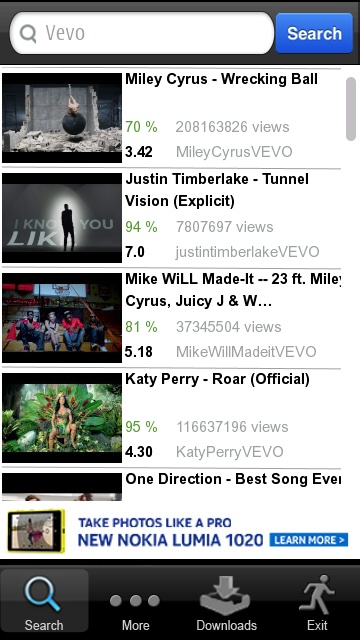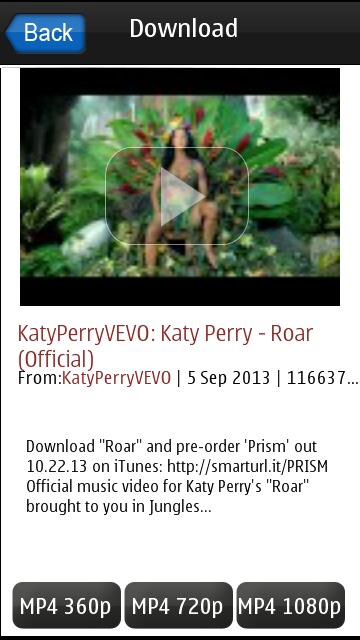 Special YouTube content can be found in te search system and pages displayed....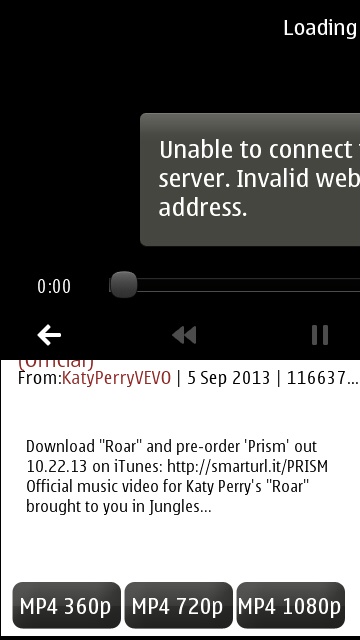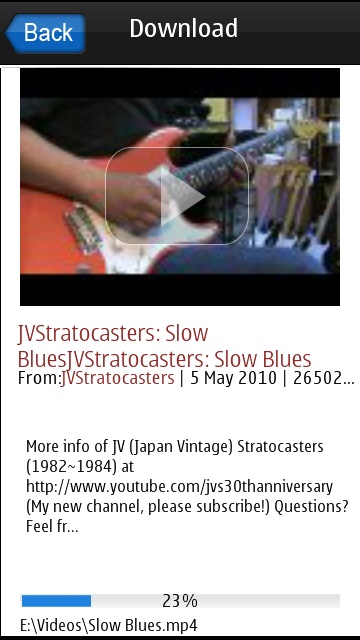 _________________
It's disappointment at every turn with this tool, essentially a shell over an ultra low bandwidth version of the existing YouTube mobile web site. Large buttons take over from on-page content, scrolling has to be done by dragging a scrollbar rather than by swiping in the page, streaming quality is awful (think MMS), it can't cope with special channels like VEVO (returning an error message) and it's only marginally saved by successful downloading supported content to FLV or MP4 format.
Rating: 49%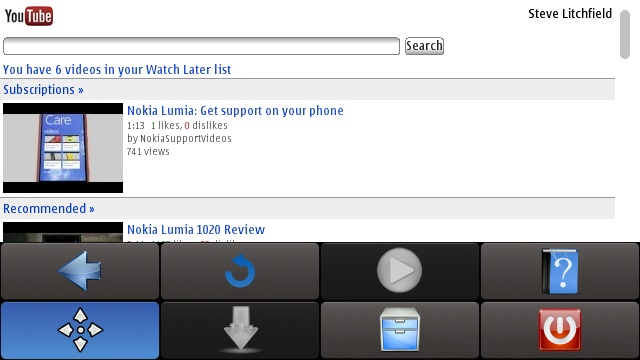 Tha main interface, with large control icons overlaid on a feature phone YouTube version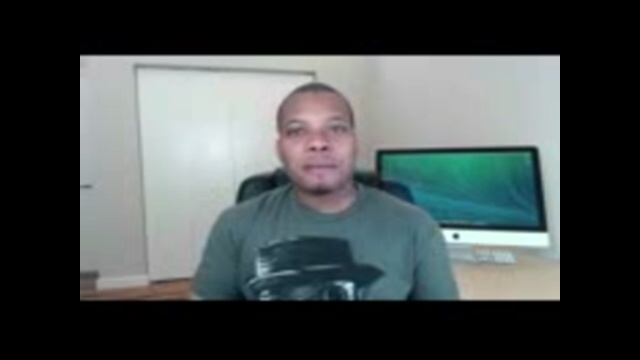 The default playback quality - pretty sure this is 176x144 (MMS), from a decade ago!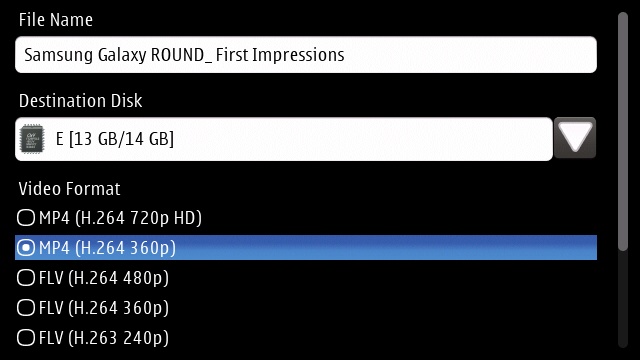 With a page on the screen, there are at least sensible download resolutions offered.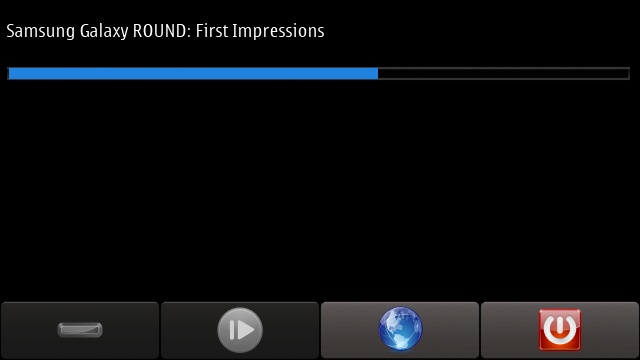 A download in progress. Tapping on the globe returns you to Web. Err... I mean YouTube Downloader!
_____________
It's hard to fault FastTube Downloader for core YouTube content, there's a slightly clunky opening advert, which goes away for that application session once you've viewed it once - and yes, there's a paid version without the ad. But after this, it's a fast and effective interface, with downloads tucked away at the bottom of each video's page, with 360p and 720p options (typically).
Searches worked well, though there were no matches from YouTube's 'protected' channels (e.g. VEVO), so you're not actually seeing the whole of YouTube. Still, a very decent application otherwise.
Rating: 80%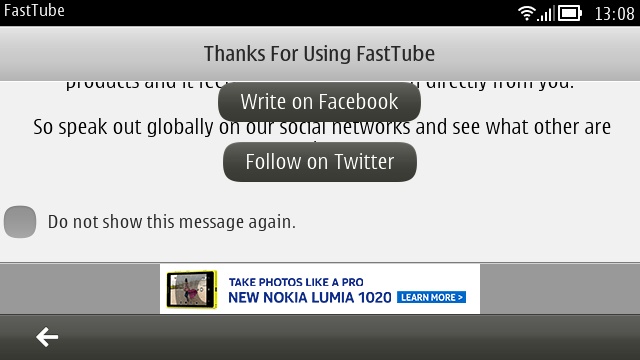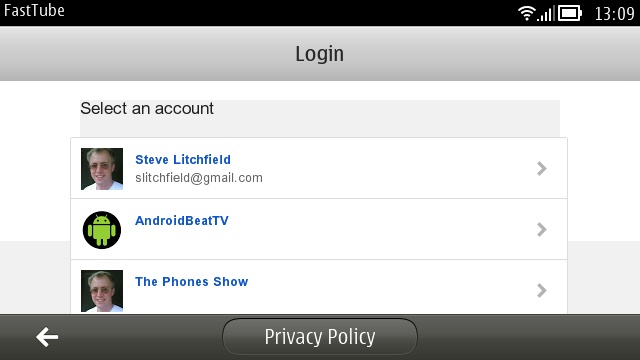 When logging into YouTube there's the choice of identities - a nice touch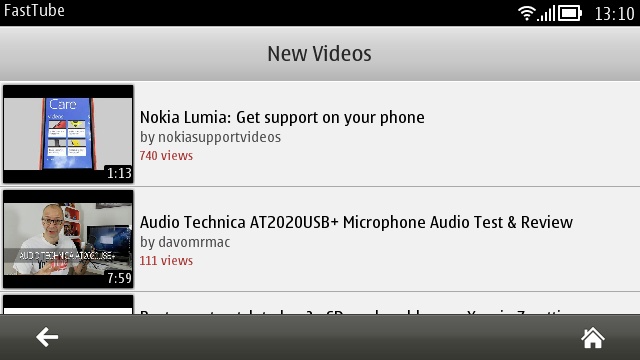 Logged in and viewing my subscriptions...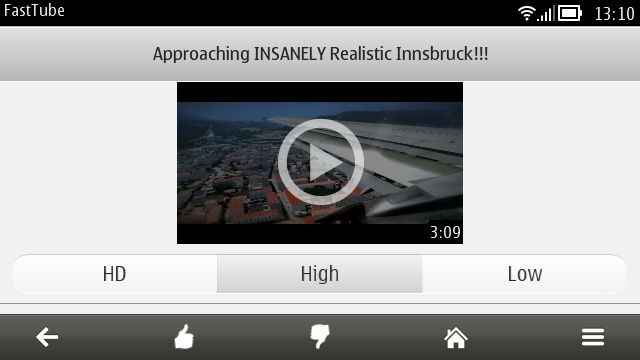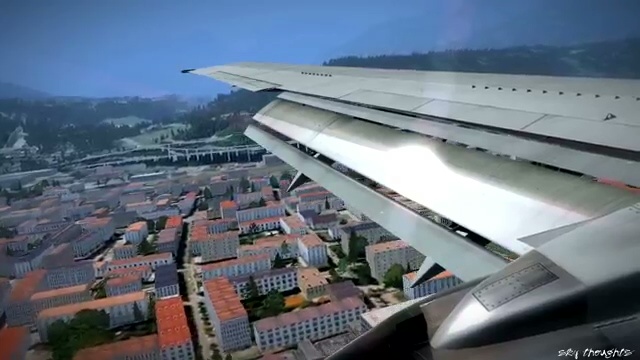 Grab from a 360p 'High' video - amazing how far flight sims have come, by the way!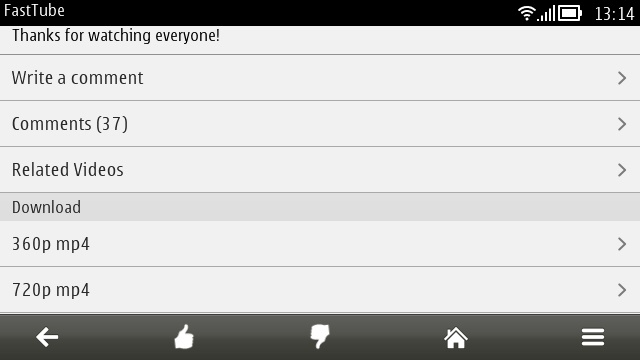 All the video's 'stuff' is listed below, including comments and, right at the bottom, any download options!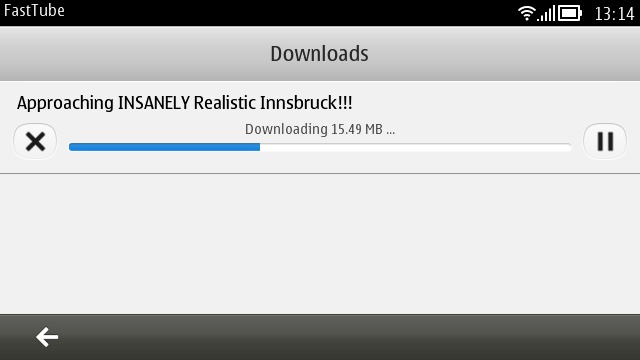 A download in progress...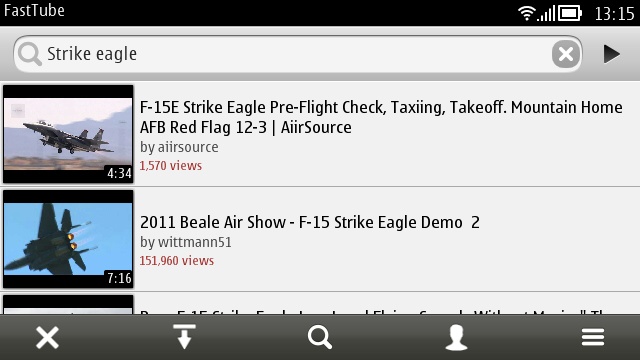 _____________

CuteTube (Stuart Howarth)
The Rolls Royce of Symbian YouTube applications, this is the only one to stay fully up to date and fully compatible with changes at YouTube's end (at least, until Nokia pulls the plug at the Store's end). From an intuitive and slick interface (including support for Symbian's keyboarded devices) to full VEVO, landscape and download support, CuteTube is pretty much a must-have on the platform. There's no trial version, so just buy it. And if you really can't afford £3 then wait until January 1st 2014, since it will become freeware after that date, following on from Nokia's crazy decision not to allow applications to be updated from within the Store. Apparently CuteTube will check in-app for updates, in the same way that the social client Gravity has been doing for ages.
The only reason why the app doesn't get the full 100% is that, just occasionally, I get connection errors and it's never entirely clear whether this is the app, YouTube, the content type or my network that's the issue. First world tech problems, eh?
Rating: 95%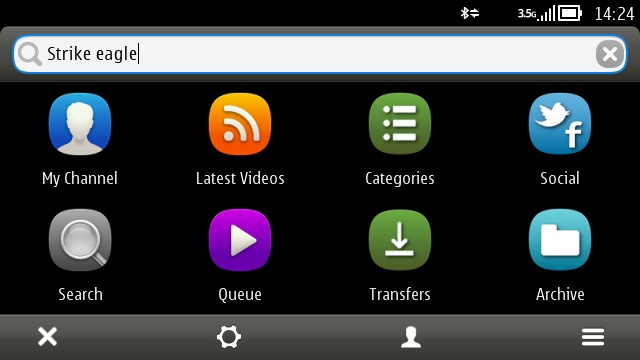 The main interface, both touch and keyboard/d-pad-friendly...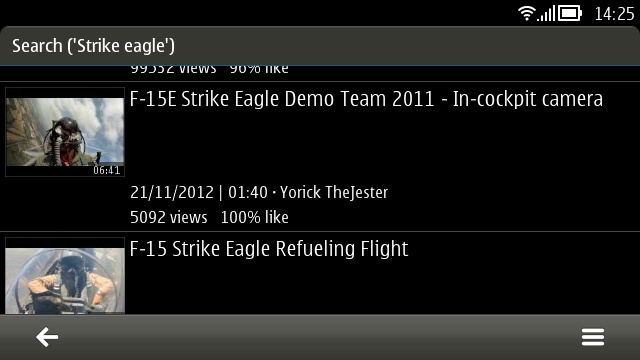 Search results from the general content pool....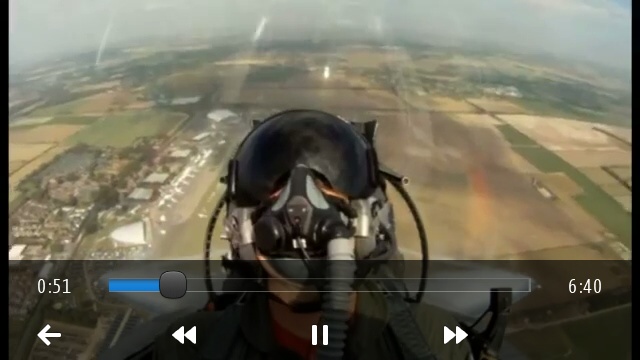 Watching a video, playing as usual in the Symbian video player (the controls auto-hide, of course)...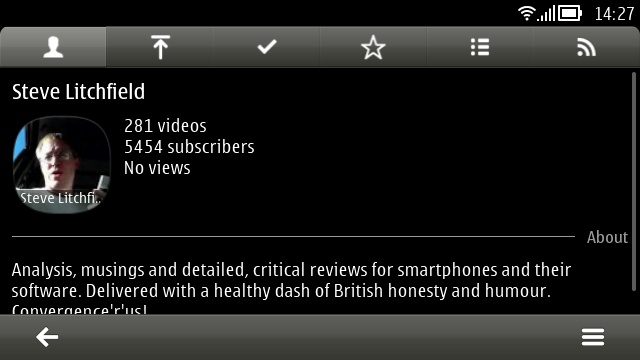 Logged in and staring at a new panel of controls for subscriptions, uploads, favourites, etc.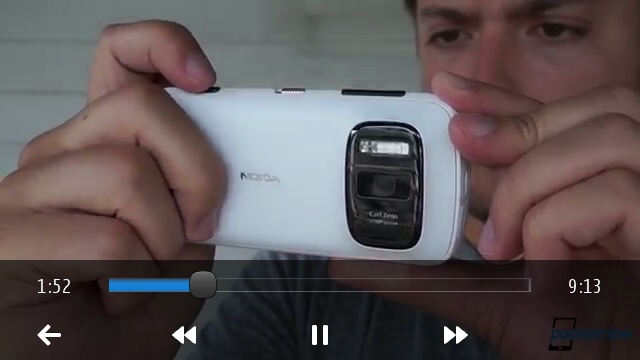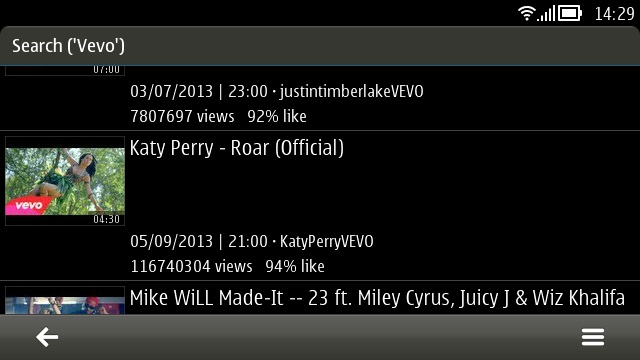 Searches within special channels like VEVO...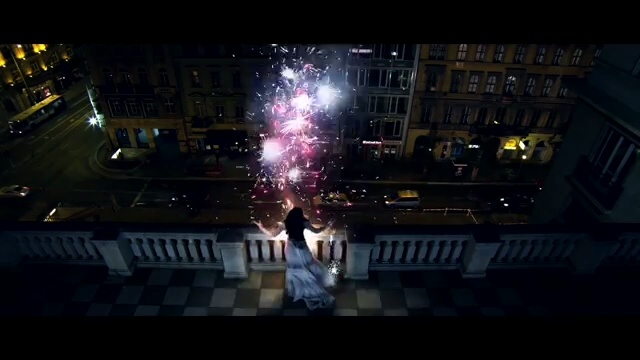 ... with playback working perfectly. Hooray! Fireworks!
_____________
Verdict
Although FastTube surprised me with how well it worked, and it's great having this as an ad-supported free application, there's no denying CuteTube's supremacy here. If you use Symbian and haven't bought the application yet then you're missing out - especially if you're a fan of VEVO music videos and other up-to-the-minute content. And with the news that CuteTube will be freeware after Christmas and will continue to get updates, I can't recommend it highly enough.
Comments? Is there some magical YouTube solution that I've missed on Symbian?