First of all, you can essentially rule out Nokia as a source thse days, unless you happen to have an official 'Nokia shop' in a High Street near you. Nokia's web site has gone all modern and only seems to list accessories for 2012 products. Which is a crying shame for all the 200 million Nokia smartphone owners who head to nokia.com looking for a way of buying official accessories: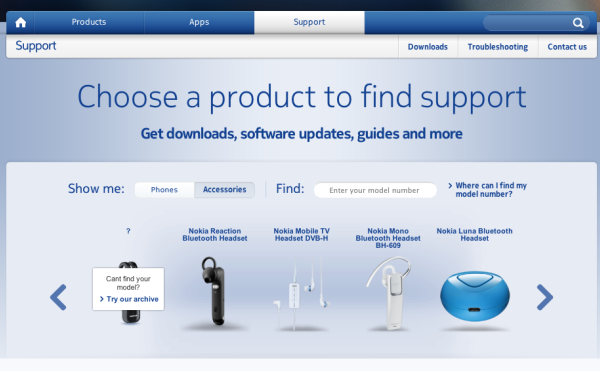 So, if not Nokia (shame on it) then where? Amazon is a popular outlet for all things tech and it's most peoples' first stop. Say I'm looking for a replacement BP-4L battery (the hero cell from the N97, E71, E72, 6650, E90 and E6, among others). Here's the first match on Amazon.co.uk: £2.35, reduced from £25? What a bargain!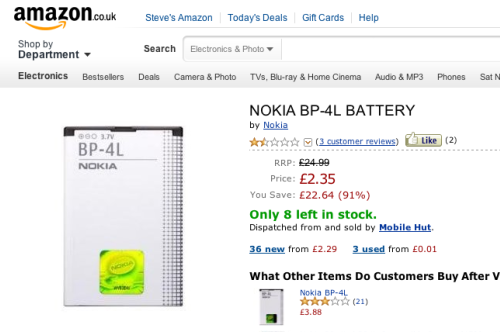 Err.... no. Note that the item isn't despatched from Amazon's own warehouse, it's from a third party. Not that this is necessarily a showstopper, but it does lead you to question who (in this case) 'Mobile Hut' are. Scroll further down the page to see feedback on this item from others: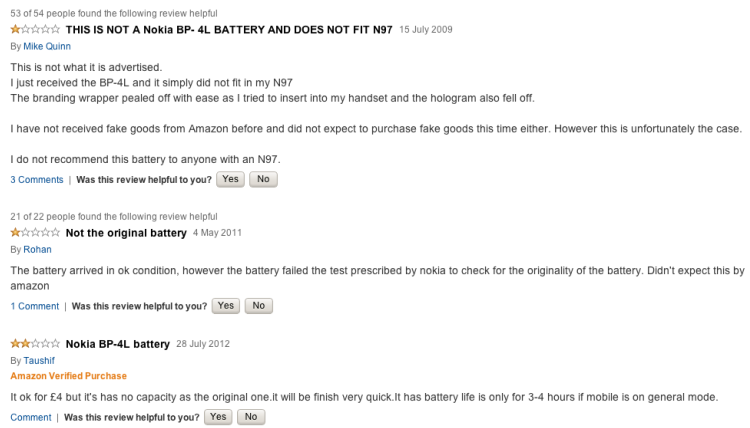 So.... it looked genuine, the price was incredible... and it turned out to be too good to be true. Just a fake battery from some backstreet Chinese factory. You have to wonder if there's anything Nokia can do - you'd have thought having a quiet word with Amazon would have been the best first step?
Here are the first six matches under 'BP-4L' in the appropriate accessory category: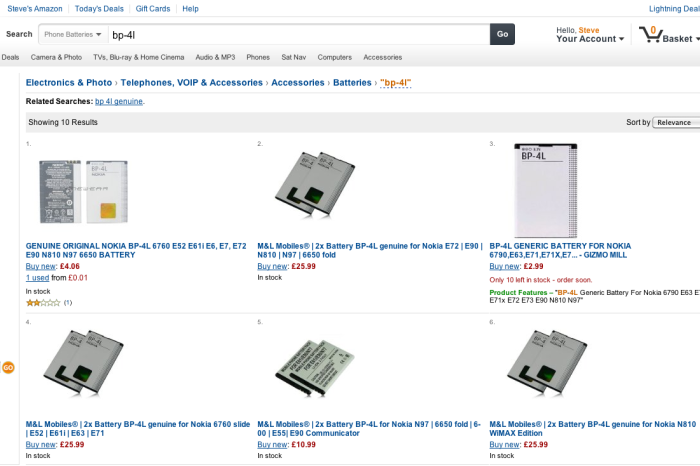 It's here that we see the true picture for Nokia (and presumably batteries for other makes of smartphone). There are, generally, three sorts of battery for sale across Amazon, eBay and the wider Internet:
Fakes. Typically around £4 (or $7 or whatever in your local equivalent currency). Likely to only hold a fraction of the charge of the real thing and to die quickly.
Third party equivalent batteries. Typically between £5 and £12. Likely to hold a significant fraction of the charge of the real thing and to last a decent length of time, but won't get close to the performance of the real thing. May have some warranty.
Genuine manufacturer cells. Typically between £15 and £25. The real McCoy, as good (in theory) as the battery your phone came with. Come with full 12 month (or longer) warranty.
Most of the makers and distributors of the fakes/clones get away with it because they have little or no reputation to start with - they make their few dollars from you (i.e. rip you off), survive as long as they can and then close down and start up again under a new name.
However, mainstream accessory suppliers such as Mobile Fun, shown below, can't afford to sell such 'knock off' goods. They have a very definite reputation to keep up and therefore only source their batteries from Nokia or the most reputable 'equivalent' suppliers. To demonstrate this, here are the two matches for 'BP-4L' on Mobile Fun: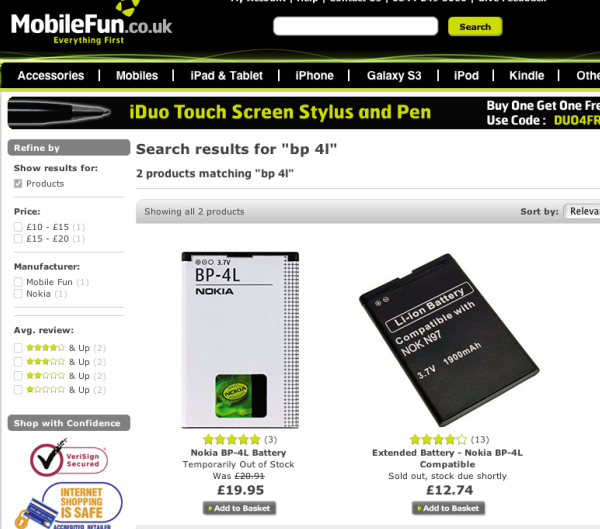 In line with my categorisation above, there's just the official Nokia battery (at the expected price) and a third party 'equivalent' (also at an expected price). Mobile Fun simply couldn't afford the bad publicity that would come with sourcing fakes - thankfully.
The same applies to other online retailers that you've actually heard of. Those with a reputation. Here's Expansys, which only stocks the Nokia official/original battery: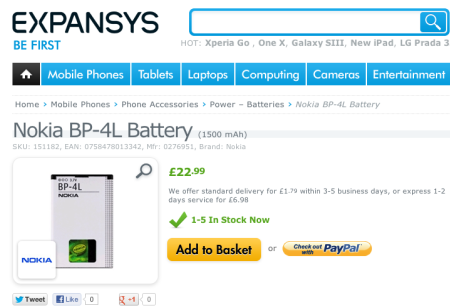 Again, the price is, as the makers of Stella Artois beer used to say (when Stella was different/decent), "Reassuringly expensive". £20 or so seems about right for the level of technology and quality control that goes into making a reliable Lithium-Ion battery.
You may think I'm being over cautious, but I'd vigorously defend the approach of paying (quite a bit) more and getting the real thing. Quite apart from the crushing disappointment when your new 'bargain' battery only gets you halfway through the day after a week of use, there's also the risk of a fake battery misbehaving under charge and catching fire, potentially damaging your phone and your home.
When it comes to accessories that you use once in a blue moon, a little corner-cutting on price is acceptable. But your smartphone battery is something you rely on 24 hours a day, every day, every week, for (potentially) years. Isn't that worth taking a little more care and expense at purchase time?
In summary:
Don't be fooled by a photo that looks genuine - it's probably only a photo and the real thing may look nothing like this. Or the cosmetics of the battery could be faked, e.g. a photo of a hologram rather than a real hologram. And which will, no doubt, peel off after a week.
Don't pick a stockist purely on price - any genuine battery will be at least £15 (or equivalent in your local currency)
Read through all feedback on an item (if available) or on the seller (if applicable) - do they appear trustworthy? Any bad experiences from other buyers?
Don't buy unless the seller offers a warranty - fakes won't have one, genuine batteries will. Even a six month warranty shows some confidence in the product.
Buy carefully out there, and may all your batteries stay fully charged....!