The video also highlights the fact that it doesn't have to be warm and sunny to harvest solar energy and that solar panels are now less expensive and more robust, making them a realistic option for topping up a phone's battery, at least in some circumstances.
In practise, for the majority of people, solar energy is only realistic option for top-up or trickle charging, rather than as a real alternative to plugging a phone into a wall. Nonetheless, solutions that include direct energy collection (e.g. bike charger, solar, piezo-eletric) will, in some cases, be the only option available because a connection to the electricity grid is not available, or is unreliable.
The suit appears to be based around the Nokia DC-40, a solar charging accessory that has been tested as part of a pilot program in select markets over the last 18 months:
The DC-40 takes the form of a thin film panel, weighing 93g, and measuring 165mm x 237mm, with a long cable and 2mm Nokia charging plug attached in one corner. Nokia say that one minute of charging will give two minutes of talk time [on a feature phone]. In ideal conditions, with direct sunlight, a 1000 mAh battery will be full after around 4 hours.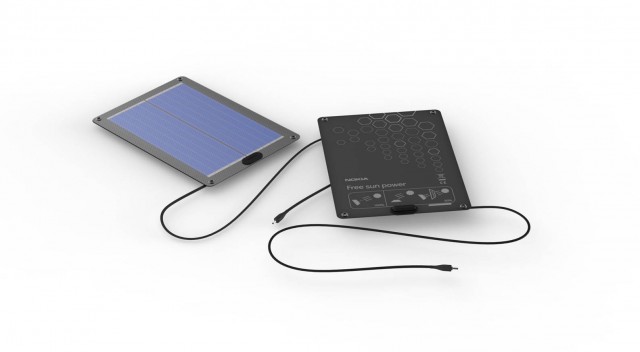 The video is part of a wider campaign that is seeking to promotes Nokia's sustainability and environmental initiatives and policies. Nokia is encouraging people to join share their thoughts via the #sustainablelumia Twitter hash tag.

You may also want to check out an earlier video in this series, which highlighted the fact that the polycarbonate shell of the black Lumia 1520 is made from recycled CDs.