Free OneNote for Windows and Mac PCs
The free version of OneNote for the PC can be downloaded from www.onenote.com. Microsoft describe it as being designed for "personal and school use", noting that it is ad-free and there "no limit on how long you can use it". OneNote stores its data automatically in OneDrive (7GB free for all users), making it easier to access store notes and information from multiple devices.
The free version of OneNote does have some minor functionality cuts, primarily impacting on use in the enterprise environment. This means that features such as SharePoint support, version history, and Outlook integration, are only available in the Office 365 and Office 2013 version of OneNote.
The stand alone version of OneNote previously retailed for around £55. This version is expected to continue to remain available as a standalone enterprise version of OneNote.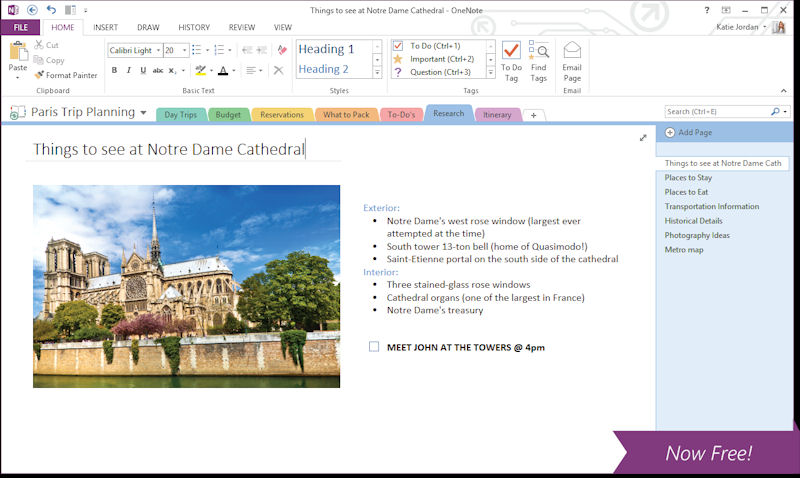 OneNote service (cloud API and third party extensibility)
The introduction of a cloud API for the OneNote introduces a way for third party apps to integrate with OneNote. In most cases this involves sending content to OneNote, burnishing its capabilities as an information gathering tools. The underlying idea is to make it easier to get important data into OneNote, such that the service and app become a one stop location for all your important notes, reminders, and miscellaneous bits of information.
Microsoft itself is taking advantage of the new service APIs to provide several new ways to get content into OneNote. We covered the Windows Phone specific Office Lens is a separate news post; but there's also the OneNote Clipper, an add-on for Internet Explorer, Chrome, Firefox, and Safari that lets you capture any web page to OneNote in a single click; and send email to OneNote, a service that lets you send content to OneNote by emailing me@onenote.com (e.g. forward receipts, travel plans, and more).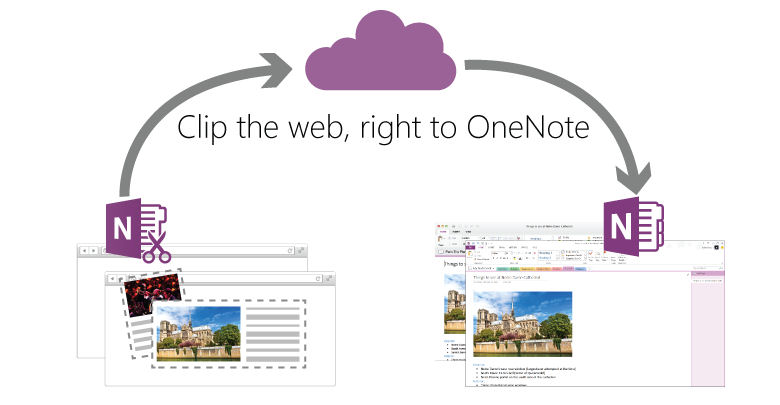 Microsoft has also lined up a whole range of partner apps and services including Feedly, Livescribe, Mod Notebook, Weave, genius Scan, JotNot, IFTTT and News360. For example, the Feedly OneNote integration makes it easy to save articles from Feedly reader into their OneNote notebook; and the IFTTT integration allows you to to create and share recipes that automatically create pages, sync content, and connect over 80 other products and services. Microsoft says that further partners integrations, including Neat, will arrive later this year, and is encouraging developers to add integration to their own apps and service, with information available through the OneNote developer portal.

Competing with Evernote (and Google Keep)?
With this series of announcements it is clear that Microsoft is putting OneNote in a better position to compete with other cross-platform note taking and information gathering services. The most obvious target is Evernote, but other competitors include Google Keep, and potentially cloud storage services where users focus on information gathering and collation.
OneNote, Evernote, and Google Keep each take slightly different approaches, partly reflecting their respective histories and linked products, but each has its own advantages and disadvantages.
OneNote has strong collaboration and text formatting tools and benefits from being part of the Office productivity suite, today's announcements also make it better connected with external services and improve its cross platform credentials. Evernote is the category leader because of its everywhere and anywhere nature, it also offers a great degree of flexibility and a variety of features that will appeal to power users. Google Keep offers a simple experience and good Android integration, but, in relative terms, its capabilities are much more limited than both OneNote and Evernote.
Until today, unless deeply in the Microsoft or Google ecosystems, Evernote would have been our default recommendation for most users. However, with the new service cloud API and a price of free for most users, OneNote has narrowed the gap considerably, and now becomes a service that we would mention in the same breath as an Evernote recommendation.