A render of a device, labelled as the Nokia Normandy, was published by inveterate leaker @evleaks last month. It shows a device similar in style to the Lumia 520, but with a single capacitive button, and no camera capture button on the side of the device.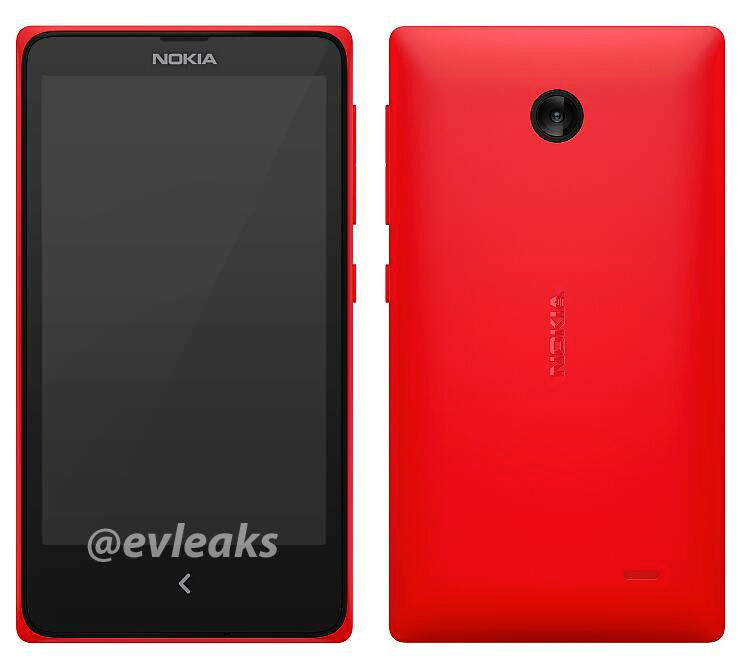 Nokia Normandy. Image source: @evleaks
The Verge's sources indicates that the device will run Skype and other popular Android apps. However, as an AOSP device the Normandy would require a third party app store, as it would not be eligible for access to Google's Play Store (or other Google apps and services).
The Verge notes the phone development process has continued despite the proposed Microsoft-Nokia deal, but the timeline for any potential release of the handset is unclear, with the only information available being that Nokia employees working on the project being told that the "device is planned as a 2014 release". The proposed acquisition of Nokia's Devices & Services division by Microsoft, which is expected to be completed in the first quarter of next year, would likely have an impact on the project, with the main question being whether Microsoft would want to be associated with an Android product.
Despite its agreement with Microsoft, Nokia is obliged, from a regulatory viewpoint, to continue to operate as independent company until the Microsoft deal is finalised. In theory, this means the device could still be released ahead of the Microsoft acquisition, but whether that is practical in the closing time window is unknown.

Nokdroid as the new Asha?
Perhaps the more interesting question is whether an Android based Asha phone makes sense from a technical and strategic point of view. Given the paucity of information we can only offer speculation, but there are some intriguing possibilities.
Nokia's Asha product portfolio is intended to fill the gap between low cost Windows Phone devices (Lumia 520 at £100) and the more basic feature phones (Nokia 1xx and 2xx product lines). Currently the higher end Asha products (e.g. Nokia 503) run Asha OS, a variant of Nokia's long established Series 40 platform. However, despite strong initial sales, there has been some concern that the higher end Asha products may struggle to compete against low cost (~£50) Android devices in the longer term.
However, Series 40, despite some impressive engineering iterations in the last few years, is starting to look ill suited to the modern feature phone, with its ever increasing range of smartphone-like functionality. The suitability of Series 40 is a slow burn issue, but the contention here is that to maintain volumes in the £40-80 phone segment, Nokia would need to either bring Windows Phone devices down in cost, or look for another platform to replace or augment Series 40.
Up until last summer the intention was that Series 40 would be replaced by a new Linux based platform codenamed Meltemi. However, the Meltemi project was cancelled last year, a casualty of changing Nokia strategy and cost cutting, with the question of what would replace it left open.
Seeing a heavily customised Android, stripped down to its essentials and running a custom Nokia UI (e.g. Fastlane homescreen) as the replacement for Meltemi is not as far fetched as it might sound (i.e. a Nokdroid platform, with the same Asha UI as current devices, but running on top of Android, rather than Series 40).
However, while devices running a Nokdroid platform would be Android devices from a technical point of view, it is unlikely that they would be recognised as such by the consumers buying the device. It would be a Nokia Android device, but not in the way that most people would assume when hearing that phrase.
How Nokia would build an ecosystem around such a set of devices is even more open to speculation, but the assumption would have to be that it would leverage the Android underpinnings to give a leg up to the Nokdroid platform, thus helping to avoid some of the difficulties in building a new ecosystem from scratch.
The idea of an Android-derived next generation feature phone platform sounds like a difficult sell for Nokia, never mind a Microsoft-owned Nokia Devices & Services division. Questions about the wider platform strategy and the place of Windows Phone, not to mention the public perception of such a move, would inevitably arise. Then again, an answer is required to the question of what comes next for the higher end Series 40 portfolio. Is death by smartphone inevitable, or could the feature phone rise again as the simple smartphone?