Despite billions in investment by both companies Windows Phone global market share remained well below 5% and early 2013 was in the period prior to the success of some of Nokia's lower cost Windows Phone devices. A low market share, and lack of sales, left Windows Phone a long way behind rivals Android and iOS, and left Nokia open to questions about the economic sustainability of its smartphone business.
That was the initial context for the meeting at MWC, which saw both sides assessing the current realities of the partnership.
From the AllThingsD:
As Mobile World Congress approached, teams at both companies tried to make an assessment of what was and wasn't working well in the partnership and think of what options there might be. At Barcelona's Hotel Rey Juan Carlos, Ballmer and Siilasmaa talked for an hour, discussing options that ranged from minor tweaks to the existing relationship to far more extensive collaborations and business combinations.
Six months of back and forth negotiation were to follow, with three key subsequent meetings. Early on other options, besides acquisition, were on the table, and Nokia also explored other possibilities, including the possibility selling all, or part, or itself to other interested parties. The code name for the discussions was Project Gold Medal, with Microsoft being referred to as Edwin Moses and Nokia as Paavo Nurmi.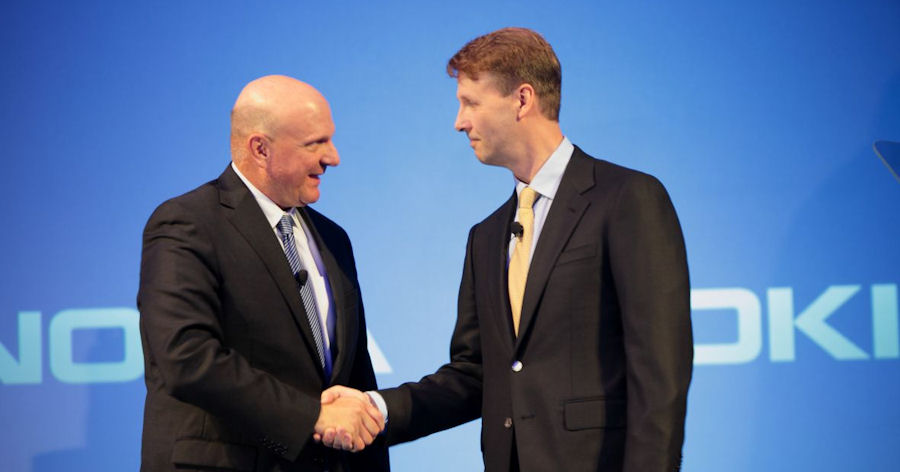 Microsoft CEO Steve Ballmer phoning Nokia Chairman Risto Siilasmaa

At an April meeting Microsoft presented a plan that was effectively a potential bid for Nokia, but it rapidly became clear that thw two sides had a different assessment of the valuation of Nokia.
From the New York Times:
"We are on different planets."

That was the response of Risto Siilasmaa, the chairman of Nokia's board of directors to Steven A. Ballmer, Microsoft's chief executive, after a team from Microsoft presented an acquisition proposal to Nokia in late April. The morning presentation, led by Mr. Ballmer, took place at the offices of Skadden, Arps, Slate, Meagher & Flom in New York City.
A further meeting in May followed, with some agreement between the two sides, but talks were somewhat side tracked when Steve Ballmer fell over a coffee table. More importantly, there were still some areas of strong disagreement, most notably over Nokia's mapping business, which both companies wanted, something that remain unresolved even after a further meeting in June.
However, at a July meeting in New York, the two sides worked towards a solution that would see Nokia retain the mapping business, but give Microsoft deep access to the code and "rights equivalent to ownership".
From the New York Times:
Microsoft proposed that Nokia could grant a license to its mapping service that would allow Microsoft access to its source code, so it could customize the service and own any improvements it made. Nokia liked the idea, which still gave it the freedom to freely license the mapping service to other companies.
By the end of the New York meeting the two sides had agreed to a set of principles. Over the following weeks additional details were worked out and both sides started on due diligence and the drafting of a definitive agreement. In the background were major changes at Microsoft, with the announcement that Steve Ballmer would retire within the year.
In the end, following an intense period of back and forth, which each side working flat out, the end result was a series of agreements, with a more complex structure that the typical acquisition, as perhaps befitted a discussion between partners that were already closely intertwined.
From AllThingsD:
What resulted wasn't a single agreement, but a series of contracts with pacts covering patents, trademarks, the selling of the handset business and the hard-fought agreement in mapping. By Sunday, Sept. 1, Ballmer was on a plane to Finland and by Monday he had arrived there with signature sheets that were being exchanged by both sides.
The deal was formally announced early the next day, early on the morning of September 3rd (Finnish time), or late evening September 2nd (US time).