HERE Auto
HERE Auto is essentially a version of the HERE Drive Windows Phone app for vehicles. Based on HERE's well regarded maps it offers voice-guided turn-by-turn navigation in 95 countries. The solution includes 2D, 3D, and satellite maps views, together with street side imagery. Nokia says the solution will provide the right maps at the right time, "a helicopter view when you're driving on a highway, a zoomed-in view when you're in the city and street level images when you're approaching the destination".
As with other HERE products the solution will work in a fully offline mode, which is important in areas when there is no or low network coverage. If a connection is available HERE Auto will automatically download map updates (and you can download maps for other countries). A data connection will also enable the cloud connected services that are part of HERE Auto Cloud.
HERE Auto should be regarded as a platform. Nokia is providing OS independent RESTful APIs, which enable car makers to have full control of integrated in-car experiences, letting them extend HERE Auto with features such as music and social networking.

HERE Auto Cloud
HERE Auto Cloud provides drivers with access to dynamic services, such as real-time updates for traffic and information about the location of speed cameras. These services can enhance the HERE Auto experience. For example, traffic information can be used to do intelligent re-routing, avoiding congested areas, road closure, or other blockages.
The solution can also provide drivers with recommendations of where to eat, place of interest on route, where to find the most inexpensive fuel, and more. Another example is dynamic parking information, with the HERE Auto Cloud able to provide information about nearby parking facilities, their pricing, and whether there are any spaces available. In some cases you will also be able to pay for parking.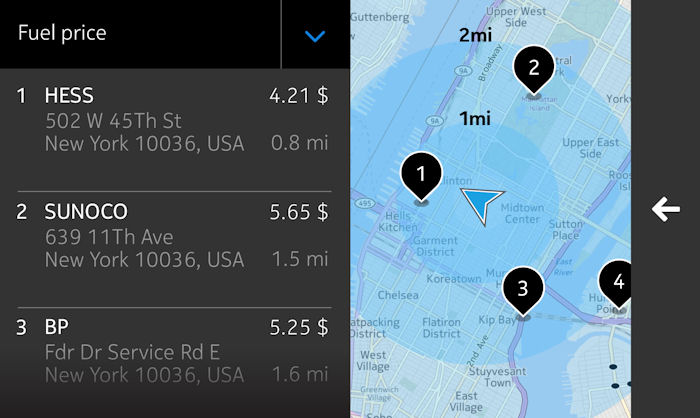 HERE Auto Cloud also helps provide an end-to-end driving experience. You can save your favourite places, routes and commutes in the HERE cloud and synchronise them to other HERE products. For example, you can plan a new route on here.com, or on your smartphone, and then access it via HERE Auto in your car.

HERE Auto Companion
HERE Companion is customisable mobile and web applications that gives remote access to HERE Auto services and car information. It's one of the HERE products to which the HERE Auto Cloud will synchronise information (places, routes, commutes), but can also provide access to car information (fuel status, temperature, tyre pressure, and much more), and potentially, remote control (locking, engine start, lights, horn, and more).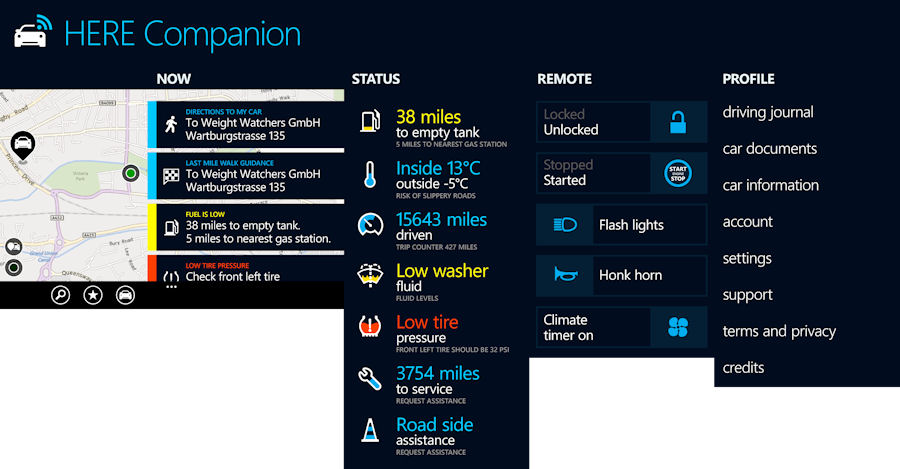 The HERE Companion app can also be customised with other HERE products (e.g. pedestrian navigation). One example that Nokia gives is that the app could keep track of where you have left your car, and help you navigate back to it, including the possibility of using Live Sight (augmented reality) technology to help you find it on your return.
The HERE Companion app will be available for Windows Phone and Android, but a web version will also allow access from other devices. In real world deployments the app is likely to be customised for each car or accessory manufacturer (i.e. it may not have all the functions described above, and may not be branded as HERE).

Nokia as a Connected Car platform provider
Nokia, through it's HERE division, is already the supplier for the data behind four out of five in-vehicle navigation systems, but today's announcement shows their ambition to further extend that role in the automotive industry, becoming, in effect, a platform provider for connected cars. However, it is important to emphasise that the solution will be car manufacturer and mobile platform agnostic. The watch word will be integration, with the whole HERE Auto solution designed with this in mind.
That will translate into partnerships with car manufacturers, rather than the provision of a Nokia / HERE branded product. While this may require additional work, it will likely find more favour with the conservative car industry, than those solutions that seek to provide a complete solution largely in isolation to car manufacturers own efforts.