From Andy's full article:
Incidentally, while in England I enjoyed a jolly pub meet-up with the smartphone Illuminati: Steve Litchfield, Rafe Blandford, Stephen Quin, James Honeyball, Richard Yates and Nirave Ghondia. Much was discussed around that table, and we put the smartphone world to rights I tell ya! Many a photo was taken of all the phones that were spread around various pints of beer (not really a safe combination!) I'm still waiting to see that picture of all those N9s and 808s together…
Interestingly, Andy, the ether has lost my shot of all the devices, but I do still have the one of all the Nokia 808s... (we can't have Meego phones polluting AAS, after all, can we?!):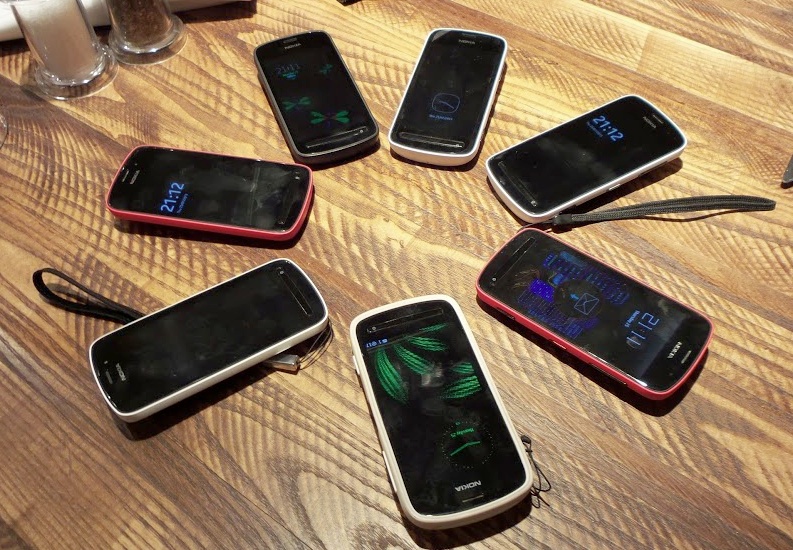 Andy continues (ahem):
Now, I know what you're going to say, you're going to say, oh here we go again, another Symbian diehard, stuck in the past, who clings onto his .sis files and calls Steve Litchfield in the middle of the night to discuss homescreen widget updates. Well, no. All I'm going to do is describe how the Nokia 808 proved to me that despite my small fear that it wouldn't be all that great beyond its modus operandi of being an outstanding camera unit, it was an absolute trooper throughout the entire trip. Obviously its heartiest pat on the back goes for capturing amazing photos and video clips that I will now cherish and look back over in years to come. But aside from the obvious, on a day-to-day basis, (with quite a heavy workload to deal with as well considering all that we were doing on the trip) the 808 PureView never let me down once.

Actually, Andy, about those widgets, the one you want, following on from your voice mail left at 2:38am, is 'Digital Clock 3'. I've emailed you the SIS. OK? (!)
He continues, looking in more detail about his Symbian experience:
The kinds of things I'm talking about are the kinds of things that any Nokia fan constantly appreciates: Nokia Maps and Drive, Opera Mini for fast web browsing on 2G (not everywhere has 3G/4G remember!), FM radio transmitter, superb always-on clock and notifications on the lock-screen thanks to 'qooSaver', 'Situations' for automatic Silent profile handling at night, and the usual raft of helpful, everday built-in apps and widgets such Notes, 2G/3G switcher, the removeable battery (more on that in a bit), and of course the ability to read the 808's screen easily in very bright sunlight. There are other reasons, but the main one was the camera. Also with me was my Nokia N9, but because I was keen to take photos all day every day, it remained asleep in its case for the entire time.

During this entire time I was using the 808 to message people via Whatsapp, check on things in the Facebook world (although really, nothing beats the new Windows Phone 8 Facebook Beta app) delete tasks from my enormous to-do list, and all the usual smartphone stuff that people do. But here's the thing: throughout the whole trip I never felt like I was carrying around a phone that was a good camera but a failure at everything else, just because Symbian now looks like Keith Richards. Yes, it's ancient, no it's not 1080p beautiful, but it just gets the job done, and does it well. Being busy with it all day would usually have me staring at the remaining battery percentage and thinking "I need to top-up! I need to top-up! It's only at 82%!! Where's my charger?!" But on this trip I had no worries at all, because as you know, the back of the 808 can be taken off, and the exhausted battery can be quickly replaced with a fresh one, and within about 60 seconds, you're back up and running. Even with this back-up battery in my pocket, I have to say that I only used this switch-out method twice, after intensive use of the camera, in particular after recording a lot of video and taking numerous photos. By around 4pm I was getting down to about 20%, so rather than risk it, I switched out the battery for the evening's activities and I knew I was all set. You have to remember to charge the first battery though, and without an external charger this is a very small annoyance because that back cover has to be pried off again. But it's really nothing when you consider you've done so much with your phone and haven't reached for a charging cable since you unplugged it at 6am. For situations like these busy days out and about, there's a lot to be said for removable batteries, despite being able to charge on-the-go with gadgets like the Nokia DC-16 portable charger. It's so much better to not have to have that dangling out of your USB port when you're trying to text, take pictures or call!



You can read the full article here, there's a lot more chat and loads of photos.
PS. Incidentally, and I'm sure Andy won't mind me saying this, but though most of his photos are excellent, some of the examples included in the article don't show the Nokia 808 camera in a perfect light (pun intended) - in fact, they've got me thinking about another AAS photography tutorial article. Watch this space!