Google, Nokia's main compeitor in the map data space currently says it covers "10,000 locations" for indoor maps, although that number has not been updated recently. Even if you assume Google has continued to grow its indoor mapping coverage, looking at few example cities (e.g. London and New York) makes it clear than HERE now has a substantial lead in this area.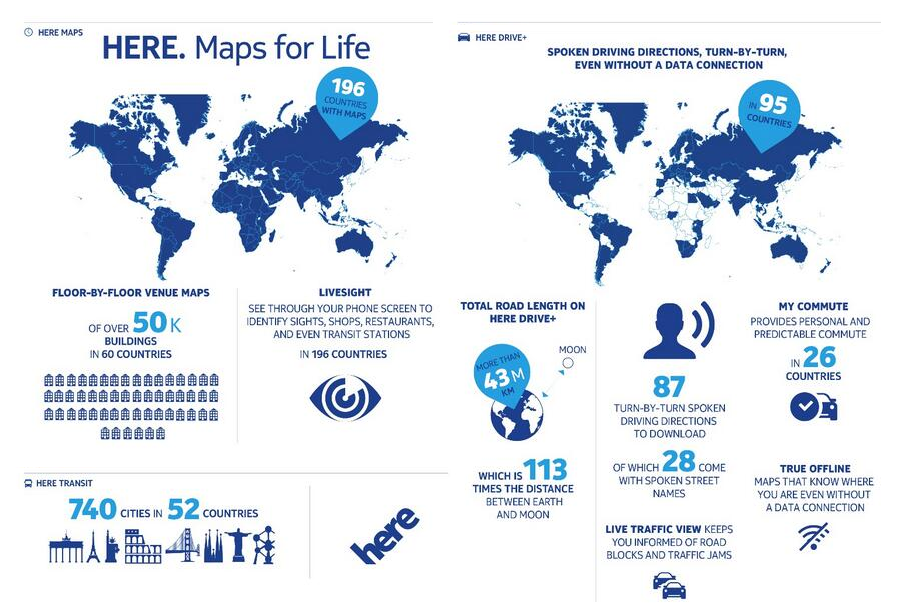 Here's a summary of the current HERE numbers (February figures in brackets):
HERE Maps covers 196 countries (previously 196 countries, no change).

HERE Drive+ offers voice guided, turn by turn navigation in 95 of these countries (previously 94 countries).

The total length of navigable roads in HERE Drive+ is 43 million kilometres (previously 43 million km, no change).

HERE Transit now covers 740 cities in over 52 countries (previously more than 700 cities in 50 countries).

HERE Drive's My Commute available in 26 countries (no previous figure, but availability was very limited).

HERE Drive has 87 turn-by-turn spoken driving directions to download (previously 60+ download options)

Indoor mapping (venue maps) available for 50,000 building in 60 countries (29,000 unique building in 45 countries).

The numbers above show that indoor mapping coverage has enjoyed the strongest growth, but there are also improvements in public transport (transit) coverage and HERE drive coverage.
These coverage numbers do no include information about map updates (i.e. maintenance work on existing maps). It's important to note that map coverage is not just about adding new data, it's also about maintaining the quality and accuracy of existing coverage. This maintenance work represents, proportionally, a far greater part of the overall effort than extending coverage.
For example, HERE has previously disclosed that in an 18 month period (June 2011 - January 2013) it had added or am mended 133,000 km of roads in the UK (just one of 196 countries covered by HERE Maps). Similarly there are different quality levels of coverage that do not show up in overall coverage numbers. For example, HERE Transit has been adding deeper coverage for some existing cities (e.g. more forms of transport covered, addition of real-time departure data).