There's a lot to a set of homescreens, of course:
Do you max them out (six) or keep them simple (or even single)?
Do you go for garish or plain?
Mainly active content or mainly shortcuts?
Do you try for any artistic look?
What about wallpaper? Same for all homescreens, or geekily set to mimic panning? Or dramatically different for each, perhaps themed?
Any widgets that you use which aren't well known and deserve wider dissemination?
Here's my own layout, a somewhat minimalist pair of screens, just to get the ball rolling: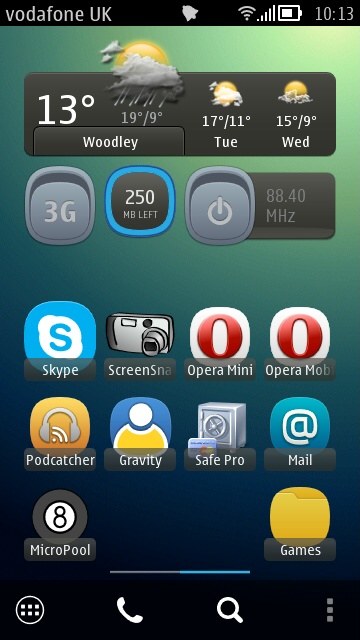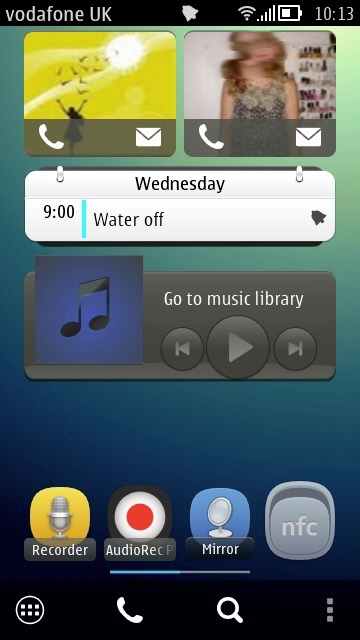 I'm sure you can do better. If you'd like to share your own homescreen layout with the rest of the Symbian world then here's what to do:
Install Best Screensnap (or similar) and run it, assigning a key shortcut of your choice (I use a light press of the shutter key)

Screen grab each of your homescreens (so up to six separate shots)

Compose an email to me at slitchfield@gmail.com, attaching your screen grabs, along with any notes on your philosophy and links to any wierd and wonderful items
If any of your screen grabs contain confidential information, you might like to edit them first to blur out the photo, name or details (as I did above, for my daughter)?
Once I have enough submissions, I'll put all of them up in a special feature, for the world to admire and learn from.
Thanks in advance. Feel free to comment here, textually, but please save graphics for your email to me and for the eventual feature!