It was previously announced by Nokia that unauthorized access to its servers will soon be implemented come the end of January 2013:

"Nokia will close the connection to the Nokia Firmware Repository during the month of January 2013 and will integrate access
control.Then, to access the Nokia Firmware Repository will need to login at Nokia OnlineDuring the transition phase (December 2012-January
2013) and the open channel, both the subject with the restriction will be open, but the open channel will be closed at the end of January 2013."

Until today, everything was still working. When I tried to access NaviFirm+ to check for some firmware, I was greeted by this message right after I cleared its cache:
________________
Secondly, Reuters is reporting:
Nokia Oyj said it won a court injunction that would prevent rival HTC Corp from using microphone components made by STMicroelectronics NV in HTC One phones. The Finnish phone maker said in a statement announcing the decision by the Amsterdam District Court that the microphone components were invented by Nokia and manufactured exclusively for Nokia phones.
"HTC has no license or authorization from Nokia to use these microphones or the Nokia technologies from which they have been developed," Nokia said.

It said the injunction was effective until March 2014 and would prevent ST Micro from selling the components to Taiwan's HTC globally. Such a decision could create further headaches for HTC, which has already struggled with component shortages for its flagship HTC One smartphone.

HTC said it was disappointed with the decision. "We are considering whether it will have any impact on our business and we will explore alternative solutions immediately" HTC said in an emailed statement.

...In addition to the latest case, Nokia has filed about 40 patent infringement cases against HTC.
This does seem like a corporate cock-up on a huge scale, with ST Micro doing a component deal with HTC that it had no right to make.
The HAAC microphones were first used in Nokia's 808 PureView, running Symbian, followed by most of the company's Windows Phone 8 devices. As proof of its allegations and a basis for the injunction, Nokia posted this comparison image of the HAAC microphones in the Lumia 720 and the HTC One: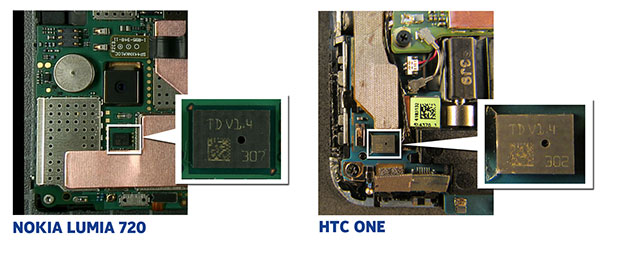 It's likely that HTC will now face the same injunctions in other markets and it would do well to settle/license somehow, and fast. Re-engineering the One to use a different microphone component will take months to get the revised hardware onto the market, and the HTC One is already about to face a savage High Street battle with the Galaxy S4.