From the press release:
SPB TV is introducing new user interfaces (UI) perfectly tailored for each of the major mobile operating systems: iOS, Android, and Symbian, as well as existing clients for all other mobile platforms. Windows 8 fans will be excited to see a brand new app for Windows 8, designed in a genuine Metro style. A new OTT/desktop version makes SPB TV service available on all devices supporting Internet browsers. The new UI is fun to use and easy to navigate and has a clean, well-organized design.

An exciting new second-screen mobile application is also being launched, enriching the in-home TV viewing experience with social sharing features and augmented reality elements. The app makes TV interactive, giving viewers additional useful information such as actor or director trivia, sport players' and athletes' bios and statistics, detailed recipes used in cooking shows, or even alternative movie endings.

The new SPB TV Media Platform 5.0 features a revolutionary technology for creating a sustainable CDN (Content Delivery Network) and transferring live and VoD TV channels to all video-enabled devices (Mobile, Desktop and TV) across large distances . The dedicated FEC (Forward Error Correction) technology allows to prevent package loss even on RTSP video protocol.
It's not clear whether Symbian will get the 'second-screen' app too, but hopefully you've already been enjoying the higher quality viewing in the v3.0 client? Note that the actual playback quality does also depend on the source's resolution and bitrate.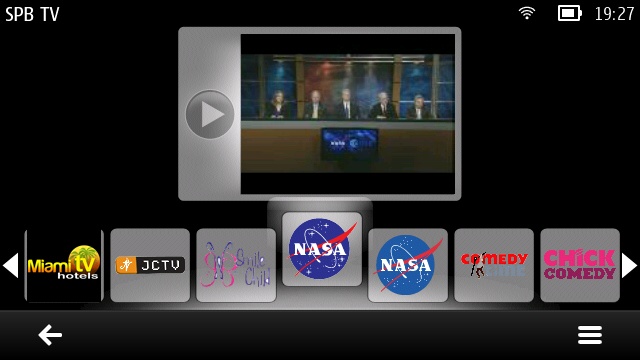 From our earlier story:
The official change log for v3.0 is:
High Quality streams support
Adaptive network bandwidth support
Channels store with categories and search
Symbian Belle advanced support
New hardware decoders support
Improvements and bug fixes
(SPB TV's web site seems to be somewhat out of date, but thankfully the app development team and the marketing team at MWC 2013 seem more on the ball - the press release quoted above was emailed in.)