With a UI that's GPU accelerated from start to finish, Liqua Pop feels a cut above the usual game title. Themed around a rain forest, there are crawling ladybirds, colourful lizards, butterflies and more, all appropriately voiced in sound effects. Most of all though, there are coloured drops of liquid falling from the top of the screen and your job is to match up those of the same colour.
If that sounds like a familiar gameplay concept, then think again. For these aren't static, rigidly placed bubbles. These are fluid, amorphous entities that slide around in realistic fashion - and, like real liquid drops, can be merged together to form larger drops. So gameplay consists of you swiping around on-screen, trying to drag and join drops - when these are large enough, a timer is set off and they start to pop. For each pop, your 'toadie' lizard crawls a little higher up the left hand stalk, your goal is to get him to the top in each level.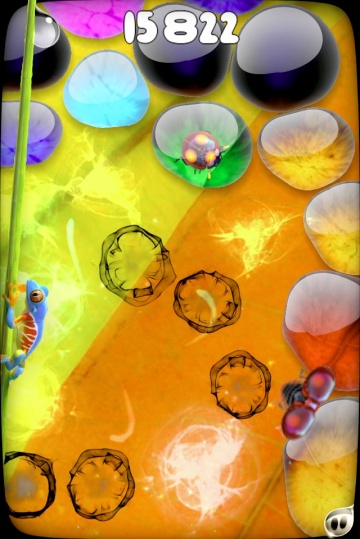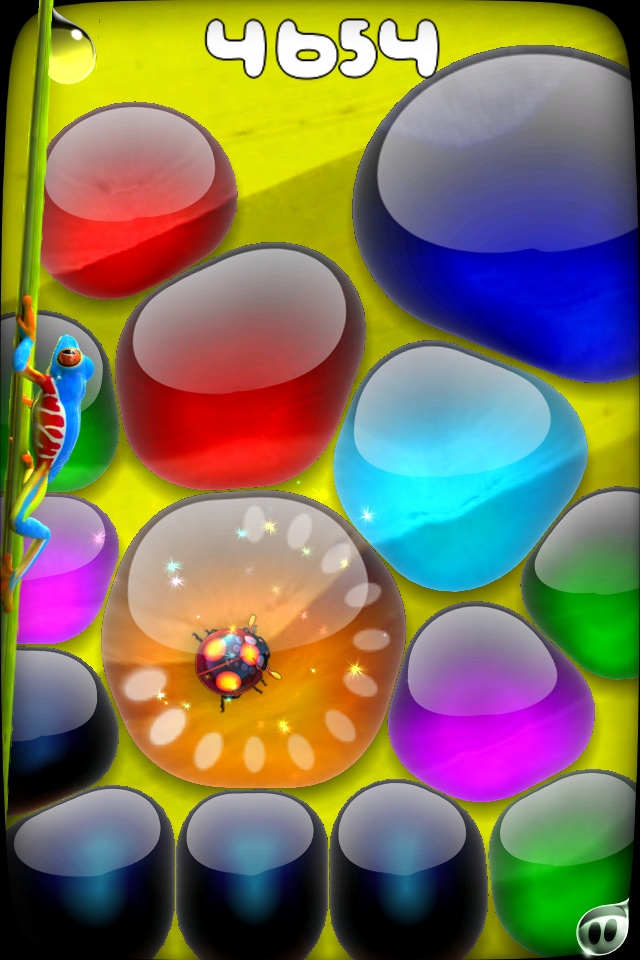 Twists are added by being able to create multiple, simultaneous 'popping' drops, wherein you start to get score multipliers. Add in powerups in the form of special bugs contained within some drops, that can colour change other drops, and you start to see that this has all the hallmarks of something interesting and addictive.
I said above that Herocraft has worked hard here to squeeze Liqua Pop onto Symbian. There are clearly some RAM tricks used - I had one occurrence of the game not starting when I had lots of other apps open, plus the game then ran without all of its sprites loading. Restarting the phone restored proper game appearance, but it's worth noting the heavyweight nature of Liqua Pop's requirements.
In addition to the few screens here, I've used a video of the game running on the iPhone below - actual gameplay is identical, mind you, so it still gives an excellent idea of how to play.
Here's the official game description from the Nokia Store entry:
Stunning arcade iOS hit Liqua Pop is now on Symbian devices. Pop matching colour droplets by dragging them together and clear the way for Toadie. The innovative gameplay includes advanced liquid simulation features and spectacular graphics for hours of addictive, droplet popping fun! Drag your droplets anywhere on the screen and similar colours will accumulate until they burst. Let the droplets grow for higher scores. Or if the screen gets too crowded, shake your device to pop them immediately.
Liqua Pop is a snip at £1.50 and comes highly recommended.
Here's the official gameplay demo: