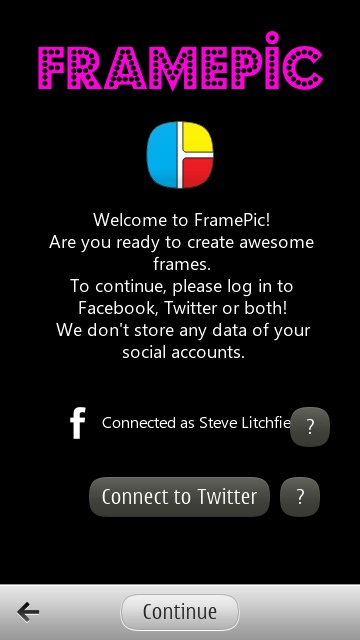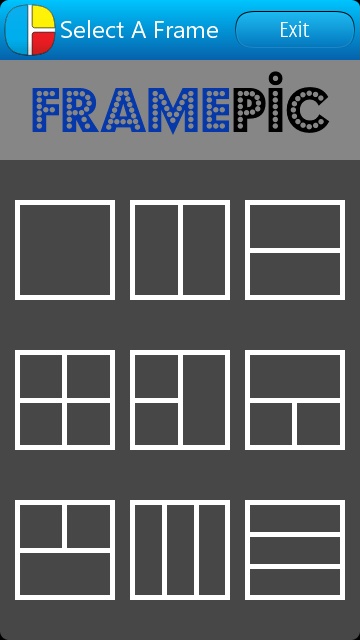 There's the expected authorisation step to either of Facebook or Twitter, before you're allowed in to play with the app; (right) start by choosing a frame layout - the idea is to then fill the rectangles with fragments of your photos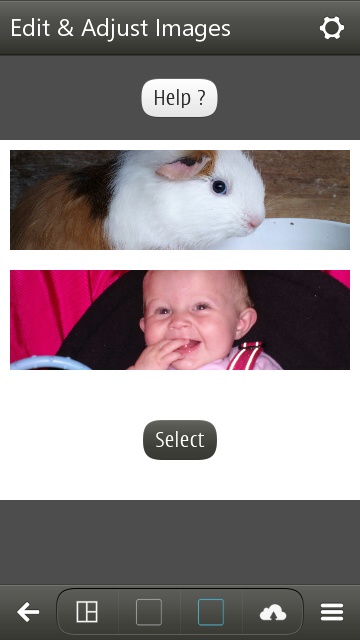 You then tap on each empty rectangle and (right) pick from the photo gallery proferred. I loved the idea of the interface, in that you can pan around each photo and pinch to zoom out until you get just the fragment you want. However, the gallery interface doesn't remember your thumbnails from session to session or use the Symbian Photo thumbnails, so there's a lot of waiting around while thumbnails build each time you use FramePic.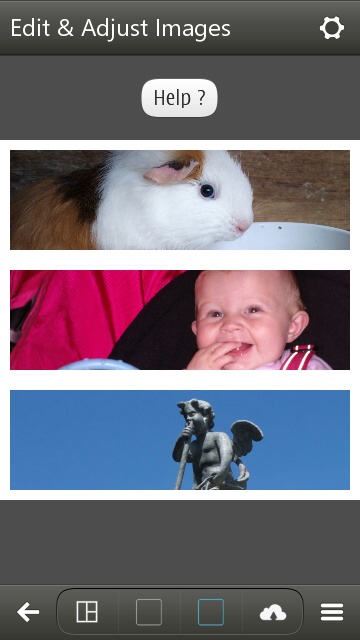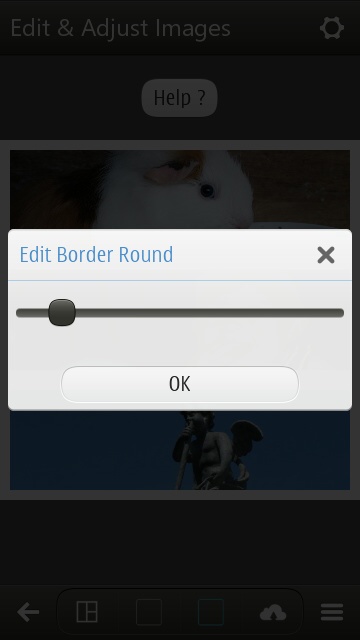 A completed mashup/FramePic - you can adjust border size and colour using the tools linked at the bottom of the screen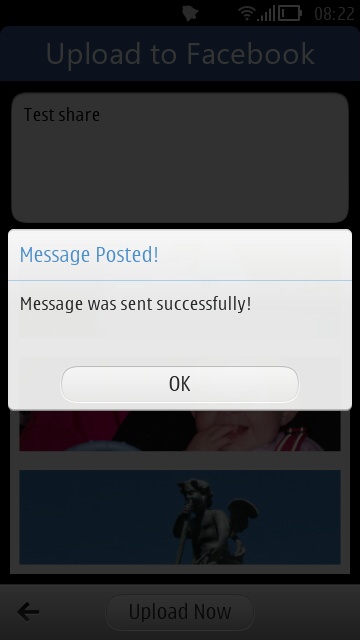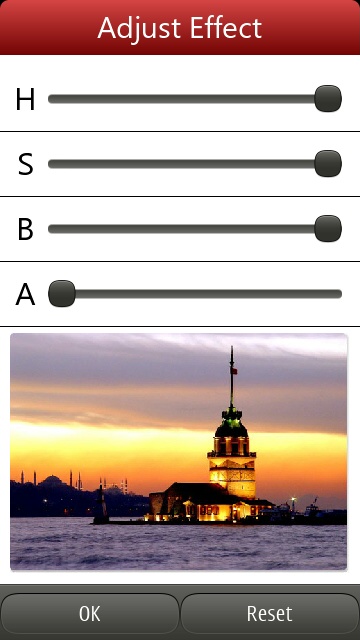 When done, add a caption and upload - all went smoothly for me; (right) one oddity is the photo effect editor, only the bottom slider seemed to do anything on the Nokia 808 - perhaps a Feature Pack 2 incompatibility?
FramePic is a nice idea and has a very workable interface, but is let down by two things. Firstly, the low, low resolution of the final image. 360 pixels square - I know these images are aimed at Facebook, itself notorious for downsampling everything massively, but 0.1 megapixels is just silly. This should be 720 by 720 at least, surely?
Secondly, the photo gallery, in addition to not being amazingly fast, also always presents your photos in chronological order - which is crazy. Assuming you've got 500 photos on your phone, the chances are that you're going to want to select the most recent and, for every single one, you've got to swipe your way past 499 other thumbnails. Madness.
A great idea for an app that needs just a bit more work. The install is free here in the Nokia Store, but there's an enforced in-app purchase for £1.50 if you want to use it beyond the first three times.
Here's the Store description:
Create amazing frames with 9 frames. Rounded corners, effects and more!
FramePic helps you combine multiple photos into amazing looking frames and share them with your friends on social networks.
Free 3 Try

Features:
- 9 frames with multi-images
- Roundable & Colorizable borders
- Adjust the brightness, contrast and saturation of each photo
- Rotate photos
- Pinch to zoom and drag to move the photos
- Press & Hold on images to change or delete current image
- Share on Facebook & Twitter