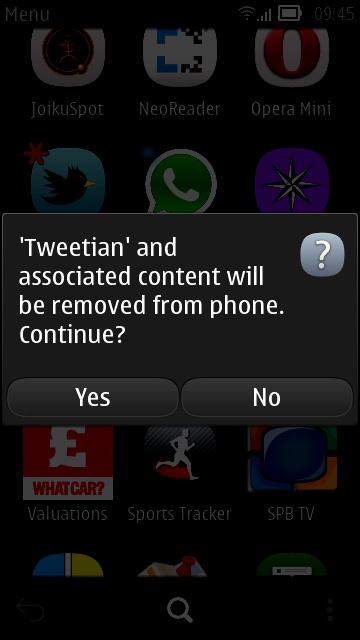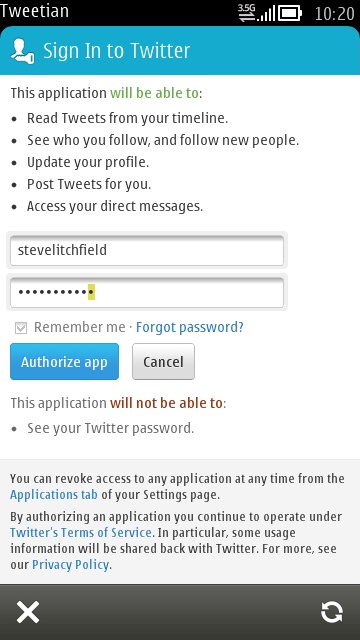 Having to remove Tweetian 1.5 is a pre-requisite and unusual, but there are apparently technical reasons under the hood. Just long press the v1.5 icon and choose 'Delete', etc. You'll also, having installed the new version 1.6 from the Nokia Store, have to re-authenticate with Twitter - the app guides you through this, don't worry.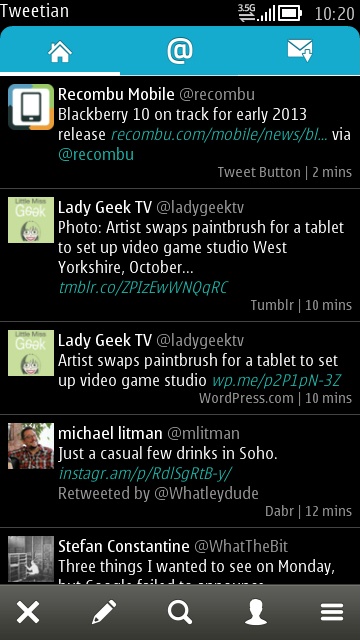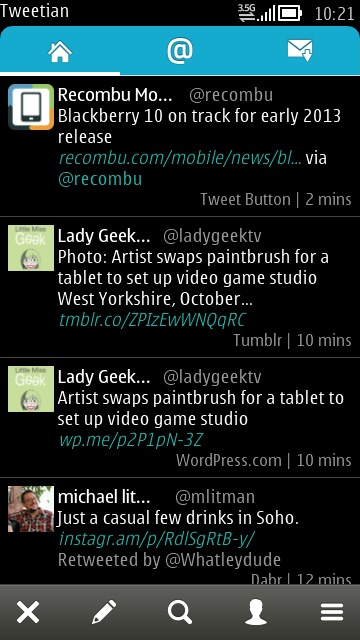 There's now the choice of 'small' (shown left) or 'large' (right), though the difference between the two is fairly small - Peter, if you're reading this, can I have 'extra large' please? 8-)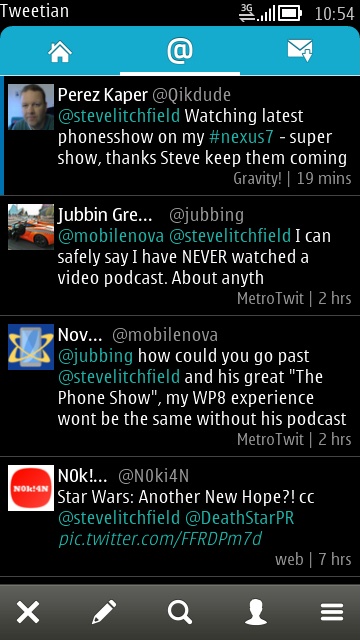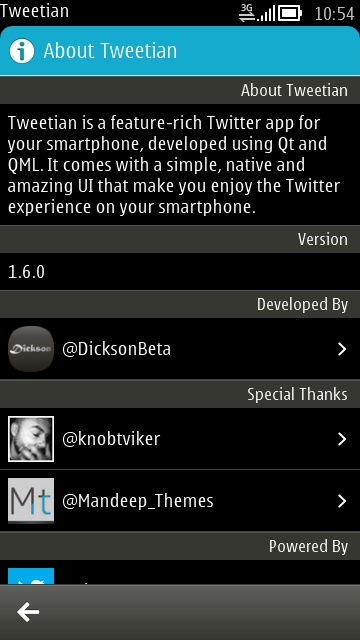 Performance of Tweetian is now excellent, the client comes highly recommended. It's not Gravity, but then it's freeware and for Twitter-only users probably does 90% of the same job. Being written in Qt and QML, it's a great advert for the development system and is also available for the Meego-powered Nokia N9.

From the developer's blog:

IMPORTANT: Due to a huge backend changes in the app, previous version of Tweetian (v1.5 or below) need to be uninstall first before update to 1.6.


Changelog:

New feature: Mute
Showing both full name and user name in tweets/DMs
Huge improvement to app back end, the whole app should be more stable now
Streaming is much more stable
Auto scrolling for new tweets when you are at the top of the list and streaming is active
Pinch-to-zoom image
Added small or large font size setting
Improvement to Settings UI
Automatically clear thumbnails when there are more than 1000 thumbnails
"Suggested User" moved to the trending andamp; search page
New feature: Nearby tweets
The app will automatically goes online/offline depends on your phone's internet connection
Improve app offline capability
Disabled refresh in DM when streaming is active
Removed the swipe design in user page as it is not efficient
Removed the image/geotagged icon for tweets to improve performance
Fixed:

timeline/mentions will jump when loading new tweets
duplicated tweet
"Website" is disable for private user in user info
not displaying Instagram image with a dash in the link
all tweets marked as unread when new tweets are loaded
attempt-fix profile image is display wrongly for user
There are a few known issues with v1.6 on Symbian, namely:
Sometimes Tweetian will not be notified when the phone's internet connections goes online or offline
Sometimes the app will crash if you press the back button when something is loading at the current page. Try to wait for the loading process to complete first.
Tweetian is now open source and you can find the full source code at
GitHub
(GPL v3+). Contributions are welcomed!