As IDC note is their press release:
In the worldwide smartphone market vendors shipped 179.7 million units in 3Q12 compared to 123.7 million units in 3Q11. The 45.3% year-over-year growth was slightly above IDC's forecast of 45.2% for the quarter.

Equally noteworthy was the decline of Nokia, which was replaced by Research In Motion as a Top 5 smartphone player. Nokia's exit from the Top 5, where it had resided since the inception of IDC's Mobile Phone Tracker in 2004, was precipitated by the rise of Samsung and Apple globally and high-growth vendors like Huawei in China, where Nokia was the dominant player as recently as the third quarter of 2011.

"Nokia's share losses have meant gains for competitors," said Kevin Restivo, senior research analyst with IDC's Worldwide Quarterly Mobile Phone Tracker. "The company's transition away from Symbian-powered smartphones to ones shipped with Windows Phone has left ample opportunity for rivals to steal share away from Nokia over the past 18 months. However, the smartphone market is still relatively nascent, which means there's room for multiple vendors and operating systems to flourish, including Nokia."
Smartphones
IDC smartphone figures for Q3 2012:
Q3 2012
shipments
Q3 2012
market share
Q3 2011
market share
Q3 2011
market share
year on year
change
Samsung
56.3
31.3%
28.1
22.7%
100.4%
Apple
26.9
15%
17.1
13.8%
57.3%
RIM
7.7
4.3%
11.8
9.6%
-34.7%
ZTE
7.5
4.2%
12.7
3.3%
82.9%
HTC
7.3
4%
12.7
10.3%
-42.5%
Others
74
41.2%
49.9
40.3%
48.3%
The following chart shows smartphone shipment figures, by manufacturer, over the last four years. The overall trend show how quickly the overall smartphone market has grown.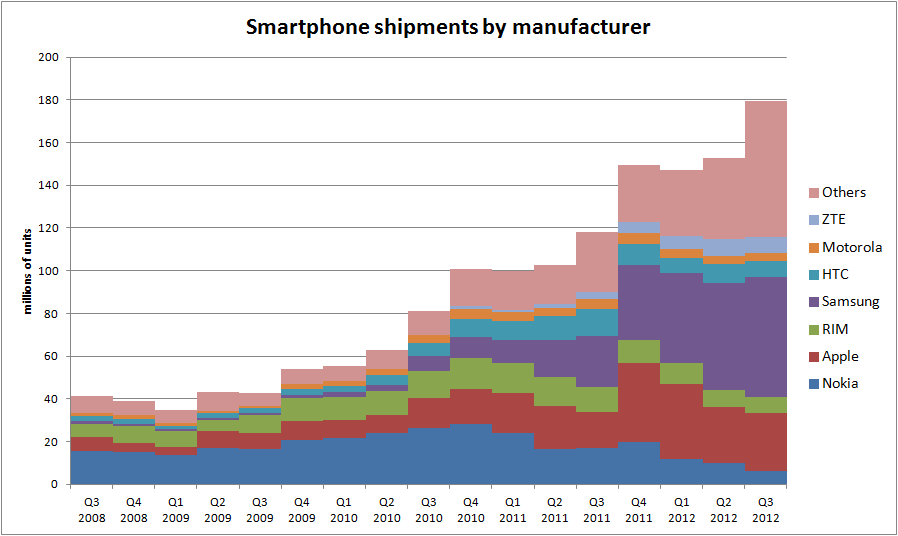 The chart below show market share by manufacturer over the same period. Clearly visible in the last few years the growth of Samsung, the decline of Nokia and RIM, and the increasing number of smartphone manufacturers (growth of Others).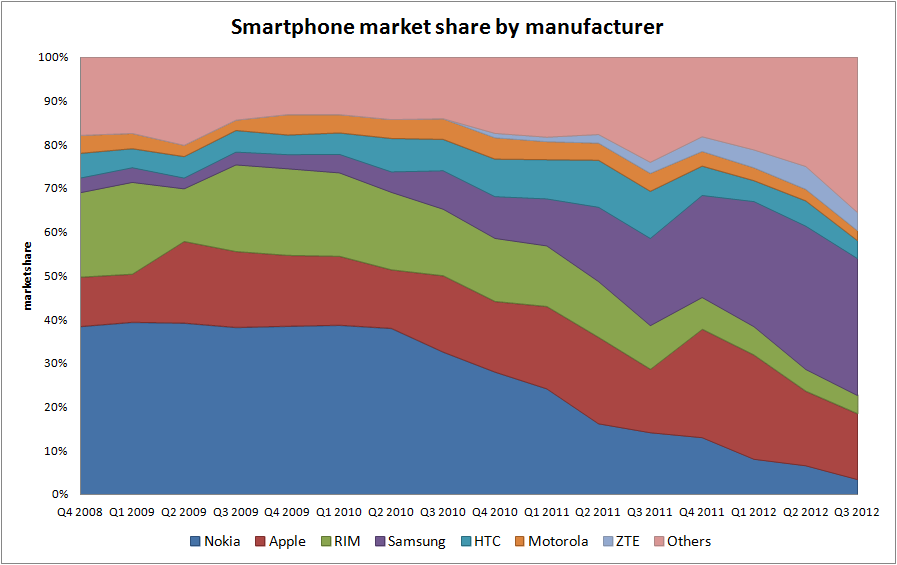 All mobile phones
IDC mobile phone (smartphones and feature phones) figures for Q3 2012:
Q3 2012
shipments
Q3 2012
market share
Q3 2011
market share
Q3 2011
market share
year on year
change
Samsung
105.4
23.7%
87.2
20.1%
20.9%
Nokia
82.9
18.7%
1.6.5
24.5%
-22.2%
Apple
26.9
6.1%
17.1
3.9%
57.3%
LG
14
3.1%
21.1
4.9%
-33.6%
ZTE
13.7
3.1%
17.6
4.1%
-22.2%
Others
201.6
45.3.2%
184.6
42.5%
9.2%
Across all mobile phones (smartphones and feature phones) Samsung (105.4 million units) has extended it lead over Nokia (82.9 million units), but the other manufacturers remain a long way behind. Apple is in third place (26.9 million), LG in fourth (14 million) and ZTE in fifth (13.7 million units).
Taking away the smartphone shipments, from the total mobile phone numbers, show that Nokia continues to hold the lead in features phones by a significant distance, underlining the strength of its Asha and related devices portfolio. In features phones Nokia is on 76.6 million units, Samsung on 49.2 million units, LG on around 10 million units, and ZTE on 6.3 million units.