Just fire up Nokia Suite to see the update being offered. Here's the notification: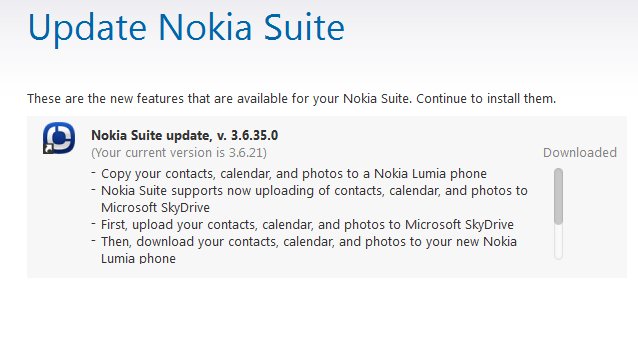 Comments welcome if you spot anything new in the interface or functionality.
And just a reminder that the big new feature in recent builds of Nokia Suite is being able to upload your Contacts, Calendar and Photos to SkyDrive, ostensibly for syncing down to a newly purchased Nokia-branded Windows Phone. If you've gone down this route then let us know how it went.
If you are experimenting with moving to Windows Phone, note also that Nokia WP devices also include a Bluetooth-based 'Contacts Transfer' utility which... well, the name rather gives the game away!
Update, from Symbian Tweet, explaining the version .35 and .36 numbers:
"Nokia Suite v3.6.35 Beta and the officially released Nokia Suite 3.6.36 are almost identical, only differences are, what update channels these releases use. Think of it similarly as Google Chrome update channels. If you use Beta build –> you get updates to next Beta build, when it is available. If you use official build –> you get updates to next official build, when it is available."