The idea of Slippy Notes is to have a 'pad' of four Post It-style notes, of which any one can be chosen to appear on your home screen at any one time. In this case, below right, my yellow Post it with shopping list: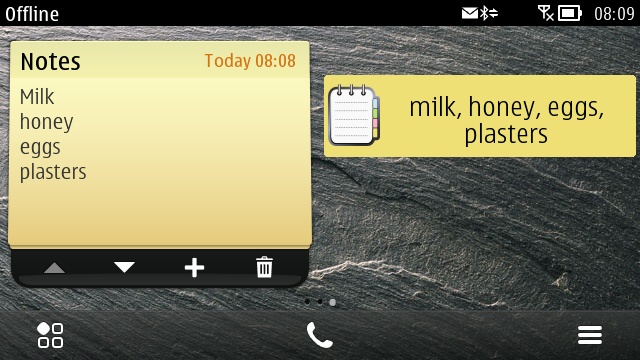 The font shown is quite large, but if there's enough text, the font decreases automatically to allow more to be shown. Tapping through shows the full pad of four notes, in the usual Post It pastel colours. It's easy to enter text in the usual way, but one (rather severe) limitation is that you can't insert carriage returns, i.e. you can't put in a line break. So you'll have to resort to commas and semi-colons or slashes as delimiters for lists, as I've done here.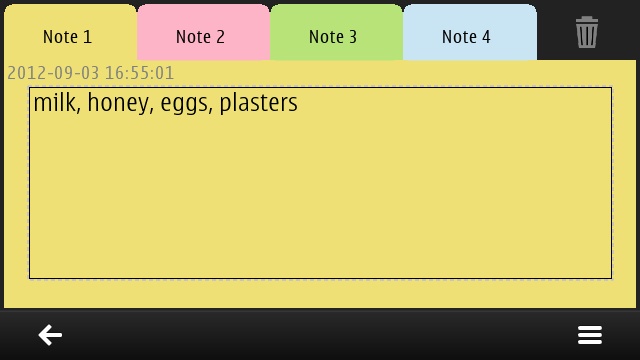 Being restricted to just four notes is a bit disappointing, but there's a bigger limitation here, unfortunately - you can only have one 'Slippy Notes' widget/note displayed at once. I was fully expecting to be able to see all four pastel notes at once, in adjacant widget slots on a homescreen, but no such luck - surely this is something the developer can add fairly easily?
At £1, you can't really quibble at the price, but I'd certainly want to see updates to Slippy Notes before I was fully happy with having it installed on my Symbian phone...
Slippy Notes is here in the Nokia Store.