In order to raise the capital required to complete the Nokia patent acquisition, Vringo is carrying out a stock offering (9.6 million common shares at $3.25 each, to raise $31.2 million). The deal is expected to be completed in early September.

The majority of the patents included in the deal were filed in the late 1990's and early 2000's, with an average remaining life time of 6.7 years (length of time for which licensing revenue can be sought). The areas covered by the patents include communication management, data and signal transmission, mobility management, radio resources management and services. The technologies for which the essential patents apply include GSM, WCDMA, and LTE (and regional variants such as T63 and T64).
Vringo is perhaps best known for its video ringtone software and services. However, this patent deal is driven by the company's expanding intellectual property licensing division, which was created after the recent merger with Innovate/Protect. Innovate/Protect's main business was "maximising the value of intellectual property and technology assets". After the merger, Vringo noted that it planned to grow its IP portfolio through strategic acquisitions and in internal development. Unrelated to the Nokia portfolio, but pertinent to Vringo's intellectual property business, is an ongoing legal action against a number of companies, including Google and Apple, related to patents originally filed by Lycos describing the placement of adverts in search results.
According to the 8K filing associated with the deal, Nokia will retain a fully paid up, non-exclusive, worldwide license to the patent collection. If Vringo's gross licensing revenue from the patent portfolio exceeds $22 million, 35% of any excess will be paid to Nokia. In addition, the agreement specifies that if Vringo brings a legal proceeding against Nokia in the next seven years, then Nokia has the right to reacquire the portfolio for a nominal amount. Vringo will also be obliged to pay Nokia a substantial impairment payment if it sells any of the essential patents (or a portion of the other patents), or if it files an action against a telecoms provider against Nokia's wishes.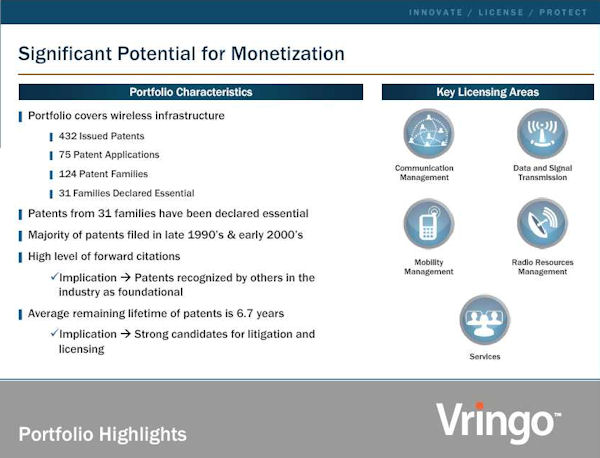 Vringo clearly expects to be able to gain significant revenue from the patent portfolio by a combination of licensing and litigation. It notes that the patents in question have a high level of forward citations, which means they are part of the "patent conversation" in telecommunications and therefore widely recognised as important. It is of interest to note that David Cohen is the Head of Litigation and Licensing for Vringo. Cohen was formerly the Senior Litigation Counsel for Nokia and was involved in the Nokia - Apple patent settlement, which resulted in a one-off payment, by Apple to Nokia, of $715 million, plus ongoing royalty payments. He's part of a team at Vringo with a strong track record in patent litigation and licensing in the mobile industry.
For Nokia, the deal does raise some cash, but the amount is relatively small when set against current operating costs and current cash levels (€4.2 billion). However, it does continue a pattern that has seen Nokia pass or sell a number of patent portfolios to a number of companies (e.g. Sisivel, MOSSAID and Synchronica) in order to, depending on your point of view, either make licensing easier, or maximise revenue from its intellectual property portfolio. Effectively, Nokia has been transferring some of its patent portfolio to companies that specialise in patent licensing and litigation (usually called non-practising-entities - NPEs), in order to better exploit the intellectual property it has developed over many years.
This can be seen as somewhat controversial; another name for NPE is "patent troll". However, there's nothing inherently wrong with this process, after all the whole patent system is based on the inventor being rewarded for their efforts. Issues only arise, as with any other patents, if questions arise around the legitimacy or enforceability of the patents in question. As such, there are "good trolls" and "bad trolls", with the division between the two somewhat dependent on perspective.
Nokia, up until a few years ago was not particularly aggressive in its intellectual property activities. This was due, in part, to the extent with which patents were relatively evenly distributed across the industry (in proportion to a company's strength in the industry) and the existence of a broad level of agreement on cross-licensing. However, the rise of new entrants, most notably Apple and Google, has changed the playing field, with many of the incumbent players feeling that the new entrants were infringing on patents and were unwilling to agree reasonable licensing terms. These changing circumstances have led to a great deal of patent litigation, a number of patent related acquisitions (e.g. Motorola by Google) and an increasingly complex intellectual property picture within the mobile industry. It seems reasonable to assume that these industry wide changes have driven Nokia's intellectual property strategy, although consideration of the bottom line has also become increasingly important.