From the press release:
The worldwide mobile phone market grew 1% year over year in the second quarter of 2012 (2Q12), as Samsung and Apple shipped almost half of the world's smartphones. Samsung and Apple have more than doubled their combined market share over the past two years, which has created more distance between the companies and the competition. "Samsung and Apple have quickly become the global smartphone heavyweights though both employ somewhat different approaches to the market," said Kevin Restivo, senior research analyst with IDC's Worldwide Quarterly Mobile Phone Tracker. "Samsung employs a 'shotgun' strategy wherein many models are created that cover a wide range of market segments. Apple, in contrast, offers a small number of high-profile models. While both companies have expanded their geographic presence in pursuit of market share, the two companies will inevitably come into greater conflict as both try to generate additional gains."

Market share gains will be harder to generate, however, if the worldwide smartphone market grows at rates similar to the 42.1% year-over-year rate at which the market increased in 2Q12. This was the lowest growth rate since the fourth quarter of 2009. Vendors shipped 153.9 million smartphones in 2Q12 compared to 108.3 million units in 2Q11. The 42.1% year-over-year growth was one percentage point lower than IDC's forecast of 43.1% for the quarter.
Top Five Smartphone Vendors, Shipments, and Market Share, Q2 2012 (Units in Millions)
| | | | | | |
| --- | --- | --- | --- | --- | --- |
| Vendor | 2Q12 Unit Shipments | 2Q12 Market Share | 2Q11 Unit Shipments | 2Q11 Market Share | Year-over-year Change |
| Samsung | 50.2 | 32.6% | 18.4 | 17.0% | 172.8% |
| Apple | 26.0 | 16.9% | 20.4 | 18.8% | 27.5% |
| Nokia | 10.2 | 6.6% | 16.7 | 15.4% | -38.9% |
| HTC | 8.8 | 5.7% | 11.6 | 10.7% | -24.1% |
| ZTE | 8.0 | 5.2% | 2.0 | 1.8% | 300.0% |
| Others | 50.7 | 32.9% | 39.2 | 36.2% | 29.3% |
| Total | 153.9 | 100.0% | 108.3 | 100.0% | 42.1% |
There's no breakdown of sales by mobile platform, but we know from Nokia's own results that the figure of 10 million smartphone sales is roughly composed of 6 million Symbian and 4 million Windows Phone (Lumia). We have no figures for HTC's platform split, either, but would assume quite a small proportion of its sales to be Windows Phone.
Smartphone shipments and market share over time
The chart below, based on IDC data, information from manufacturers and our own estimates, shows smartphone shipments over the last four years. The key trend over the last year has been the rise of Samsung. In the last quarter it shipped almost twice as many smartphones as its nearest competitor. It does not enjoy the same market share as Nokia up until mid-2010, but the market is now much more competitive, making it a very impressive performance.
Other notable trends have been the decline of Nokia, RIM, and, to a lesser extent, HTC. Nokia and HTC will be looking to Windows Phone 8 to boost shipments later this year, but are both likely to face a tough Q3. RIM will be looking to Blackberry 10, which is due to ship early next year, meaning it faces a grim period in the second half of this year.
Also of interest is the rise of ZTE (and, as part of 'others', Huawei). These two Chinese smartphone manufacturers are enjoying strong growth and have a combined target of 100 million smartphone shipments in 2012.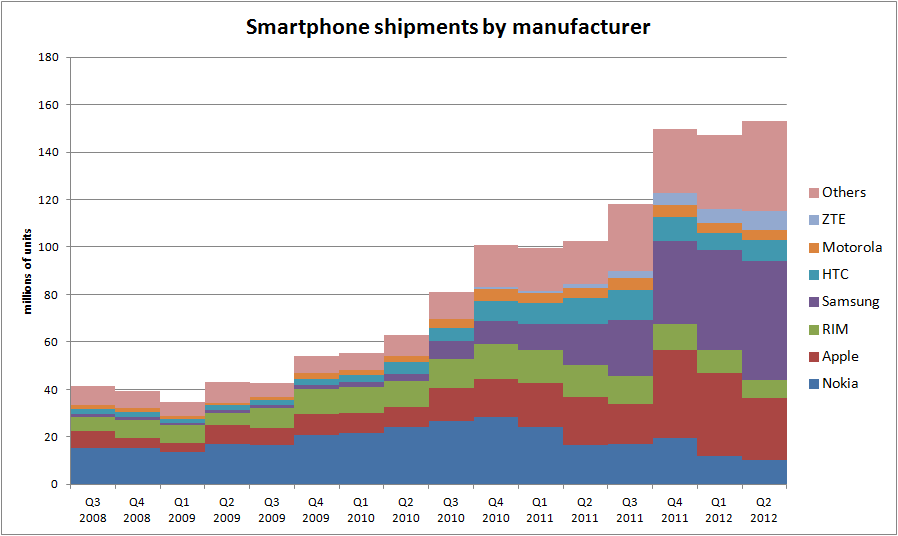 The chart below shows the same data, but expressed as smartphone market share, which makes it easier to see relative performance over time.