Here's the update in the Nokia Store, ready to go. And the Notekeeper home screen: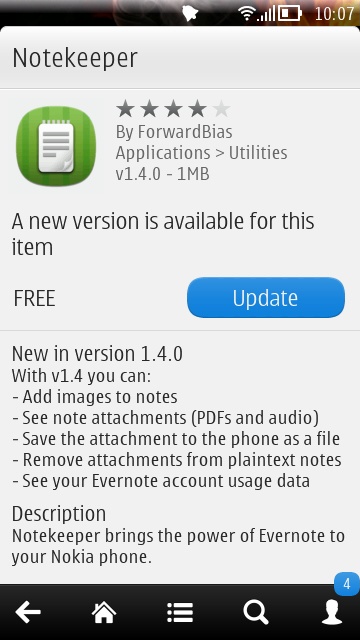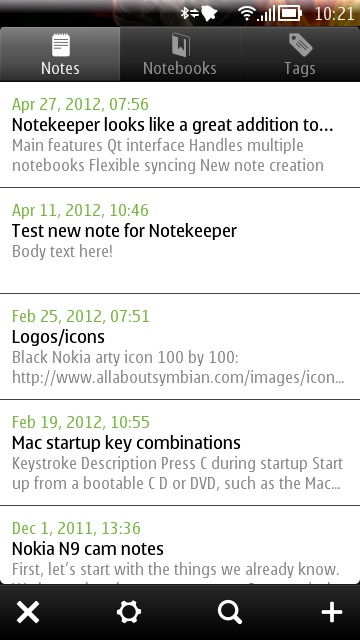 Highly recommended - there's intelligent syncing of note content to your phone, so you don't have your entire GB database synced each time - thankfully!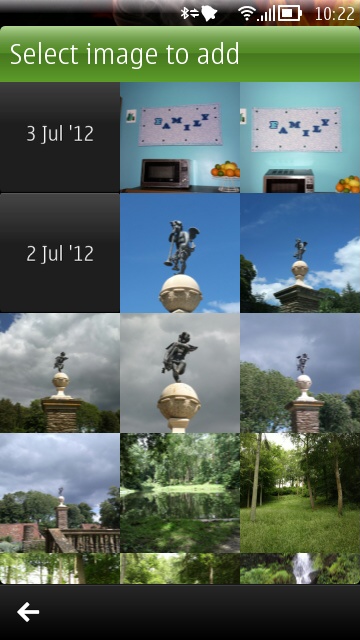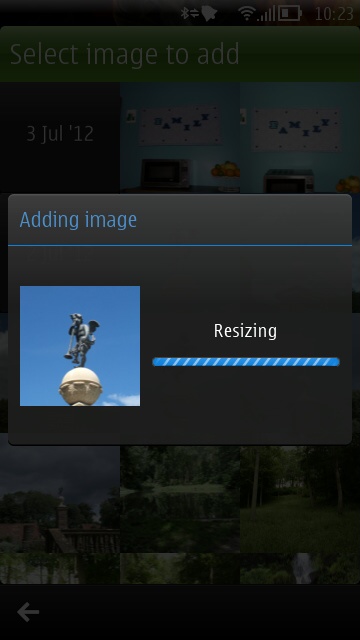 Picking a photo to add to a note - Notekeeper then resizes it down to 3 megapixels, in line with Evernote recommendations, and to keep the note's byte size down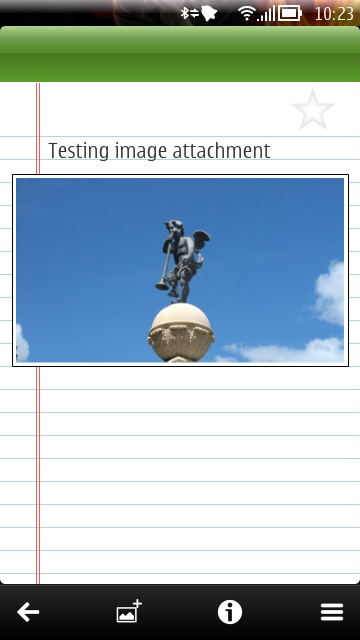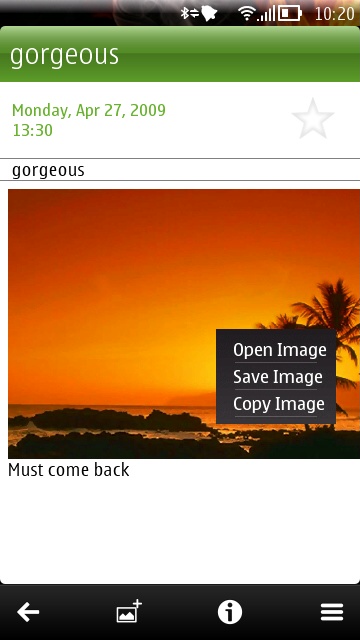 Here's the image attachment in the new note. Finally, notes which are grabbed from Evernote with existing images attached can have their images saved as needed with this new 'long press' pop-up menu.
See also my review of Notekeeper, from a few months ago, in which I scored it at 82%. Maybe I should 'up' the score a little now? 8-)
You can buy Notekeeper in the Nokia Store here - trust me, it's worth the £3. If you've already bought Notekeeper then just go into the Nokia Store client and look under your account tab and 'Updates'.
For completeness, we now have the full changelog from the Notekeeper blog:
Changelog v1.4:

The application can open the PDF files using Acrobat Reader (installed separately), play the audio file attachments, and view images in fullscreen.
Attachment information like filename and image dimensions are shown in auto-hiding panels.
Now you can also save any attachment to your phone.
Allows attachments - you can now add images from your phone to your notes using Notekeeper
Images are auto-resized before they're added to the note (resizing can take a few seconds for large images). You can control the resizing behaviour in Settings > Image Attachments.
Notekeeper can now keep track of your Evernote account usage.
Bug Fixes:

Signing in works correctly even if you tap the sign-in button immediately after typing in the password (like, if you have really fast fingers)
Doesn't get confused if you logout during a sync

Other Changes:

Now you can also long-press at the bottom part of a note to select/paste (earlier, you had to long-press only on the text-part of the note)
More memory-efficient downloading of note attachments
You can control Notekeeper's disk cache in Advanced Settings
Editing is disabled for notes created by Evernote Hello and Evernote Food