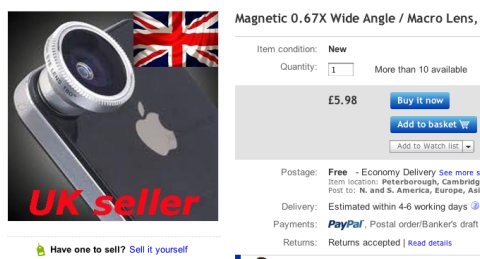 Lloyd writes:
To attach the lens is very simple. The kit consists of a magnetic macro lens, a wide angle lens (that screws on to the macro lens), three washers (sticky one-side), lens cover and a keychain strap. Peel off the plastic from the sticky washer and place it around the camera lens so that the camera lens is in the center of the washer. Then attach the macro/wide angle lens. Unscrew the wide angle lens if you want macro shots (which I think are the more impressive). I have tried the wide angle lens which works but you get a small area blacked out on the edge of the picture due to the lens size.

Presumably, the sticky washer's aren't reusable, so you get three shots at using the accessory as-is - unless you keep the washer part attached all the time, which would depend on the phone being used and the sort of case you keep it in.
Anyway, enough hackery, here are the photos to prove it - not bad for an aftermarket accessory, I think, and a nice piece of lateral thinking...