On its first start up BelleChat will ask you to provide details for your IRC server of choice. Once you've connected to that channel you are, optionally, presented with a list of available channels, which you can join with a single tap. You can also manually enter a channel to join. Each channel will open its own tab, as shown in the screenshot below and you switch between channel by tapping on the appropriate tab in the tab bar at the top of the screen.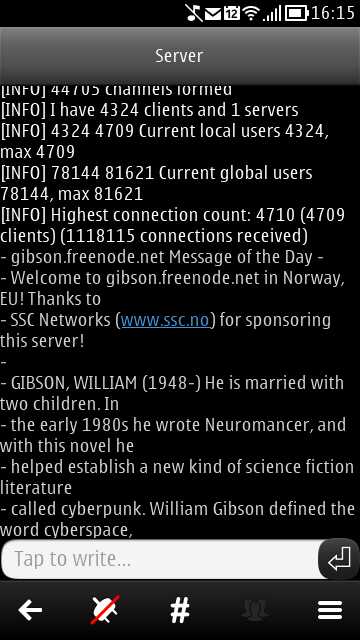 From inside a channel you can see a list of users by tapping the appropriate icon on the toolbar (back, disconnect, channel commands, user list and menu). The menu gives accessing to the about, help and settings screen. In settings you can configure whether to show timestamps with incoming messages, whether to show the channel list when joining a server and set the appearance (text format) of your messages (colour, background colour, bold, italic and underline).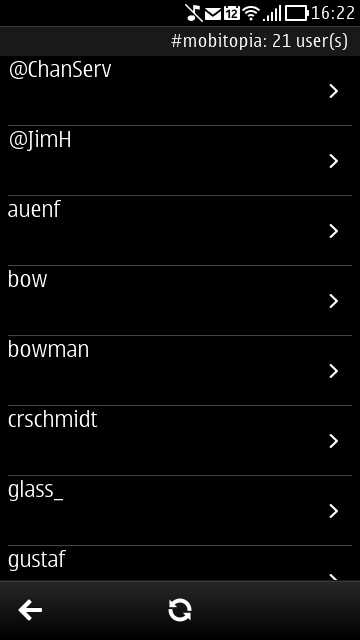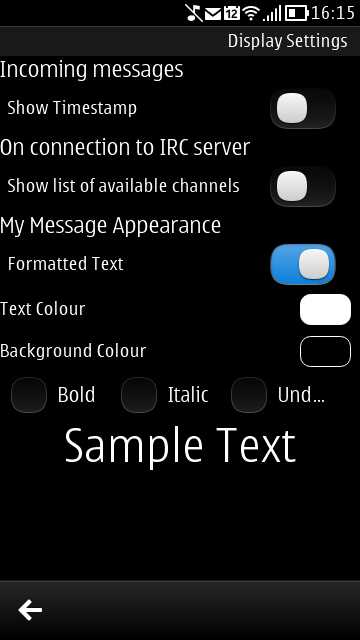 BelleChat provides an easy on the eye and intuitive IRC client for Symbian devices. While the feature set is relatively limited, compared to some desktop clients, it handles all the basics of IRC well and should be more than sufficient for most IRC usage on the go. Moreover, the developer is planning to add support for private messages, ignore commands and other 'advanced' IRC features in the next version of the application.
BelleChat 1.0 can be downloaded from the Nokia Store; it costs £1 / $1 / €1.
More information on BelleChat is available on the developer's blog, and on this Nokia Developer Wiki page. The source code for the application is available via GitHub.