Review:
Sony Ericsson Vivaz - part 3 (home screen and media suite)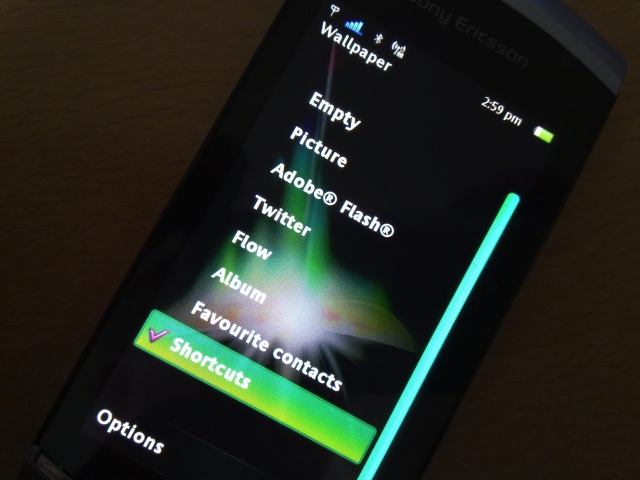 Homescreen
As with the Satio, the Vivaz uses vanilla S60 5th Edition, with no Symbian-provided bells and whistles (sadly), but with a custom 'kinetic' front end added by Sony Ericsson. This comprises a Flash-based replacement standby theme, plus a comprehensive (native Symbian) media suite (music, photos, videos).
The Flash-based standby system is fine as far as it goes, but ultimately it's arguably a lot more limited than similar systems in other 2010 smartphones. The current options, for each of the five 'tabs' are:
Favourite contacts (you have to pick up to 8 manually from your main Contacts store)


Shortcuts (a simple text list of 8 items, to applications or web bookmarks)


Album (a vertical kinetic-scrolling strip of full-screen previews of your latest stills/videos)

Flow (an accelerometer-enabled animated wallpaper - a bit of a gimmick, to be honest)

Twitter (a Flash app that's, to be honest, not even worth including here - it's so rudimentary - timeline/post tweet only - that even casual users will outgrow it in a day. And it seems to need your Twitter login re-entering every single day - by hand)


Picture (static wallpaper)

Adobe Flash (in theory a gateway for a catalogue of other Flash apps, though there's only a mobile aquarium and a puzzle game at present)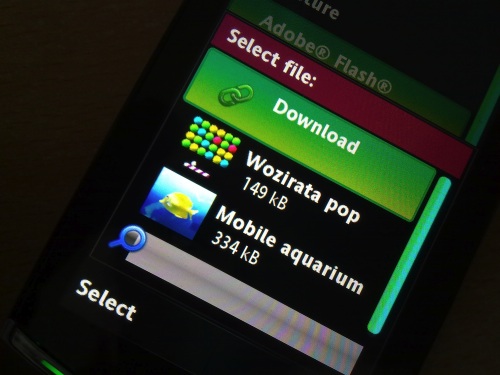 The limited content within the Adobe Flash catalog on the Vivaz - hitting 'Download' just brings up the web browser with no clue as to where to go next
All of which is probably enough for the average phone user, but there's a distinct paucity of options and content when compared to that for the Nokia N97 homescreen, for example. In addition, as with the media suite (see below) on the Satio, there's a definite sense of lagginess - probably a side effect of using Flash as the platform for this function, plus I experienced several crashes of the Flash runtime, resulting in having to not only turn the phone off but also (in one case) to remove the battery as well. Admittedly, this is still initial firmware for the Vivaz, but I have to say that the Sony Ericsson tabbed homescreen didn't win my heart on any level. Well..... maybe the aquarium - that brought a smile to my face every time it came up!
As you might expect for a S60 phone, there are alternatives when thinking about 'home' screens:
'Finger use' is the standard S60 app shortcuts, plus music control and Calendar upcoming entries, with chunky icons, all optimised for err... finger use(!)

'Full page' is the same system, but with clock, date and six (rather than four) smaller app shortcut icons - this is my favourite standby theme for use on the Vivaz, to be honest - but then I'm a hardened S60 user. A newcomer might well prefer the more glitzy Sony Ericsson default version.

'Basic', with just a clock, date and wallpaper

'Navigation bar', comprising a vertical strip of tiny, not-very-finger friendly icons, each with sub-functions. All very Orange, circa 2003, and very unsuited to use on the Vivaz. Best avoided.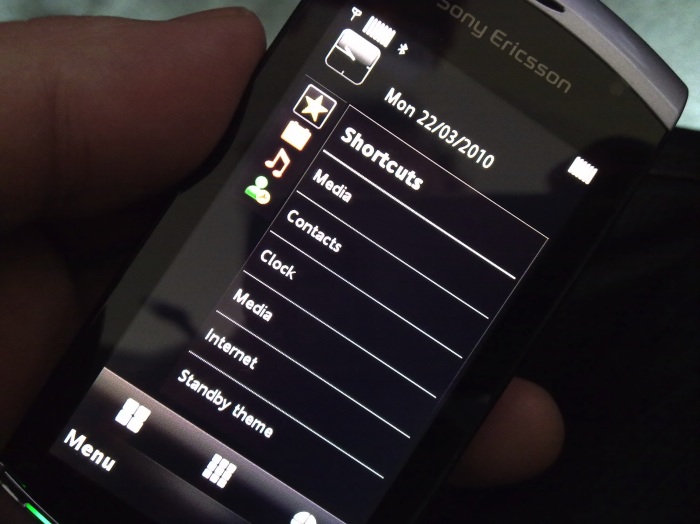 Overlaid on top of the default Flash-based homescreen is a semi-transparent overlay, with extra confirmation of time, plus date, current music track control and shortcuts to a dialler, to the Media suite (see below), to Messaging and to a custom version of Google Mobile App. This latter doesn't have the Gmail, Maps and YouTube shortcuts of other versions, but it does have a separate button for searching local content (i.e. on the phone). And, unlike on the Satio before it, this has been optimised to return results in seconds rather than minutes. Opening a found item from there then takes a little longer - it really does feel like there's plenty of work to be done on getting the S60 applications to work efficiently with these Sony Ericsson additions.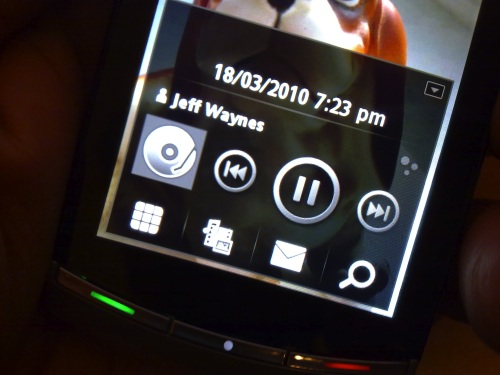 Media Suite
The other big addition is the Media Suite, purportedly replacing S60's Music player, Realplayer and Gallery/Photos. Most of the common functions are certainly replaced, but I couldn't help notice that some functions I'm used to using (e.g. Equalizer in Music player) weren't catered for, out of the box. Interestingly, although a kinetic browsing interface is used throughout this section (and very nice it is too), the Sony Ericsson code still spawns out to the original S60 code when things get tough, e.g. when playing a video or editing a photo.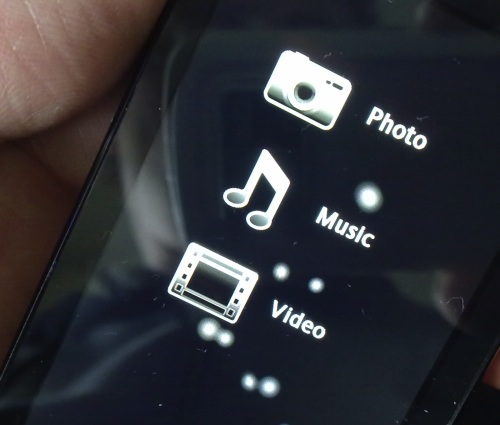 Taking the three modules, Photo, Music and Video, in sequence:
Photo offers:
'Latest photo'

'Camera album' (with items sorted by month)


'Photo tags'

'Web albums' (to just Facebook and PicasaWeb - there's a 'New service' option, but this just leads to a PlayNow service dead-end. It's very strange not to have Flickr, the most visible photo sharing site in the world, present as a default)

'Pictures', which displays images on your memory card which aren't taken by the onboard camera
Rather bizarrely, the Sony Ericsson viewing software mimics one big idiosyncrasy of the Nokia original, in that your captured videos show up in 'Photo' as well as in 'Video'. Very annoying, I've been wanting this anomaly sorted out for years.
When viewing photos, although there are no zoom icons shown/available by default, the volume/zoom keys on the Vivaz's side do work (and, curiously, zoom icons appear on-screen after you've started the process off with the buttons), with a small corner thumbnail showing where you 'are' in a photo when zoomed right in. Zooming performance is good, as you'd expect with the powerful graphics chip inside the phone.
Along the bottom (or right, if the phone's in landscape mode) of the screen are four icons, mimicking a traditional S60 left-Options, right-back layout, with the addition of 'Send' and 'Delete'. The Options menu turns out to be a pane of icons, but the functions are largely the same. In truth there's little that's new here for experienced S60 users, aside from the eye candy animated swirls that swish around underneath the thumbnails when looking at albums.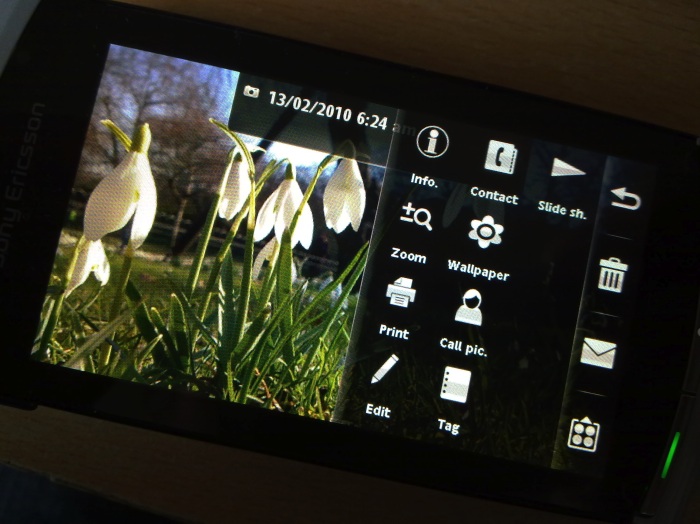 Music offers:
'Artists'
'Albums'
'Tracks'
'Playlists'
'Audiobooks'
'Podcasts'
'My recordings'
In similar fashion to 'Photo', there's nothing new in the music player, apart from the cosmetic reworking, with the traditional textual menu now represented by a pop-up pane of icons. Underneath the skin, it's still S60's Music player and has the same quirks (e.g. horribly unreliable album art). The Vivaz comes with a cheap pair of hard and unpleasant headphones, but binning these and plugging in a decent set of in-ear headphones proved that the sound exiting the Vivaz itself was quite decent.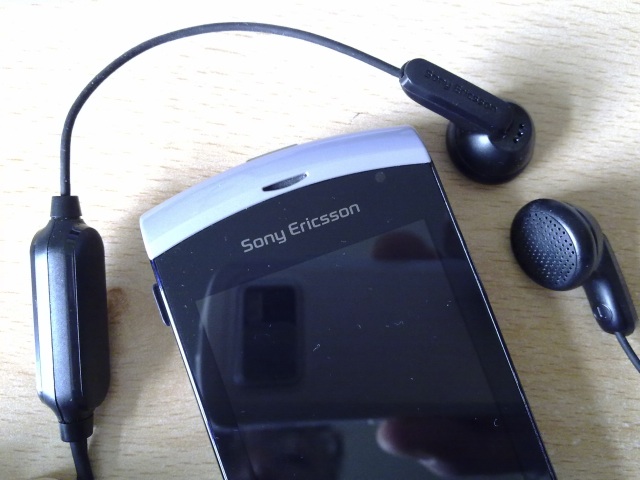 As on Nokia's X6, also without a physical keypad or keyboard, there's no way to find music while in the Music player module. Instead, to search for a song, you've got to back right out to the main homescreen Search function and then go from there. As with the X6, given that the Nokia 5800 and the baseline S60 5th Edition code both had a 'Find' function built-in, it's criminal that this has not been implemented here in some form.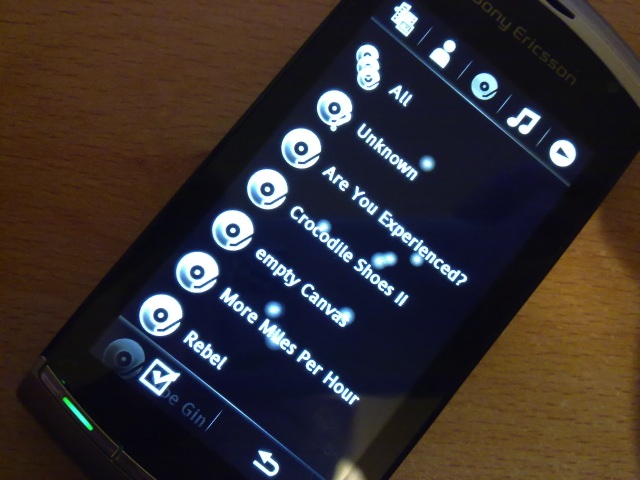 And the Vivaz hits another oddity here, in that, after finding a music track and setting it playing, the player used is totally different from the core Music player, meaning that you can't then get to it using the 'Now playing' ('Play') icon). It's only a little thing, but very annoying.
Sadly, unlike Nokia's Nseries S60 phones, there's no EQ here to play around with - what you hear is what you get (although a free utility has now been released, for those in the know). There's just a single speaker for direct listening and this is a bit 'flat' in sound, but is OK for casual listening or spoken word podcasts. Or would be if there were a podcatching app included....
The inclusion of Audiobooks and Podcasts in the Music menu looks promising, but it seems this is just a filter for music files on your microSD which happen to be tagged as audio books or podcasts - there's absolutely no mechanism to automatically grab new programmes (as in Nokia's Podcasting client, also licensed by Samsung). Disappointing, but a workable system as long as you're happy researching and downloading books and podcasts on your PC. There's the third party Escarpod, of course, worth experimenting with.
Video offers:
'YouTube' - this is v2.2.33, fairly recent, but not the latest, which includes YouTube login and more features. I tried installing the latest 2.4.4, but the Vivaz threw up an error, saying that I couldn't overwrite a built-in app, sadly.

'BBC iPlayer' - not the usual widget that's on Nokia phones, but a shortcut to the iPlayer mobile web site. There's no downloading, but you can still stream programmes.

'Music videos' - a shortcut to a premium area of the Sony Ericsson PlayNow store - your wallet required, oddly, given that almost all music videos are available for free on YouTube!

'TV shows' - ditto, but for TV shows, somewhat more understandable in a commercial context.

'Movie trailers' - a shortcut to a free area of PlayNow on the web, where mobile-optimised trailers can be found. This works OK, but it's clunky compared to simply watching via YouTube.

'Videos' - miscellaneous videos that didn't come from the Vivaz's camera.

'Camera videos' - as it sounds. The same videos that also show up in 'Photo'. So - just as crazy as in many older Nokia handsets.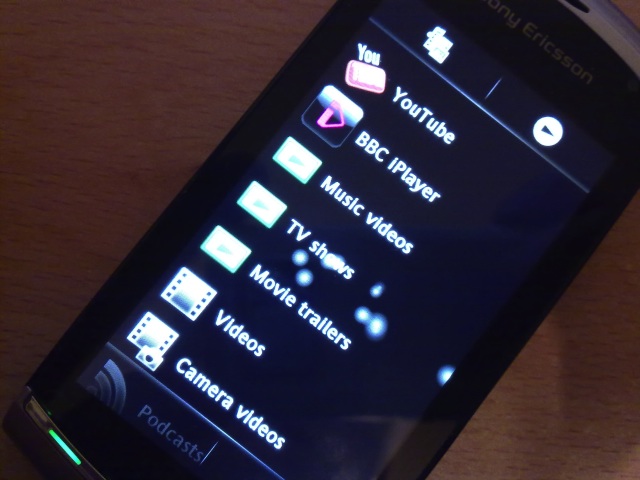 Watching videos on the Vivaz was generally trouble-free, with the usual caveats about not being able to handle DivX, XviD and other desktop-class video standards. With video watching being an indoor 'sport', the TFT display was a benefit and not a hindrance, as was the 'good enough' speaker - plus there's that 3.5mm jack for headphones to handle the soundtrack when you're on a bus or train.
Although the infamous video browsing bug from the Satio has been fixed (phew), I did experience a few glitches. At once point I lost a number of captured videos - the OS was deleting them right after rendering the thumbnail to use in the Media suite browser! This happened again and again until I restarted the phone - and all was then well again. Worrying though - Sony Ericsson need to nail this bug before it seriously bites a customer.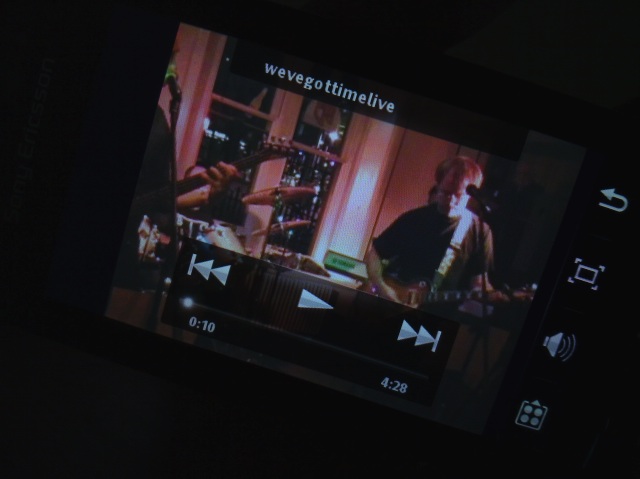 Interface notes
The use of two different interfaces within the one phone (or three, if you count the homescreen) makes for a messy experience for the end user. Yes, Sony Ericsson do like to match up as much of a smartphone's interface as possible to the look and feel of the rest of their (feature) phone range, but ultimately there's little excuse for this degree of laziness. For example, the media suite (which works pretty well here, unlike on the bugged Satio) uses an all-black theme with animated swirls. Very pretty, but this can't be changed, making something of a lurch when the main S60 interface is all in (for example) your chosen sunburst yellows and orange. Similarly for the Sony Ericsson tabbed homescreen theme, which also ignores the basic phone theme that's loaded.
Then there's the way application icons have been scattered, almost at random, in the different application folders. When you dig deeper, you realise that the distribution of icons has been forced on Sony Ericsson by the absence of (N97 v20-style) kinetic scrolling across the interface. Not only are the static screens and fiddly scrollbars an utter nuisance across almost all applications (it's at this point that you remember why S60 5th Edition initially got itself a bad name), but the lack of scrolling in the application folders means that, rather than confuse the user still further, Sony Ericsson has chosen (rather crudely) to simply default all folders to 12 icons, so that, out of the box, there isn't any apparent need to scroll.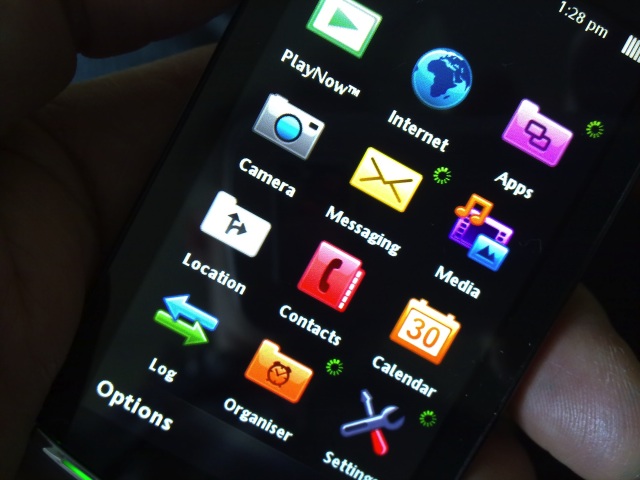 Going the extra mile, as Nokia did (eventually), and implementing full kinetic scrolling across the interface would have helped bridge the yawning gap between the S60 interface and the Sony Ericsson one - as would opening up the Sony Ericsson extensions to use the current S60 theme. With these two steps in place, things would have looked far more integrated. I'd love Sony Ericsson to go this far but am fairly resigned to the fact that we're only going to get a few bug fix updates and that this, sadly, is it.
In the final part 4 of this review, I'll be looking at the Vivaz's general application load-out and summarise its potential.
Steve Litchfield, AAS, 21 Mar 2010
Reviewed by Steve Litchfield at