Review:
Pixelpipe Send and Share
Score:
77%
David Gilson reviews the free Pixelpipe Send and Share, the new incarnation of the popular uploading service that works independently of Nokia's Share online and thus works more seamlessly, using a wider range of file types and (presumably) on more devices. It's all win, win, win until David points out a few caveats, including less flexible authentication and a greater need to do some of the set up using your desktop's web browser.
Version Reviewed: 1.0
Buy Link | Download / Information Link
Pixelpipe is an established choice when it comes to publishing content from Symbian phones to a multitude of content outlets. For the uninitiated, when a user signs up, they add Pipes through which they can send content to any of the monumental list of 110 supported services; including social networks, blogging platforms, photo and video sharing sites. For status-based services like Twitter and Google Buzz, users can even specify which services will host images and videos (e.g. Twitpic and YouTube). In most cases, users will have their content published via either Twitter or Facebook, where a bespoke short-code pi.pe URL directs readers to users' multimedia content.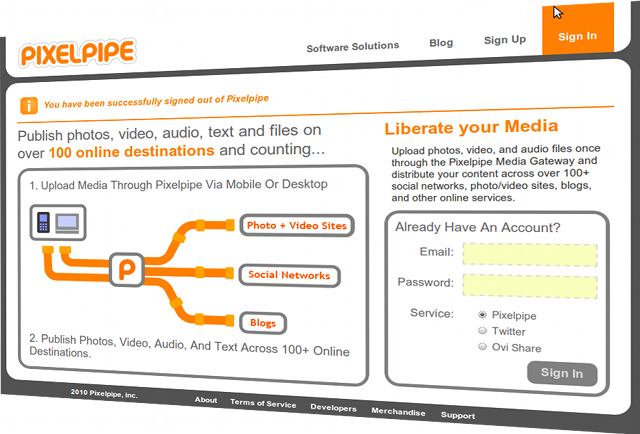 Until recently, despite having a dedicated client, Pixelpipe primarily operated as a plugin to Nokia Share Online. From any application, a user could select the 'Send' menu option, and then 'Upload', to launch Share Online, from which they'd choose Pixelpipe. Then, the user would see a final menu full of the Pipes they had set up. They would then upload via the Nokia Share Online user interface, using tags to control where the content was sent. (For an example of this, see my How-To guide on uploading to Audioboo.)
Pixelpipe have now released a new client, "Pixelpipe Send and Share"; recently previewed by The Really Mobile Project. This new client significantly simplifies the above process through bypassing the Share Online system. Instead, an entry for Pixelpipe is added to the 'Send' menu in applications, and has its own user interface for entering title, description and tags. This skips two steps from above, and the user interface is much friendlier to use than that of Share Online.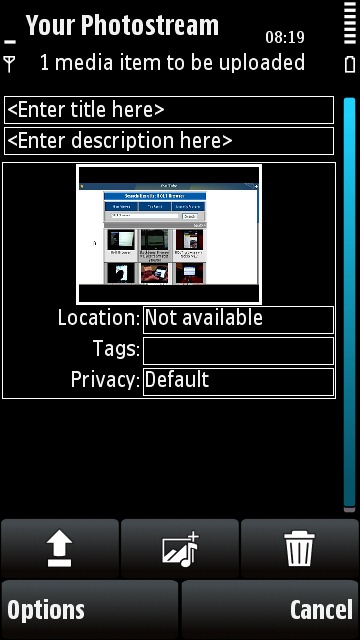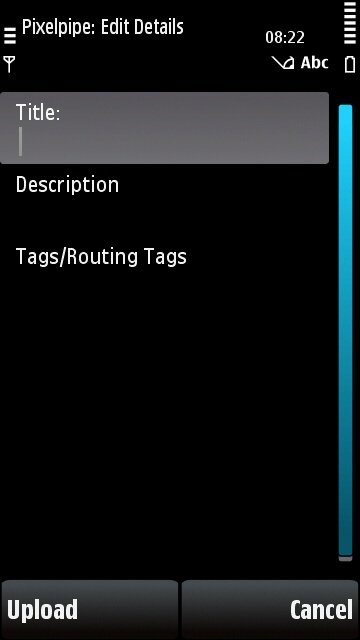 On the left: The Nokia Share Online User interface. On the right: The streamlined Pixelpipe Send and Share user interface
All this sounds great, and it is, but there are some complaints to make. The most inconvenient aspect of Send and Share is that there is no support for alternate login methods. In addition to native accounts, Pixelpipe's website (and old client) supports login via Twitter or Ovi credentials. With the new client however, users only have a choice of logging in with a native account, or creating one.

Besides an options menu and displaying the upload list, the Send and Share client has very little in the way of user interface. The user-interface for administering one's account and configuring Pipes is all Web-based, as with the old Pixelpipe client. This is somewhat unavoidable, because when adding new Pipes via the mobile interface, users have to be redirected to each services' authorisation page to grant Pixelpipe permission to access their accounts. It does however make for something of a clunky user experience. I would recommend users set up their Pipes on a desktop browser; the process is much faster, and there is less scope for mistyped passwords, etc.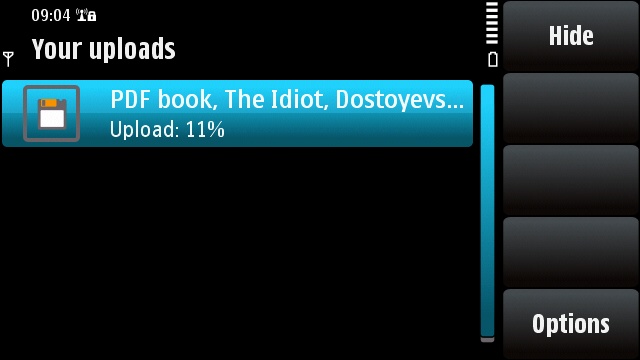 The Pixelpipe Send and Share upload list

As mentioned above, the new client does not present the user with a list of available Pipes through which to share content. In the new system, the user is instead required to remember, and manually enter, the destination tag for every service they use. This is a trivial for users who only use a small range of services, with obvious tags. However, it is debatable whether this system would scale well for power users who are using a large range of services. However, when posting to multiple services, the use of routing tags could mitigate this.
Finally, with the old plugin based system, the required code sat passively on the C: drive, waiting to be loaded when Share Online was called. However, the new client is an application in its own right that needs to be launched, it even has a menu option to enable Run on Startup. Fortunately, it is launched automatically as soon as the user selects 'Pixelpipe' from the Send menu, in case the user doesn't want it running all the time. The RAM usage is negligible, but it is another icon taking up valuable space in the task switcher if one does not remember to shut down afterwards.

Now is probably a good time to hand over to a Pixelpipe developer to explain how to use the new client. Demonstrated on a shiny new N8, I'm not jealous ... really ... Oh well, maybe just a little ...

.
You may have noticed at the end of the video that the developer shared a map location too. This is because Pixelpipe doesn't just support images, audio and video. Pixelpipe already supported uploading of document files to services as diverse as Dropbox, Google Docs and even FTP servers.
Now, sharing map locations are supported too. So far, the only use case is sending map locations to create geo-tagged Twitter posts. Other services, such as Foursquare, Gowalla, and Facebook places (still not available in the UK) are not supported. Also, there is no way for Symbian users to take a location from a geo-tagged tweet and then bring it into their Ovi Maps account, other than by memory. However, the feature works well, and isn't just limited to one's current location; any map position can be tweeted. More advice on how to use geo-sharing is shown below by the Pixelpipe developers:
Even before this new client, Pixelpipe was a power-user's tool for publishing content from their mobile device to almost anywhere you could think of. The new client has made that process easier to achieve by simply cutting the number of menu layers one has to go through to publish content. The Send and Share user interface is certainly much better to use than the Share Online interface.
However, while it has the potential to be a PC independent solution, I wish there was some way that the developers could have made the authorisation process of adding new Pipes less dependent on the Web, because the user experience does suffer, especially on small screen devices. This makes me recommend Pixelpipe with the caveat that users should set up their Pipes on a desktop before setting out with their mobile device.
David Gilson for All About Symbian, 1st September 2010.
Reviewed by David Gilson at