Review:
Nokia E63 Review - Part 2: Multimedia, Files on Ovi and Wrap-up
Score:
79%
Media

In this, part 2 of the review of the Nokia E63, I'm going to look at how multimedia is handled, followed by a look at the way Files on Ovi has been bundled. As explained in part 1, the E63 has been set up so that many users will never actually need to go into the main S60 menus (most apps and functions they need are available from the two mode switching standby screens). The 'Personal' mode includes Music player and Gallery, so that's the very basics covered, but anyone with any sense will also delve into the menus to see what's there. And, this being S60, there's no reason not to pluck a favourite media application and put a shortcut to it on the standby screen as well, though this of course does rather qualify as 'advanced' S60 and will require a bit of tech awareness to accomplish.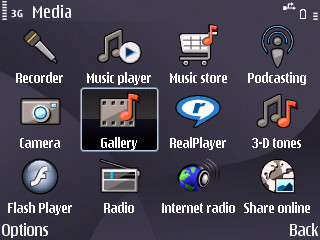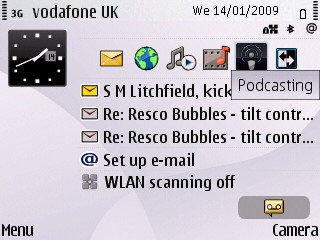 Elevating Podcasting onto the standby screen
There's the Nokia Music Store client - now apparently standard on Eseries devices - whatever next? Provided the user is OK with the DRM on each (WMA) track and doesn't intend to switch devices too often in the near future, this is an acceptable way to buy music instantly, over the air. (Regular readers will know that I'm not big on DRM - I simply copied across a few Gigabytes of unDRMed music files from my (legally ripped) CD collection with the E63's microSD card in 'Mass Storage' mode) With the world seemingly moving away from the madness of DRM (which only ever inconveniences the honest), maybe Nokia's Music Stores will also drop it at some point? Let's hope so.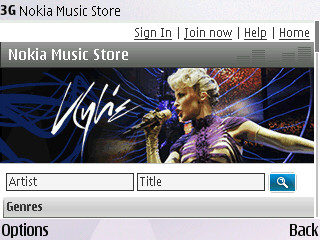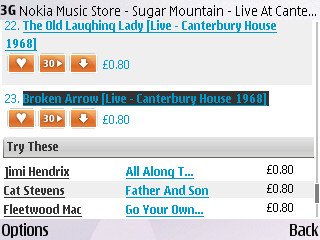 Music playback is now acceptable without seriously encroaching on the audio quality found in the likes of the N78, the N95 or standalone digital music players. The inclusion of a proper Equaliser was useful and I liked keeping 'Bass booster' on in order to hear bass frequencies better. The mono speaker on the E63's top is OK as a tinny radio replacement and does better than many non-Nokia phones in this regard, but it's a lot quieter than the speakers on the E90 or N95, not surprisingly.
Media handling is slightly crippled by the use of USB 1.1, as on most other S60 3rd Edition FP1 (and earlier) devices, although slow file transfers (under 1MB/s) won't be a huge issue for many typical Eseries users, who arguably tend not to swap their music and video collections around as often as, say, someone with an N95.
Gallery is the same tired old application as in S60 devices three years ago. Why, oh why, hasn't Nokia's Eseries team asked the Nseries team for the code to the slick Gallery featured in every Nseries device since the N93, over two years ago? Gallery works here, but it's not pretty and it's not pleasant.
One big multimedia surprise for the E63 and E71 - Podcasting's preinstalled! One less app for the user to have to go off and download. I've really been getting into listening to podcasts while getting to sleep and the E63 does a good job here.
Yet another Nseries crossover - Share Online 3.0 is also preinstalled. Not that the photos from the E63 will be good enough to share most of the time and not that Nokia are pushing the service.... but, again, it's one less thing for potential users to have to find out about and download at a later date.

And another.... Internet radio is present and correct and working beautifully on the E63... This wasn't on the E71 when it was launched but has now been retrofitted to it in a firmware update. Again, I'm a big fan of Nokia's Shoutcast-based Internet radio, it's a great, free and portable way to get music, news and chat without worrying about other devices or reception.

Multimedia on 'Enterprise'-aimed S60 devices has always lagged a little behind the cutting edge and the E63 (and E71) is no exception. Video playback does now include H.264 support, so most MP4 videos will play to some degree, as will FLV videos (Flash Video, e.g. saved from YouTube). Mind you, I did notice regular jerkiness (there are no fancy 3D graphics chips to help out here, as on the N95, for example) and suspect that there's still some fine tuning to do under the hood for future firmwares, for both performance and stability - the E63 soft reset itself several times during video playback.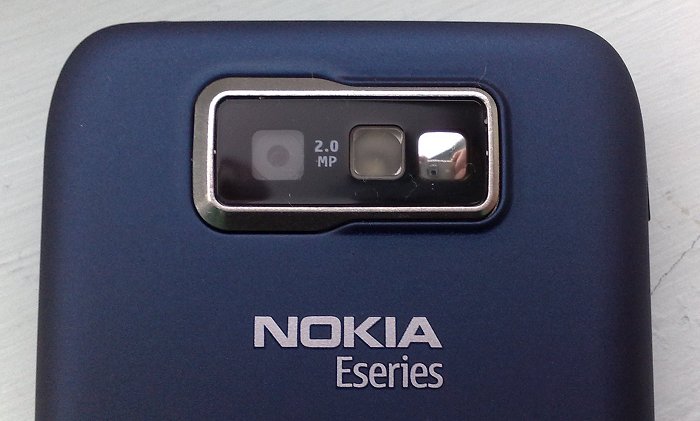 The average, non-focussing camera was mentioned earlier, in part 1: "For many people, the camera was the weak point of the E71, at 3 megapixels (with small sensor/aperture) and with a cumbersome way of focussing - the E63's camera is worse, at 2mp and with no focussing, but for many people it will produce images just as good (or maybe that should be 'average') in most light conditions. The E71's camera only pulls ahead in great light and when used wisely."
Here are some sample photos taken yesterday in feeble winter sunshine in the UK, click on each to download or enlarge it, etc.
For video recording, capture is at the now humble QVGA at 15 frames per second (i.e. YouTube-friendly), although the optics are pretty good for this sort of work as long as there are no extremes of light (shooting in full sun isn't recommended) - and the captured soundtrack is of much higher quality than similar video-recording phones and smartphones, though obviously some way short of the excellent video recorded on the likes of the N95 and N82. Interestingly, the LED flashlight comes on permanently while shooting video - it doesn't help that much for lighting a subject, perhaps it's more an indication to your subject that you're filming?
In summary, media recording and playback is fine for occasional use but a user probably wouldn't choose the device for these abilities.
N-Gage games compatibility is out of the question, though there are plenty of S60 games that work in landscape QVGA and which don't require a fast graphics chip. Users shouldn't get their hopes up too though, in this department.
120MB of flash memory makes up the internal (C:) disk and this will take some filling - it's certainly ample for all uses I can think of. Not having a microSD card in the package is a slight nuisance, but cards are cheap these days.
Files on Ovi

Don't forget about the free 1GB of space provided by Files on Ovi, which a user can make best use of if he/she has regular use of a Wi-Fi connection. Kicking off the sign-up on the E63 gives them a free account for a year (normal pricing is for 10GB and is £40 a year). As long as they haven't got any stupidly large documents to move around (and with no 3.5G to access them that would probably be the case!), then 1GB is still a very useful bit of cloud storage, especially so since many people will get just as much use from the standard 'Files connector' functionality, in which you 'see through' to your (Windows) desktop PC's hard disk to grab files directly.
This was my first chance to play with Files on Ovi in a 'production' environment and the E63 is something of a trailblazer in this regard, so I'm going to take my time and walk you right through how it works. By default, the Files on Ovi icon resides in 'Installations':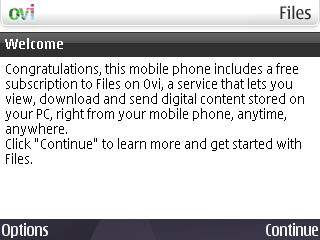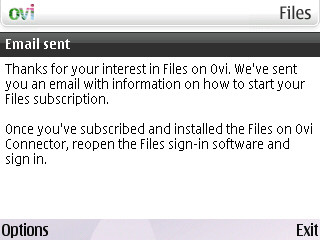 Sign-up is kicked off from the E63 itself, and this tells the Files on Ovi system to send you an email with the download link for the PC-hosted Files 'connector'. Once installed, this starts up a window in Internet Explorer, showing the files on your hard disk which are available to your phone on-demand.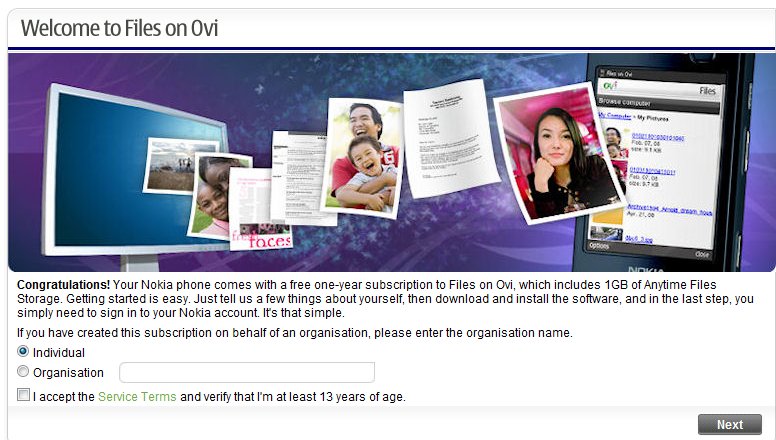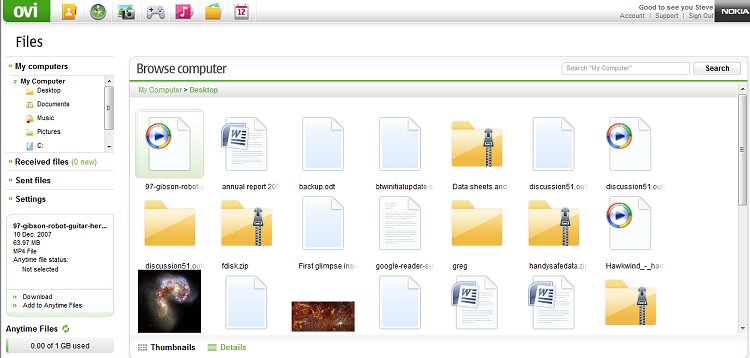 All very smooth. Back on the E63, hitting the File on Ovi icon brings up a sign-in screen (with details remembered), followed by a view of the customised mobile Files web site: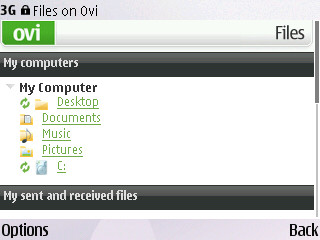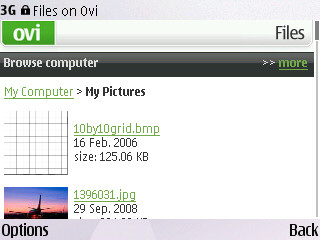 Browsing one's hard disk on a QVGA screen, one file at a time, it becomes very evident that you have to keep things organised - it's no good trying to scroll through a folder of 500 items on a small screen - use folders wherever possible, etc.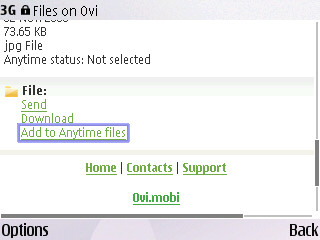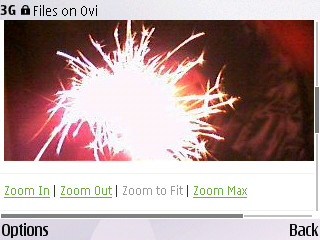 Once you've used the magic of Files on Ovi to browse to a file you want (e.g. a document or picture), you can view it in the Ovi viewer, zooming in or out and with the option to email it, download it (to your phone) or 'Add to Anytime files'.
'Anytime files', as you might guess, are the contents of the aforementioned 1GB of free disk space in the 'cloud'. You can signify which files you want copied onto Ovi with Anytime status from the main Files on Ovi web interface on your desktop, or via the mobile web version on your E63 (or other phone). The Files on Ovi 'connector', always running under Windows on your broadband PC, then copies that file up to the cloud - and keeps it up to date should you change the master on your PC hard disk.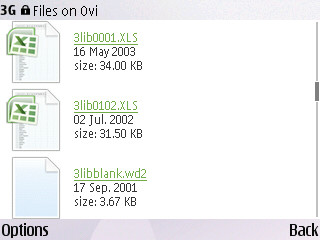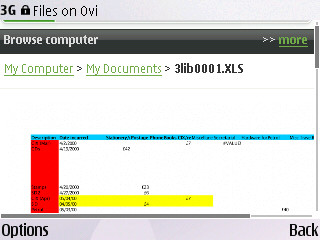 Above, I'm browsing 'My Documents' on the E63 in the mobile web version of Files on Ovi. This then reaches down through the running Files connector and gives the system read access to my hard disk. Impressive? Scary? Bit of both, but it does largely work as advertised. Here an Excel spreadsheet is being viewed, but if I then clicked on 'Download' (for example), the original files would be transferred across the Internet and saved onto the E63's internal disk, with the device prompting me to open it in Quickoffice.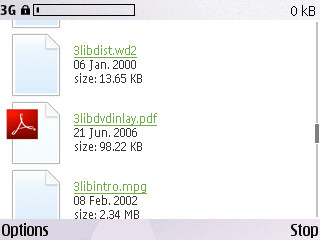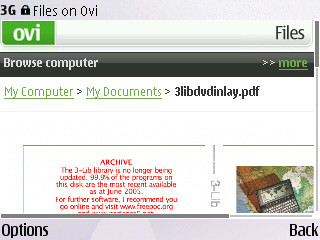 Here I've chosen an Acrobat file, again viewing it as a zoomable web image in the mobile version of Files on Ovi. It's easy to be a bit sceptical about a remote file access system like this, especially pointing out having to run the extra Files connector in the background on the PC, but when you see it all working a light goes on in your head. Essentially, you don't need to worry about taking the right files out with you on the road ever again. Get an email at home requesting data that's in a file at work? Just use Files on Ovi to email it directly or grab it for annotating. And with the Anytime files system, you don't have to leave the PC on all the time - your most common files can all be stored online, ready for instant retrieval.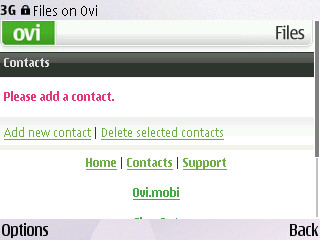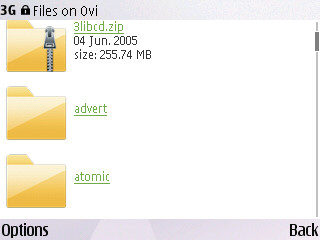 Interestingly, there's a Contacts link at the bottom of each Files on Ovi page. This doesn't seem to be linked yet to the main Ovi Contacts store - I suspect this is a switch that has yet to be turned on at Nokia. Also of note and shown above is that you're not limited to just common folders that have been pre-ordained for sharing on Files on Ovi - you can choose to 'Browse' and dig deep into any obscure corner of your hard disk, retrieving anything to the E63 (or similar) as takes your fancy.
[Bonus link: See also Rafe's own impressions of Files on Ovi, including access from a PC browser, etc.]
As should perhaps be expected from a device with early firmware (despite the maturity of the underlying platform), I did encounter a few glitches and application lockups. Shown below are some of the errors I experienced in my short time with Files on Ovi: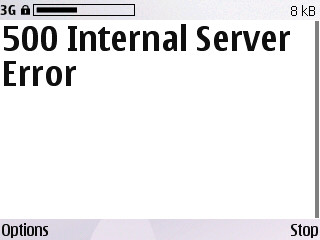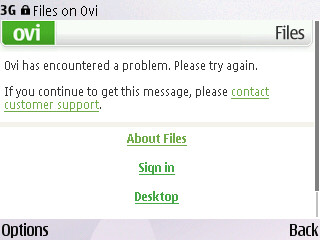 Wrap up

This being both 2009 and also show season (CES, MWC, etc), we're used to being bombarded with products with flagship specifications, designed to amaze with ultra convergence (e.g. the N97 and Palm Pre) and, looked at in the light of these, the E63 is rather limited and downright boring. At most turns it will disappoint a power user and some of the cost-cutting measures (3.5G and GPS) just seem bizarre in light of modern economies of scale. Is the E63 a budget version of the E71? Not exactly, but it does fill that niche.
In both physical and online shops, individual customers who have seen the E71 and can stretch the extra £100 or so will undoubtedly go for it instead, it's by far the superior device. However, the E63 remains a solid email-and-work-focussed choice, with the intense integration of the new Nokia Email Service and Files on Ovi. While it's probably not for the typical tech-savvy All About Symbian reader, it may still do well as a workhorse for company bulk purchases (all those £100 savings add up!) and on the High Street as a (relatively) low cost QWERTY phone.
Steve Litchfield, All About Symbian, 18 Jan 2008
Link: Part 1 of this two part Nokia E63 review
You can buy the Nokia E63, SIM free, from Nokia's UK Shop for £199.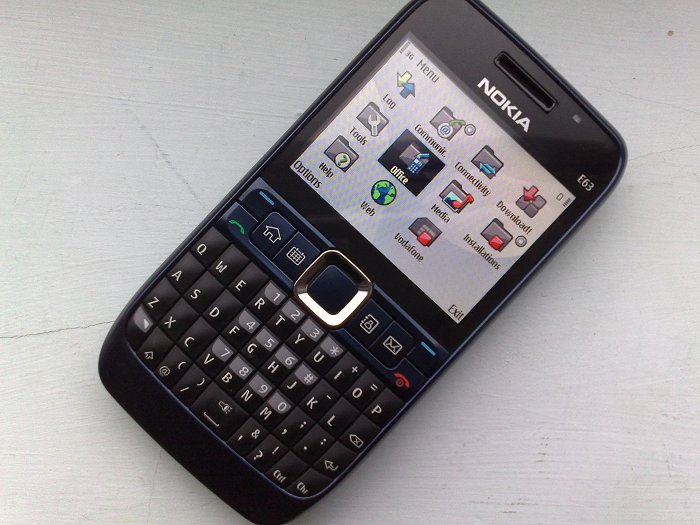 Reviewed by Steve Litchfield at