Review:
Nokia 6630
Score:
86%
In this long term review of the 6630 Steve finds much to recommend the Nokia 6630 and concludes that, whether bought cannily on a contract or snapped up in the final minutes of an auction on eBay, it could be just the bargain you need.
If you've been watching AllAboutSymbian over the last month, you'll have spotted my full review of the Nokia 6680, the very latest Series 60 smartphone that's actually available (the N Series being a few months away, in the real world). So what on earth am I doing here reviewing the 6630, a device that was announced last year (2004) and which has been on the streets for six months?
Reason 1 is (fairly obviously) that we hadn't reviewed it at the time (ahem). So consider this a long-term review. Reason 2 is that I wanted to put the device into some kind of perspective, in terms of where it fits in on the high street, within the Symbian and Nokia scenes and from the viewpoint of someone (like me) trying to use it as my only mobile computer.
In fact, a little tardiness on the review front makes talking about value for money really, really easy. If you're looking for a cutting-edge Symbian smartphone and don't want to dig too deep into your pocket, the Nokia 6630 is easily the one to go for. All around the High Street, stores are offering the 6630 for free on quite modest SIM contracts, or you can pick one up on eBay, second-hand, for not much more than £100. When you consider that you're effectively getting a Symbian-powered mobile computer, plus (up to) 3G telephony/data, a stereo music player and a Megapixel camera, all for not an awful lot, it's hard to resist.
For anyone who hasn't been following the story of Series 60 closely, here's a potted history. The first generation (Series 60 v1.2) of devices were soundly panned by people such as myself: the PIM applications were laughable, the interface klunky, battery life was poor, there was no stereo output so you couldn't use them as music players, third party software was largely of the gimmicky variety, you had to reboot the device just to swap memory cards and the camera quality was generally atrocious. The Siemens SX-1, the Sendo X and the Nokia N-Gage bucked this trend to a degree, but each of these still had their weak points.
With the Symbian OS baseline constantly improving and with Series 60 v2 bringing interface and PIM application improvements by the score, we saw the Nokia 6600 and 7610, much better devices but still very limited in several areas. The Nokia 6630 was the first device of the 'next generation' of devices, with hardware improvements to match those in software. Looking back at the hit-list from those initial Series 60 smartphones, the 6630 has significantly improved PIM apps (intelligent display of appointments in the Day view, entry popups in Month view, etc.), a far more attractive and useful interface (themes, wrap around menus, etc.), great battery life, full stereo headset output, hot-swappable memory cards and a good Megapixel camera. Plus the third party software scene has matured and most applications you can think of have now been done. As mentioned in the Nokia 6680 review, this all adds up to a smartphone that offers genuine convergence and genuine usefulness.
So to the device itself. The Nokia 6630 is smaller than its spiritual predecessor, the 3650, and thankfully the circular keypad is now a traditional grid, with the Series 60 'extra' keys now the ones that help fill up the 'bulge'. The screen's very good in all lighting conditions and a light sensor at the top of the device switches on the keypad backlight if needed. The feel of the keys and navigator is good, although not quite up to the exemplary level of the 6680's. There's a (by now traditional) Pop-port connector on the bottom, for plugging in the supplied stereo headset or for mounting on the optional video calling stand. This last requirement will be a real pain for anyone buying the 6630 for outright 3G use, as you can't do two-way video calling using just the device as there's only the one camera and it's on the wrong side. If you need video calling, look at the 6680 instead.
There's a memory card slot on the right, protected by a swing-out flap. The card format is (take a deep breath) DV RS-MMC, which sounds more awkward than it is. Essentially, it's a smaller version of the standard MMC (so that the phone itself can stay small) and it operates at only 1.8V on the device (and 3.3V in, say, a card reader, hence DV - 'Dual Voltage), so that battery life can be significantly extended. I know it's a pain having to buy yet another type of memory card, but the decision to use DV RS-MMC does make sense. One caveat is that card capacity is currently limited to 512MB, but this is still plenty for all but the most outrageous uses. I'm pretty much at the power user end of the scale and, on my 512MB card, I currently have the whole of Great Britain/TomTom MOBILE 5, about a dozen CDs of music (in Ogg Vorbis format, which is twice as efficient as MP3), around ten applications, five games and a selection of reference works, including the Bible and Trivopaedia.
Like almost all recent Nokia handsets, you get the fun of replacing the front and back 'Xpress-on' skins whenever you fancy a change. Although this is sometimes seen as a bit of a gimmick, it's very useful for replacing the default silver skin (which I find garish and flashy) with something understated like the black rubber skin (no fetishes, please, I'm British, but I do find that the dull black finish makes the smartphone look and feel far more professional). Also, and more importantly, it means that if the cover starts to get scratched or marked, it's trivial to simply put a brand new skin on, for only a few pounds. Try doing that with an XDA or Treo....
The Megapixel camera (1280 by 960 pixels) isn't bad at all and I've had very good printed results from its images. Certainly it's a revelation when compared to the previous generation of VGA cameras. As with all smartphone cameras, it's lousy when the light levels are low, but used in daylight you'll be very happy with its output. When coupled with the latest PC Suite 6.6 (this also works with most other current Nokia smartphones, including the 9500 and 9300), it's easy to snap away and rely on PC Suite to sync across all your pictures and file them by date on your hard disk. As a bonus, PC Suite also presents them as a slideshow within Nokia's Multimedia Player under Windows.
As mentioned above, Series 60 itself has come a long way, with a quick and intuitive interface throughout. Of the PIM apps, Contacts is almost there, with only a question mark over formatting of entry notes. Calendar is much improved, though without any support for entry notes whatsoever (notes on Outlook Calendar entries simply aren't displayed). Disappointingly, To-do is still just a single list - Nokia need to revisit this application soon. Notes syncs happily to Outlook's notes and provides a quick and easy way to sync text content between smartphone and desktop, in either direction. So useful text pasted in from Windows gets onto the smartphone and new text typed on the smartphone gets back to Windows, and so on.
Messaging is virtually unchanged from earlier incarnations, but then it does the job. A Symbian smartphone can probably never be your only email monitor, which is why there's no attempt to delete emails from the IMAP4 or POP3 server. It's simply a way of seeing what's waiting, of grabbing anything important and responding if necessary. And this the 6630 allows with relative aplomb. The only fly in the ointment is that there's no readout of message size when displaying email headers. Instead, you have to go burrowing into the menu for 'Message details' every single time. Please fix this, Nokia.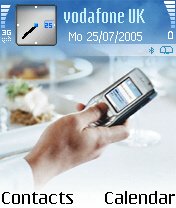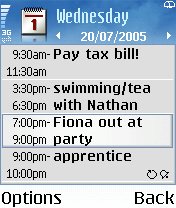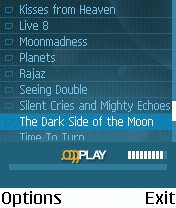 Extra applications shipped in the box include the read-only version of Quickoffice and, in line with the marketing of the 6630, a fun (but slow) 'Image manager', a (even slower) 'Photo editor' and a 'Video editor'. None of these applications are heavyweight, but they're still handy to have for novices. Miscellaneous utilities, of varying worth, include an Instant Messaging client, a units converter, a secure database (this doesn't sync to anything, though) and a 'File manager' for beginners that hides all the scary parts of the file system and just shows the bits that Nokia wants you to know about 8-) A generic Bluetooth keyboard driver is supplied and worked well with my Think Outside keyboard.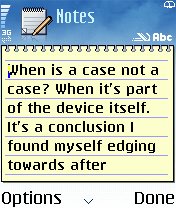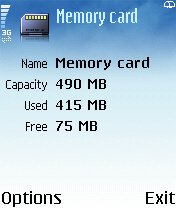 As mentioned in the 6680 review, I've long railed against Nokia for excluding the possibility that people might want to experience true convergence and listen to their music on their smartphone, with most previous Nokia smartphones only having mono audio output. With the 6630 and 6680 (and siblings and successors), there's full stereo output via the Pop-port connector and quality over the supplied headset was very good. Nokia intend you to listen to your music in MP3 format using RealPlayer, but canny users will want to encode their favourite CDs in Ogg Vorbis format and use the freeware OggPlay instead. This has far superior tag sorting, is skinnable, is more efficient and produces louder output, quite apart from being able to cram twice as much music on your card. Ok, so your Nokia smartphone many not be an iPod killer, but it can comes damn close for casual listening purposes.
Nokia has released a version of its 'Settings wizard' for each recent smartphone, for easy setup of 3G and GPRS Internet settings. It claims to also put in all the right POP3 or IMAP4 mailbox details as well, but there are only details for a dozen or so ISPs and mine (UK Online) wasn't listed.
As with the 6680, general connectivity is almost perfect, with exemplary Bluetooth performance, good PC Suite 6.6 integration with your PC data, and support for every telephony standard across the world, from the various GSM bands to full 3G, although the usual caveats about being beholden to the mobile data policy of your 3G network provider apply here. The only omission is infrared, for which I still have a soft spot. Every time you come across someone with an older infrared-only PDA you'll wish the 6630 had the same.
I mentioned the 6630's unique position in the market right at the start of this long term review. Money, as has often been observed, makes the world go around and we're all looking for a bargain. The Nokia 6630, whether bought cannily on a contract or snapped up in the final minutes of an auction on eBay, could be just the bargain you need. It has all the multi-tasking Symbian OS power you've been looking for, it's bang up to date and right now it needn't cost the earth.
Steve Litchfield, July 2005.
Reviewed by Steve Litchfield at