Review:
Nimbuzz
Score:
79%
Ewan surveys the freeware multi-service chat and calling client, Nimbuzz, from from its big v2.4 update. Logging you in and integrating contacts from multiple social networks and chat systems is its speciality and it sounds like it did Ewan proud. It's also not only for multiple mobile platforms, but also for just about every S60 phone currently in use, so there really is no excuse for not keeping it installed and ready for action.
Version Reviewed: 2.4
Buy Link | Download / Information Link
There are more ways to communicate on-line than there are hot dinners in all of Bristol. While the exact accuracy of the statement might be in question, there are certainly a lot of ways you can communicate on a one to one basis.
Putting email aside, there are a huge number of communication networks out there, be they instant messaging-based (such as AOL Instant Messenger), a mix of voice and IM (Skype and Google Talk), based on a social network (Facebook Chat), or just so zeitgeisty that it has to be included (Twitter). That's a lot of networks to juggle and access while on the move, be it in the web browser or in a collection of java clients and widgets.
Or you could use Nimbuzz.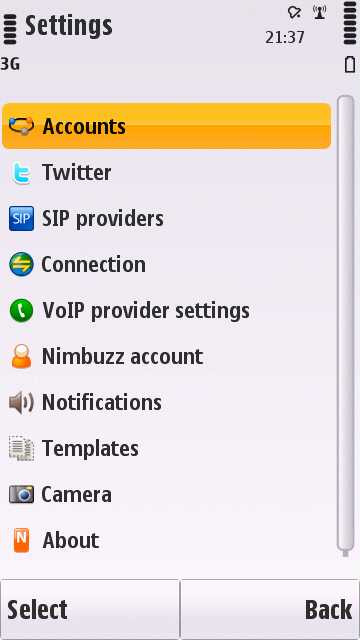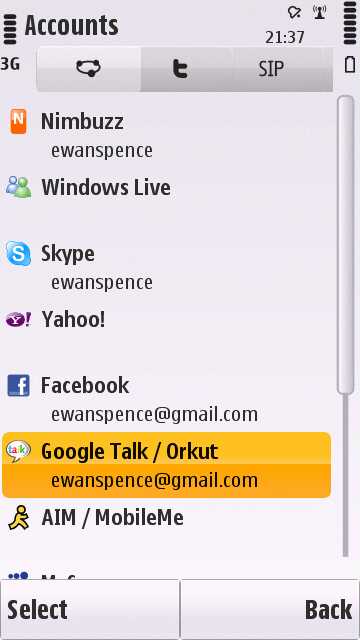 This multi-platform application has been out for a long time both on Symbian (and other platforms) and we're not quite sure why we've not reviewed it yet. No matter, time to look at it now, with the latest big update. Nimbuzz provides a single application, and therefore a consistent interface, to a significant number of chat, IM and VoIP applications... namely Windows Live, Skype, Yahoo, Facebook, Google Talk/Orkut, AIM/Mobile Me, Myspace, ICQ, Gadu-Gadu and Hyves.
The first account you have to set up is actually not any of these – but with Nimbuzz itself. This might seem a bit strange, but it has two definite advantages – the first is that you can move between devices and as long as there is a Nimbuzz client, you can log in and all your accounts are already set up for you to use and access. The second benefit is that your smartphone is making only one connection – to the Nimbuzz servers – which has a positive effect on network usage and battery life.
Let's have a look in detail at how one of these networks gets on with Nimbuzz, namely the client for Facebook Chat. Nimbuzz asks for your username and password, and to a certain extent this step is expected – you do have to trust the company that they are not going to do anything stupid with your account, and it's one reason why a long established company is preferable to a quickly put together, brand new java app.
I would like to see the option to use other authentication systems to log into your profiles (such as OAuth and Facebook Connect). These offer the option to revoke access by an individual application if you wish, handy in a world where you might have to leave a device that can automatically log in to all your networks.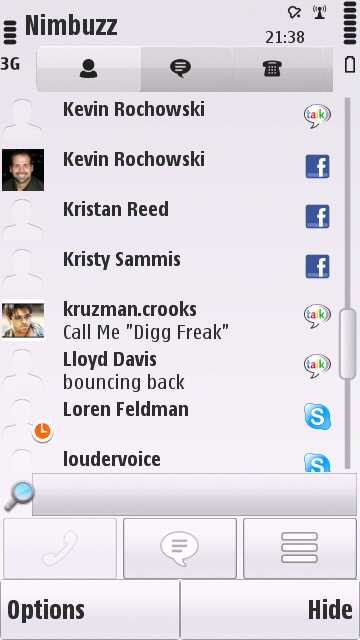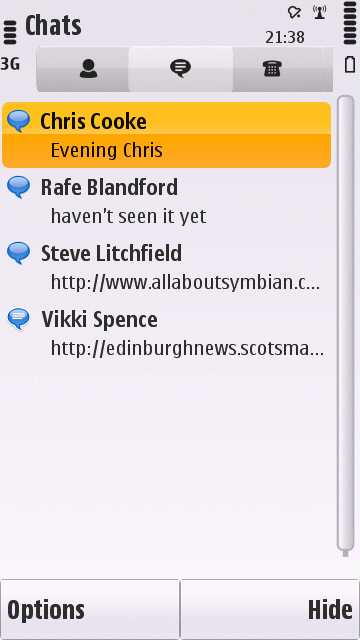 Once logged onto Facebook, a familiar looking view comes into play, with your contacts listed alphabetically (this can be changed to view by favourites or account). Next to each name is a small icon showing what network they are part of - so a mix of Facebook, Skype and Google Talk contacts can all co-exist on one list of my online friends, as I found it useful to have Nimbuzz only show my those friends who are currently online in each network.
Starting a chat is as simple as tapping a name, then choosing chat. Depending on the capability of each network, you'll have additional options here, such as Send a File or picture, view their profile, or even call them. Going through the Skype portion of Nimbuzz (partly because the All About Symbian editing team live on Skype during the day) and you find call quality that's not quite as good as the native Symbian Skype client while using Wifi, but it's certainly acceptable quality and usable. Just remember to hit 'End call' in the application, rather than using the hang up key on your smartphone!
Nimbuzz follows the S60 idea of having tabbed views, which are shown along the top of the screen (just like in Messaging). The unified list of all your contacts across the networks is in the first tab, and the second tab is used to store ongoing chats. When a new chat is started, this tab lists the name of your friends you are in conversation with, and a further tap will open up the history and flow of messages. It's a nice way to keep everything organised on a small screened device. If there is a chat with an unread message, the name will flash at the top of the screen.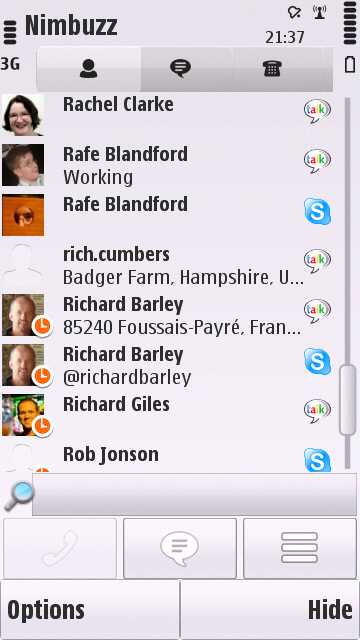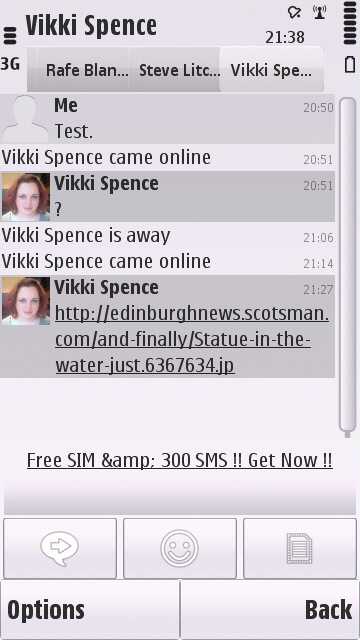 One problem when using the Skype portion of Nimbuzz is in group conversations. The aforementioned AAS group chat is a Skype window with a number of people in the chat, but Nimbuzz will filter out anything in a group chat window into a separate dialog between members. So when Steve, Rafe and I are all chatting in a group dialogue on Skype on PC, if this was to happen on Nimbuzz then I would have Steve's messages in one window, Rafe's in another, and no way to post into the group chat – I would need to speak to both of them individually. Which is a bit of a problem and I hope this is on the list of things to be looked at for the next version.
The third tab is for making dedicated VoIP calls. Nimbuzz allows you to use a number of providers for voice over IP telephony, including Badartel, Gulfsip, Voipax, IPS, Sipkom, Skytel Srbija, A1, Mweb, Vyke, Slipgate, Gizmo5, Tpad and Xeloq. There's also space for you to add in generic SIP account details if you have a private system or one that's not mentioned above. For those of you not on any of the above services, Nimbuzz offer their own system, where you can dial out to any regular telephone number and credits are purchased direct from Nimbuzz. Given that the mobile application is free to download and use, the profit for Nimbuzz is going to be in part from the small number of people who decide to use Nimbuzz as a cheap replacement for regular phone calls.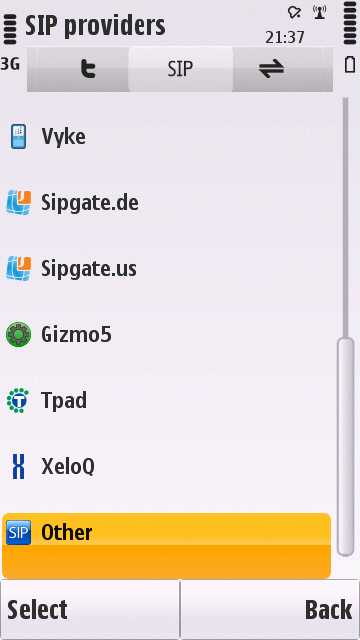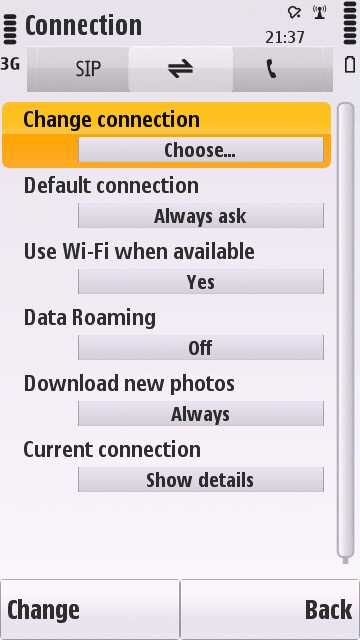 As with Skype calls, the quality is pretty good. It's clear that encoding stuff is going on, and it's not as sharp as a normal mobile call, but both parties can understand each other, and that's the main thing. Quality comes after usability, and it's certainly usable.
Onto the last tab, which is reserved for Twitter. Being so different to a regular IM chat, it's right that this gets a section to itself where the different focus can be applied. Nimbuzz hits all the basic areas of Twitter usage, including the timeline of every tweet from the people you are following, messages that mention your Twitter name, and your private messages that have been sent directly.
If you have saved search terms on your Twitter account (for example I have a defined search for my old Twitter name, @ewanspence, in case anyone still tries to reach me there), then these can be found in the search boxes. Groups and Lists don't yet feature, but I would expect these to be available in the next update.
The client is surprisingly effective, although it does not look as pretty as dedicated Twitter applications. I feel I could easily use Nimbuzz for my day to day Twitter interactions.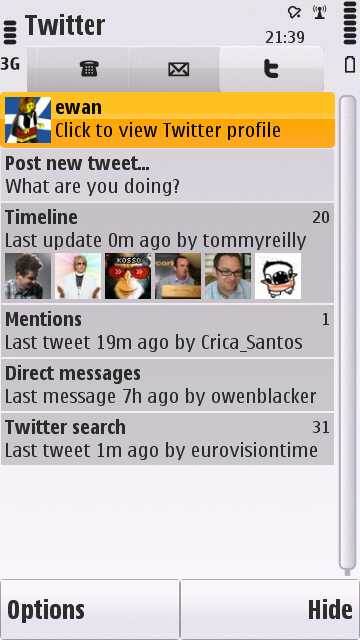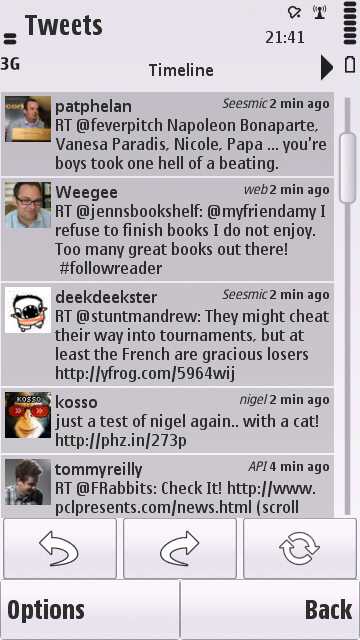 And that pretty much sums up Nimbuzz. It doesn't handle any of the conversation networks with a perfect digital brush – there are some compromises to make sure the user interface in the application stays consistent, and some of the more interesting features are not (yet?) implemented... but by gathering everything under one application icon, by making it all work in the same way, and by taking care of all that pesky logging in, status checking and trying to chase down which friend is on which network to ask them what they want from the café, it makes mobile life a lot easier.
Would it stop me using a dedicated client on my desk bound computer? No. But is it staying on my smartphone so I can use it while I'm out and about round Edinburgh and beyond? Yes. It's an application well suited to its environment, and I'm more than happy to suggest you download it, either from the Ovi Store link above or from m.nimbuzz.com in Web, and look it over yourself.
-- Ewan Spence, June 2010.
Reviewed by Ewan Spence at