Review:
MetrO
Score:
79%
A freeware tube routefinder that works for many cities around the world, on all Symbian-based smartphones.
Version Reviewed: 5.37
MetrO is a phenomenon in the PDA world, spanning all platforms and all geographical focus. The default installation for all Symbian platforms includes seven of the most popular networks, including London, Paris, Berlin and New York, but all the rest are only a 4MB ZIP file away. Here I'm looking at the 'Series 90' version, for the Nokia 7710 (just to be different), but the interface and functionality is almost identical on Series 60, UIQ and Series 80 devices. Check out the MetrO home page.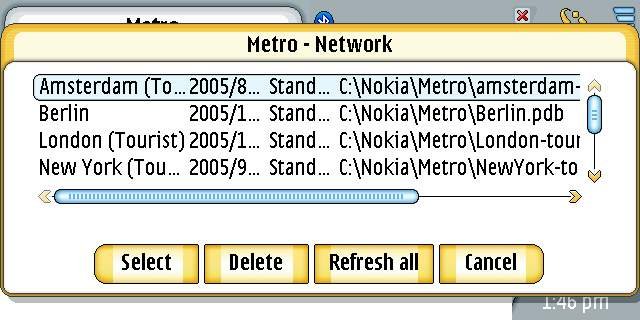 When starting MetrO, you simply pick the city you want, assuming you've installed it. Then it's straight into picking start and finish points. On the 7710 (and UIQ devices), being stylus based, you tap in each field to bring up a quick-matched text entry box: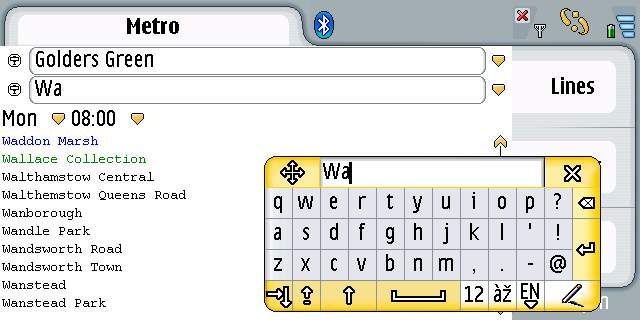 Stations appear almost instantaneously, even on the biggest networks (such as London). Finally, tap on 'Go' and the route is worked out, again almost instantly: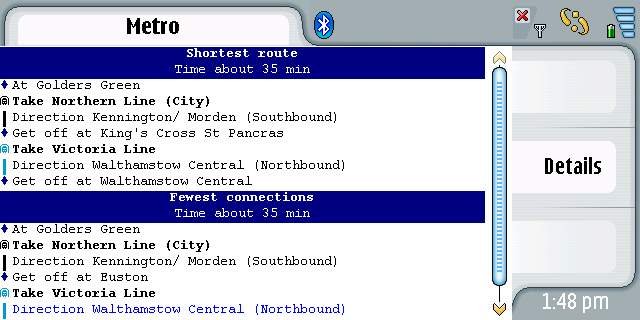 Typically, two routes are shown, one with the shortest elapsed time and the other with the fewest connections (i.e. changes of train). The directions are good and all station names in the instructions are hyperlinked, in case you want to plan on from that location. Tapping on 'Details' brings up the complete station list for the appropriate line, again with hyperlinks, so that you can work your way around the network if you want to: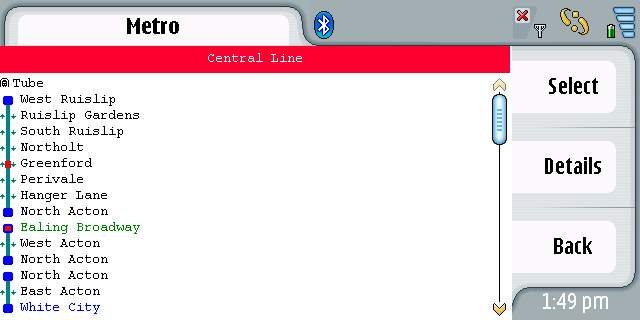 There's lots more to discover in MetrO. You can specify major attractions (e.g. Madame Tussaud's in London), which then get planned to/from using 'Walk to' instructions (and sometimes basic info such as opening times and phone number). Although I've classed this as a 'review', the MetrO project's open and free nature mean there's absolutely no reason not to install it on your own smartphone and try it for yourself. It's fair to say that the interface can get a little confusing, especially once you start tapping on stations and delving deeper into the database, but then MetrO's got to work in pretty similar fashion on a huge range of devices, leading to a few compromises here and there. It's also unashamedly text-based, so won't you if you've set your heart on a mobile version of your favourite tube schematic (and let's not forget the London Underground Map is copyrighted, and they take a dim eye to it getting 'lifted,' even for Open Source - Ewan)

Even if you only need MetrO once, it will save you the five minutes or so needed to install it. Recommended.
Reviewed by Steve Litchfield at