Review:
JmIRC
Score:
75%
With WirelessIRC not receiving regular updates on Series 60, and a lack of native clients on other devices, Ewan's been looking at a Java-based alternative for IRC access and finds it in JmIRC.

Version Reviewed: 0.94
Buy Link | Download / Information Link
There's no escaping the mass of Instant Messaging systems out there on the Internet, and there's no escaping the fact that even though fashions change, a huge number of technical types (okay, the geeks) are still using the IRC system to facilitate group and individual chats.
While Series 60 has long been graced with the gorgeous WirelessIRC client, it's never been ported to any of the other Symbian platforms. And while Series 60 has advanced to S60 version2, with a number of feature packs, WirelessIRC hasn't received any updates, so it's more and more of a gamble with every phone released whether the client of choice will work. So it's time to find another client to run the IRC flag for Symbian smartphones
And the Winner Is...
So after a few false starts, the eventual pick of the IRC clients is the free JmIRC. Unfortunately there's no other native IRC client for S60, so it's a matter of delving into the Java midlet world.
The interface of JmIRC does suffer in being forced into the 'forms and dialogs' interface of Midp, so it's not as graceful as other solutions, but to a certain extent, it's results that count, and JmIRC has these in spades. It also (because it's Java) has compatibility across the whole range of Symbian devices, from the Series 80 devices and early UIQ to the latest Symbian OS 9.1 devices such as the N80. Which is exactly what it's meant to do, but it's nice to see it in action.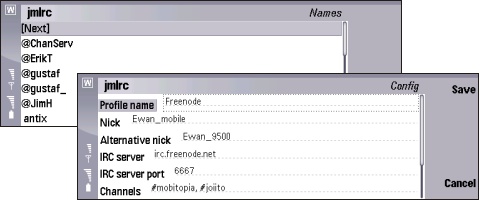 Most IRC users aren't going to be phased by the rather sparse dialogs for setting up your connection. You can have multiple profiles stored in the application, one for each server you use (or even more than one if you want different settings depending on whether you're using GPRS or Wi-Fi for example). It's all straightforward stuff, punch in your nickname, server, port and initial chat channels. You can also tweak the HTTP proxy server settings. If you're new to IRC, you can probably ignore these and just drop in the server address and work out the rest later.
Once you're set up, hit 'Connect', give the Java runtime permission to access the Internet, and you'll be on the server in a few moments. The look and feel of the interface is much like a desktop IRC client. The main difference is that you don't have an ever-present list of the names of people connected to the channel. This is available in a separate window, and the names are roughly 20 to a page. One thing to point out is that IRC is a text environment, and everything is controlled by a command line interface. Many popular commands are 'macroed' in the menu system, so to join a channel you can hit 'Join' and type the channel name, rather than the longer "/join #mobitopia", which is fun (NOT) on a T9 keyboard.

The biggest limitation is that commands (be they macroed or in a straight command line) are entered in dialog boxes, which stops the flow of information to the screen. Once you enter the command, your screen plays catch-up and, if there's been a lot of chat, you'll be glad you scan scroll back up the screen to see what's been said.
Summing Up
Overall, JmIRC might not be Wireless IRC, but it's one of the few clients that will definitely work over all your Symbian devices, including the new 9.1 based devices that will be out next year (such as the N90 and SE P990). That makes it a useful 33K of code to have on your device, and IRC fans can rejoice that they can stay connected. Everyone else might wonder what the fuss is about, but that's the whole point of a tool. If you need it, it works, if you don't, just ignore it. JmIRC does not deserve to be ignored.

Reviewed by Ewan Spence at