Review:
Davi
Score:
66%
Symbian veterans will recall that support for WebDAV was once built into File Manager. That support was removed in the Belle update, leaving you high and dry if you relied on that protocol. That's where Davi for Nokia Belle steps in, providing a solid WebDAV client for remotely accessing files on your Symbian device. Whether you're using a NAS box, or third party services like Otixo, this is something just for you. Actually, this review should be called "Davi, featuring Otixo".
Version Reviewed: 1.0
If you don't know what WebDAV is, it stands for Web Distributed Authoring and Versioning, and extends the HTTP protocol to allow for remote file management and editing. Many network attached storage (NAS) systems use this, and third party web applications that provide proxy access to cloud storage services also use it. Examples of these include Pocket-DAV which interfaces to Google Drive, DropDAV which interfaces to Dropbox, and Otixo which interfaces with most popular cloud storage services.
Otixo
In parallel to our review of Davi, I'd like to take a moment to give a mini review of Otixo as a complementary service. Indeed, Davi makes a point of mentioning Otixo on its website as being an ideal target service. As stated on its website, Otixo can:
Manage all your clouds from one login with Otixo. Connect services like Dropbox, Box, SkyDrive, Google Docs, SugarSync, Picasa, MobileMe, Amazon S3, FTP sites and WebDav drives...all from one simple app.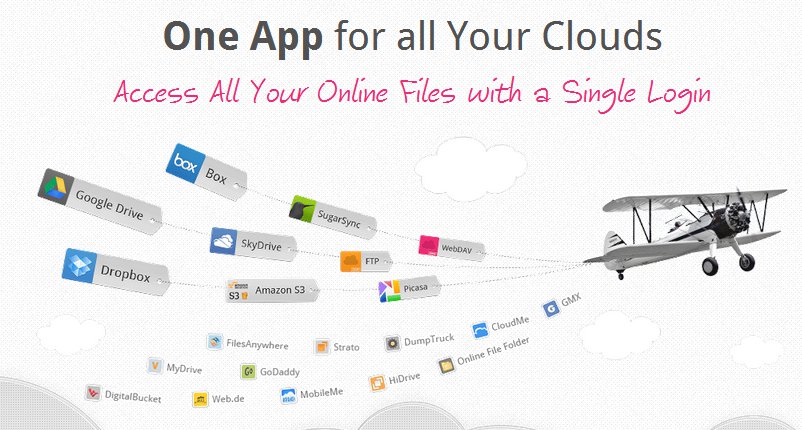 With a usable client, which Davi is, this service could be a powerful addition to the software arsenal of Symbian users who use multiple file storage services, including FTP servers. I recently wrote about provision of cloud storage apps for Symbian. There we established that if you use multiple services, you'll need an app for each. In principle, Otixo plus Davi should allow you to handle all of the services mentioned above with just one app. If you're interested, Otixo is free to use unless you want to transfer more than 2GB per month, and you can upgrade to unlimited bandwidth for $9.99 (US) per month.
That's the theory, but in practice things didn't go smoothly. For instance, I found that Otixo only allowed you to browse SugarSync and Dropbox to a depth of three directory levels. I verified this was not a Davi issue by setting up Otixo as a remote drive on my Windows 8 laptop.
Conversely, another problem I had was down to Davi. While I mostly tested with Otixo, I also tried Pocket-DAV, and received a "host not found" error. Meanwhile, by using exactly the same login details I was able to connect to Pocket-DAV natively in Windows 8.
Davi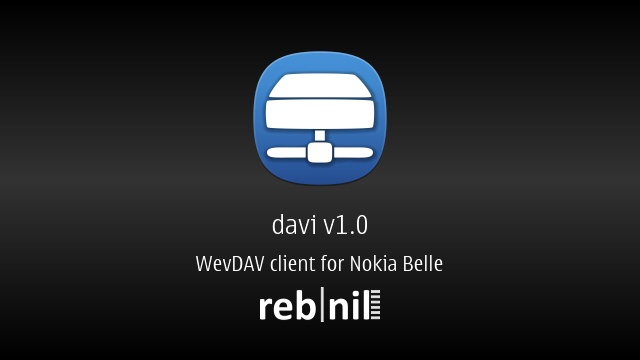 When you first run Davi, you're invited to create a password to encrypt all of your WebDAV account details. Given the far reaching range of services and data Davi could have access to, this is a great touch that is overlooked on many similar types of application (e.g. Dropbox apps).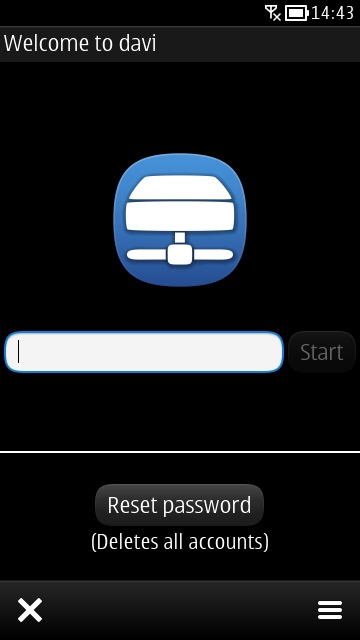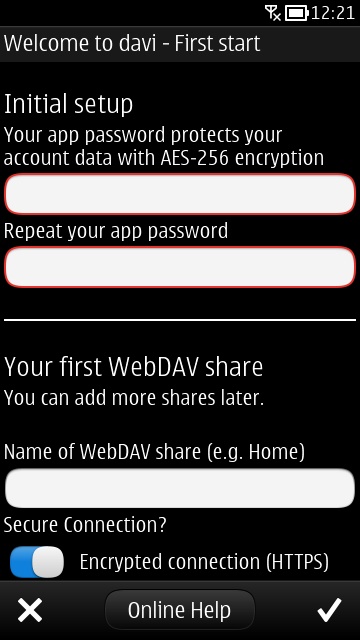 Starting Davi and setting a password
Once the security is taken care of, you can start adding your WebDAV shares, which is as straightforward as such a process can be. Once they're set up, a long press enables you to edit or delete them. Configuration options include whether to use HTTP or HTTPS, which local folder to download files to, and the initial path to start at.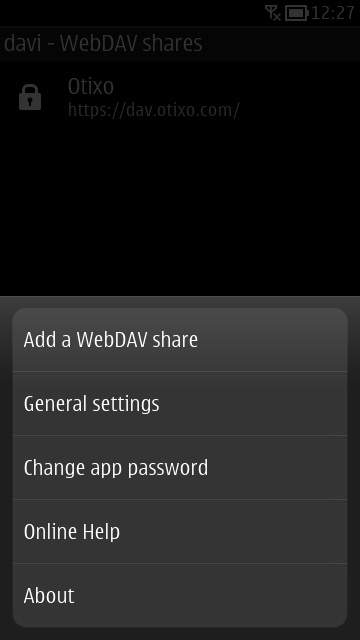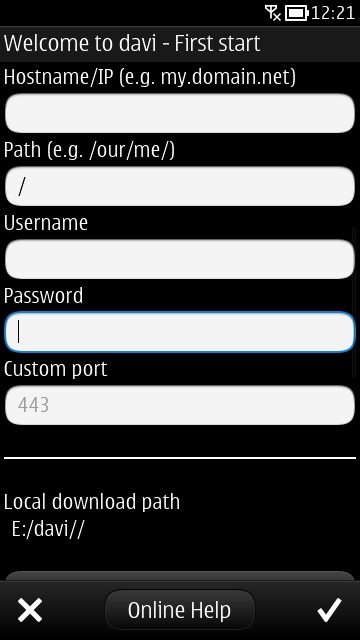 WebDAV settings
Once into a WebDAV share, Davi provides an experience that's as good, if not better than, using the local File Manager app. Of course, there's a slight delay due to network connectivity, but there's certainly no discernible performance bottleneck within the application itself.
The application is set up to allow for immediately selecting multiple files, and a long press allows you to mark/unmark all. This makes a nice change from having to switch into marking mode. All of the file management options you'd want to have are there: rename, copy, move, delete, and create folders, etc.; plus you can grab the public URL of each file too.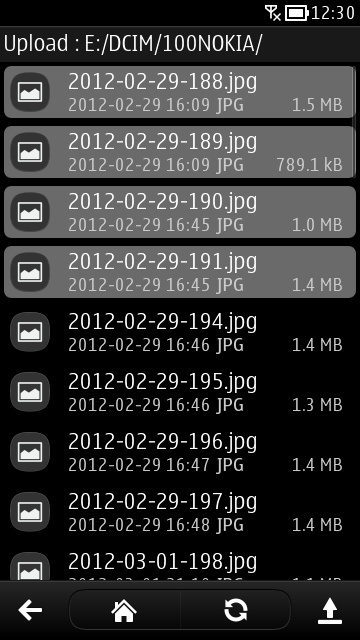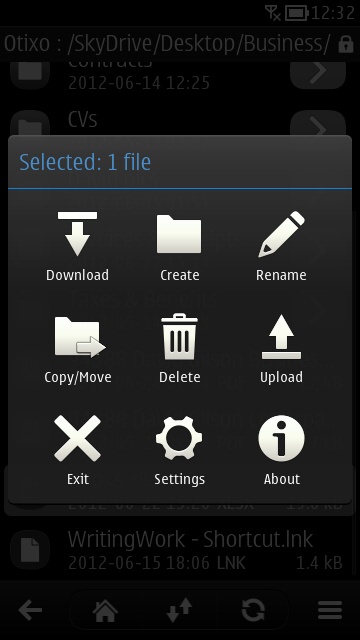 Selecting multiple files and file management options
Unusually for this class of application, you can even act on whole directories, and this includes uploading to, and downloading from, your phone. To complement this, there's a transfers list where you can view the current activity – and the settings menu even lets you tweak how many simultaneous transfers are allowed.
In practical use, I thought that Davi would have benefitted from a gallery view to allow easier selection of images for uploading. Apart from that, I liked the user interface so much, that I wished I could have used it for local file management too. For example, it even uses slim bar charts to indicate how full each of your local drives are while you are navigating to a file to upload.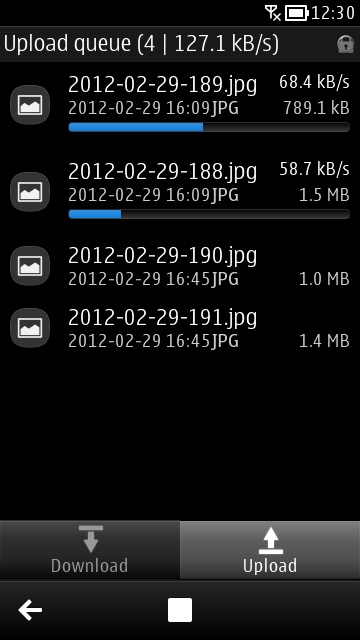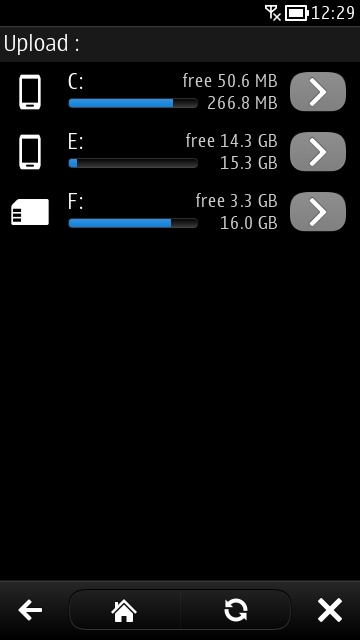 Watching file transfers and selecting from local drives
Davi could be the ideal remote file access client when combined with Otixo – potentially replacing all other Symbian cloud storage applications. However, there still are a few bugs to work out both on the application and (mostly) on the Otixo service.
You can get Davi in the Nokia Store for £3.00, and sign up with Otixo for free.
Reviewed by David Gilson at