Review:
BuBue Book Reader
Score:
57%
Reading e-books on Symbian is still something that is not well catered for. We'd love to see a Kindle application be released, but as time goes on that looks less and less likely. Therefore, we need an alternative for getting e-books onto our Symbian handsets. The current standard format for e-books is ePub. Fortunately, we have BuBue Book Reader for Symbian, a free ePub viewer. Read on to find out whether BuBue is smarter than the average book reader!
Version Reviewed: 1.20(7)
Bubue Book Reader will read UMD and ePub e-book formats, along with text files. If you read my review of Gutenberg, you'll know where to find thousands of public domain ePub files.
The front page of the application is represented as a library view, with graphical representations of each file that has been added to to the application. Immediately, some rough edges start to appear …
I'd have liked to have seen auto scanning for e-book files, to save users having to navigate through their phone's file system. Then, I'd like to have seen some intelligent interpretation of the book title as a means of finding cover art. Instead, we have identical scruffy blank yellow book covers for each file, just showing the filename. The background of the library looks like some very primitive wood effect. Overall, it gets the job done, but the aesthetic effects are unconvincing.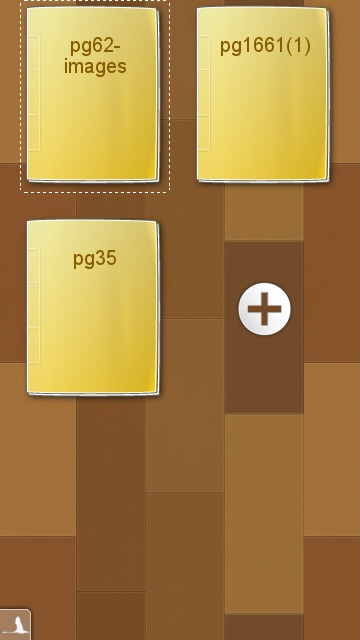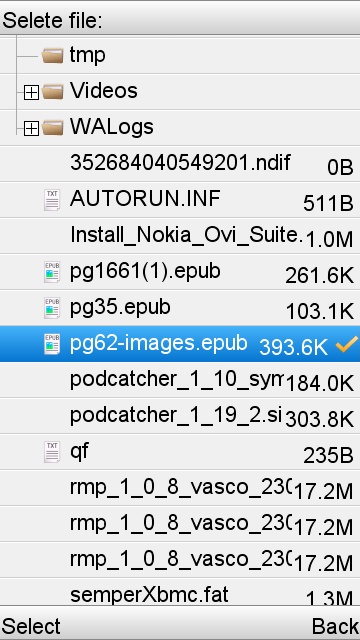 BuBue Book Reader's library view and file selector
Once you open a book, things get more interesting. The books are displayed with a pale yellow background and dark brown text. This is a colour combination that I find easy to read, but I wonder if some people with Dyslexia or colour blindness might find the combination difficult to read. There should be choices, something similar to the Kindle application, where you can choose between black on white, brown on yellow, or grey on black. Three options are still limiting, but it would give some flexibility. Also, having an option for a black background would be much more battery friendly to devices with AMOLED screens.
Pages can be turned by tapping either side of the screen or swiping. When performing the latter gesture, you are treated to a visual effect of the page curling over, an effect that might be familiar to iPad users. BuBue Book Reader also displays embedded images. However, I found it became unstable when trying to load even a small grey scale image.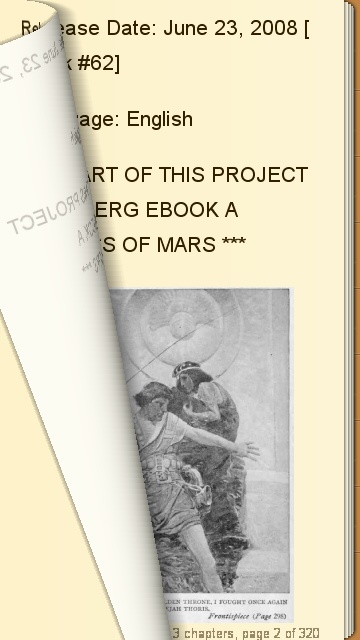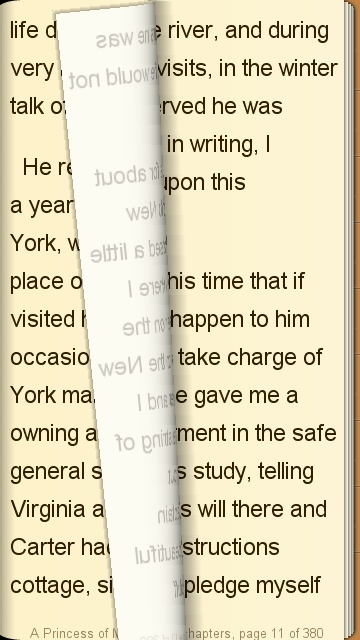 BuBue Book Reader's colour scheme, dynamic page turning effect and embedded image support
Tapping in the middle of the screen brings up the application menu, from which you can call the chapter list, change font size, return to the library or quit the application. There is also an option to jump to another location in the book. This takes the form of a slider, which is a pleasing way to skip to another page. There are also + and - buttons for fine tuning the slider.
There is no bookmarking ability in Bubue Book Reader. It does remember the last page you viewed though, which will be enough in most cases. However, if you want to make a note of several locations, you'll have to save the page numbers in another application and use the Jump facility to navigate to them.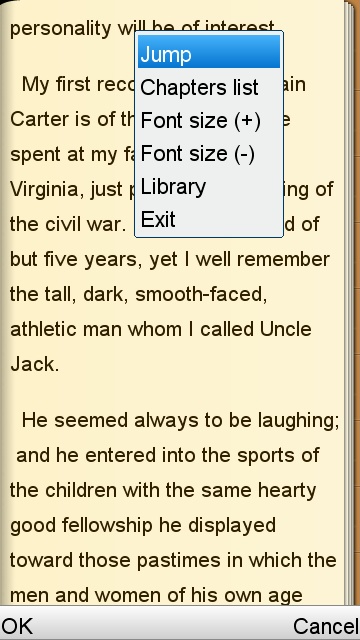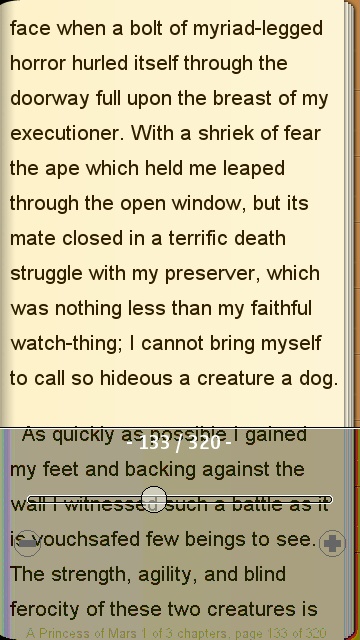 The application menu and the page slider
Bubue Book Reader is far from perfect, but it is available for free in the Nokia Store. If you're just starting to dabble with e-book reading on your Symbian device, and have some DRM free ePub files, then this is a good way to start experimenting. There is at least one paid for alternative, which I'll be reviewing soon, so watch this space!
David Gilson for All About Symbian, 15 October 2011
Reviewed by David Gilson at