Nokia believe that Comes with Music will transform the way people discover music and note that 'by removing the finanical barrier to music exploration, Comes with Music benefits consumers, artists and the music industry alike'. Nokia says Comes with Music is a 'revolutionary new digital entertainment service', pointing out that people are more likely to try out music recommendations in a spontaneous and natural way because it removes any cost worries.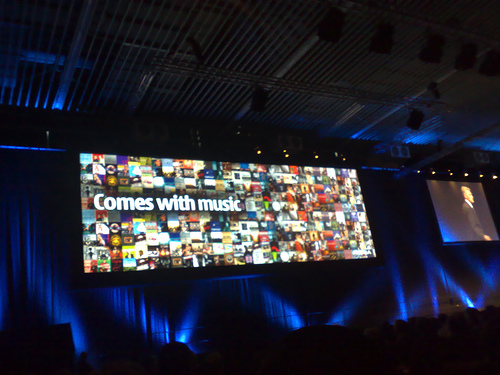 Key points about the service
Nokia have signed up the four big music labels (Universal, Sony BMG, Warner and EMI) and a number of prominent indie labels (we'll try and bring you a full list of these in due course). In the Nokia Music store this translates to millions of tracks being available for 'free' download.

The services use the WMA (Windows Media Audio) format and is protected by Windows Media DRM.

After the first year you keep any music that you have already downloaded. Nokia hopes you'll buy a new Comes with Music device, but, as an alternative, you can continue to add to your collection via one off purchases (currently 80p in the UK store).

The rights for the music will reside on one PC/mobile device at any one time. For the first 12 months music must reside with the original Comes with Music device/PC.

After the first year you will be able to transfer a Comes with Music library to a new PC or device once every 3 months.

You will have to purchase an additional license in order to be able burn Comes with Music downloads to a CD. However, it is worth bearing in mind there is wide support for auxillary input among home audio systems; this means you can connect to these using a standard audio cable from the phones 3.5mm audio output (the TV-Out cable included with the N95 8GB and 5800 would work for this, or just use a standard 3.5mm male to 3.5mm male cable if appropriate).

Comes with Music will launch first in the United Kingdom. Other countries will follow and we can expect to hear more about these in the next few days at sister events to Nokia Remix London.

Comes with Music will be available first on the Nokia 5310 XpressMusic, the Nokia N95 8GB and Nokia 5800 Xpress music will follow next, with more to come in the future. Comes with Music will be available on both mass market devices and high end Nseries devices.

At this time the Comes with Music service will only be available with new device purchases.

There will be a voucher inside Comes with Music devices which activates the service through the Nokia Music Store. This gives one year's access (downloads) to millions of tracks available through the store.
Ewan's got some thoughts on the Comes With Music as well and what he thinks the reaction will be on the internet, so head on over and decide who's right... Nokia, the nay-sayers, or someone in-between.