The E71 is the third QWERTY thumb-keyboard Eseries device (following on from the E61 and E61i). It replaces both the E61i and, to a lesser extent, the E70. It also a possible upgrade for E50 or E60 users.
It clearly positioned to be an email and communication device, but also has strong voice, personal information management and multimedia features.
You can read our full in-depth review of the Nokia E71. Steve has spent many days getting to know the ins and outs of the E71 and presents his findings on the hardware, software changes and much more.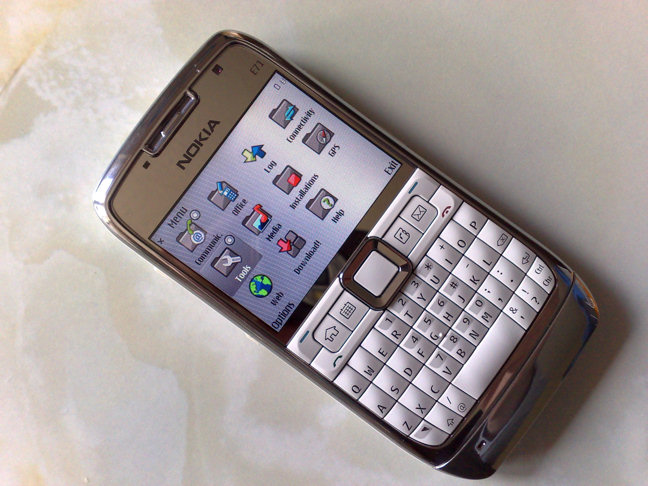 Key points about the phone
It has a slate(ish) with QWERTY thumb keyboard form factor, with dimensions of of 112 x 57 x 10 mm and weighs 120g. As such it is noticeable thinner, narrower and lighter than its predecessor the E61i (117 x 70 x 13.9 mm at 150g). Indeed the E71 is only 4mm wider than the N95 (99 x 53 x 21 mm).


Despite a reduced size you'll find text entry speeds on the E71 similar to than of the E61i. There are 37 keys making up the keyboard (outside the control cluster). This is two less than the E61i (no Ctrl key and one instead of two shift keys).


On the rear of the device there's a 3.2 megapixel auto-focus camera with accompanying LED flash. There's the usual VGA camera on the front for video calls. There's the standard S60 3.1 Gallery application, but it is accompanied by the Share Online application.


The E71 has a integrated GPS with support for Assisted GPS. The phone ships with Nokia Maps 2.0 for car and pedestrian navigation. As usual voice guided navigation is a premium add-on, though some retail variants will likely come with a few months navigation for free.


There are three One Touch keys (deafulting to Messaging, Contacts and Calendar) which are user customisable for both a single press and for a long press.


There is an integrated FM Radio. There Music player application integrates Podcasting into its menu and is similar to that found on S60 3.1 Nseries devices.


The E71 is powered by a 1500 mAh battery, the same one as in the E90 and E61i which should given excellent operation times.

The E71 is well served in the connectivity department with quadband GSM (850/900/1800/1900), dual band WCDMA (900/2100) with HSDPA (3.5G) cellular radios. There's also WiFi connectivity, Bluetooth (including A2DP and AVRCP), Infrared, a microUSB port and 2.55mm headset jack.


A US version, the E71-2, with support for AT&T 3G bands (850/1900) has passed through the FCC. There may also be a version for T-Mobile (1900/2100).


It runs Symbian S60 3rd Edition Feature Pack 1 on Symbian OS 9.2, also known as S60 3.1. However tweaks have been made to both the Contacts and Calendar applications (see the review for more details).

The idle screen supports smart dialing - start typing a name using the QWERTY keyboard and a matching list from your contacts appears. The idle / home screen is also highly customisable through a variety of plug-ins and the Switch mode application which allows you to easily swap between differently configured idle screens. See the review for more detail.


The internal and external memory can be encrypted to protect sensitive data using the in-built encryption application. Other enterprise features of note include multiple push email solutions (Intellisync, Exchange, Visto, SEVEN), VPN support and Intranet application, VoIP support (SIP and Internet Telephone application), Quickoffice 4.1 (edit version), Kernerman's Dictionary and improved remote device management.

The E71 ships today. It should become widely available in the next month or so. There are two colour variants: white and black. In the box it will ship with an AC5 charger, CA-101 USB cable, HS-47 stereo headset, a wrist strap and cover pouch.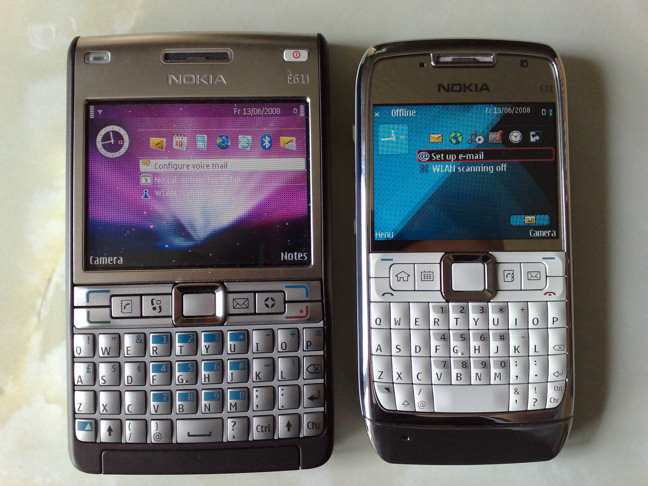 Read more in the E71 review.