The news comes via a post on Nokia Conversations, but we have confirmed the details with a Nokia spokesperson. The naming change is aimed at making things clearer for consumers by clearly distinguishing between the operating system and the user interface.
This seems sensible, given Nokia's commitment to deliver additional software updates in 2012. The advent of the named software updates for Symbian devices (Anna, Belle, C...) effectively decoupled the user interface updates from operating system updates.
It may also make it easier for Nokia to market the devices; despite being the pioneering smartphone platform the Symbian brand was never very well known amongst general consumers, especially when compared to the Nokia brand. It is also not unreasonable to argue that the Symbian brand, where it is known, may have damaged by the poor overall performance of Nokia's smartphone business in the last few years.
Nokia Belle is already being used on the most recent Symbian devices including the Nokia 700, Nokia 701 and Nokia 603. It will also be available, via a software update, for the Nokia N8, Nokia C7, Nokia C6-01, Nokia E6, Nokia E7 and Nokia 500 early next year.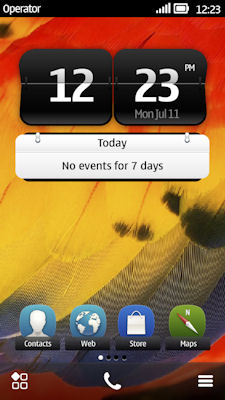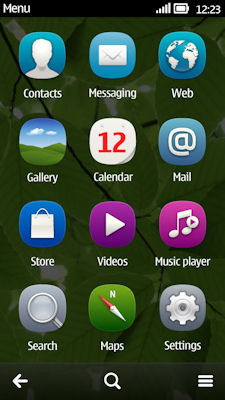 Updated homescreen, app launcher and new notification pull-down
Key features of Nokia Belle
Fresh new user interface that 'delivers what you need, when you need it'.

Updated homescreen now supports up to six pages.

Widgets now come in five different sizes and allow a greater degree of interactivity (e.g. scrolling through new email and enhanced music controls). Many of the standard widgets have been updated to match the new look and feel and to take advantage of the flexible sizes. New 'toggle' widgets allow you to quickly switch Bluetooth on or off, or change profiles.

New drop-down menu to access notifications and system status information. The drop down menu is accessed by swiping down from the top of the screen and is available at any time.

Updated application launcher, with 'add to homescreen' option and easier organisation of applications. By default, all applications appear in the top level, although it is still possible to create folders and add applications to them.

The status bar at the top of the screen is thinner and has redesigned status icons.

The bottom softkeys and (optional) bottom toolbar are replaced with a single toolbar comprising up to four icons (Back/Exit, Custom 1, Custom 2, and Menu). This gives the UI a flatter hierarchy (less use of menus), with more direct interaction (single touches to access functionality).

New lock screen, with information about missed call, messages and emails shown on the lock screen, allowing you to see more information at a glance. The lockscreen now also supports customisable wallpaper.

Visual multi-tasking is updated and now uses larger live images of open apps, making better use of available screen space.

Application updates, including Web (improved access to multiple windows/tabs).

New software updater, which automatically checks for updates and streamlines the software update process.

Improved NFC functionality, including: tap and share (share images, videos and contacts), tap and pair (pair Bluetooth accessories through a simple tap), tap and access (read tags to find information) and tap to play (unlock new levels on NFC enabled games).

Developers can use Qt Quick Components for Symbian to give their applications the standard Belle UI look and feel. Belle ships with Qt 4.7.4 and Qt Mobility 1.2.