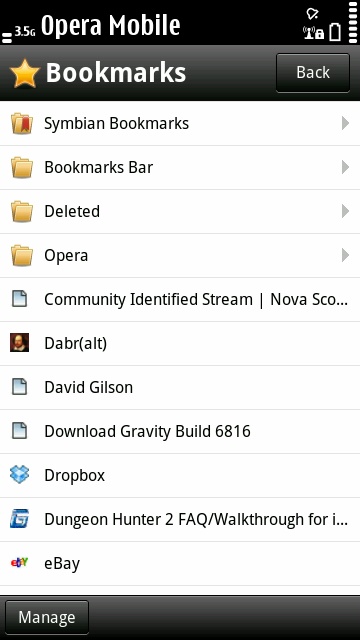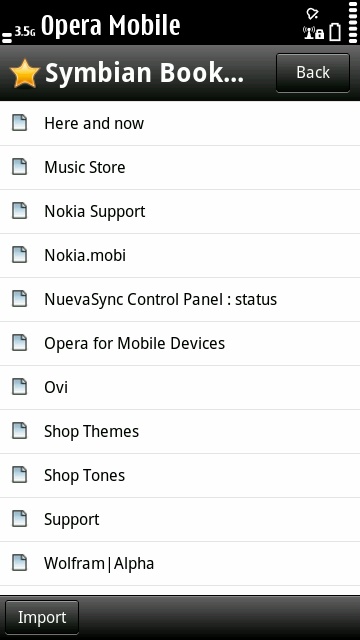 Accessing Symbian bookmarks in Opera Mobile 11.5.
As you can see from the screenshots, the Symbian Belle status bar is now supported too.
Opera Mobile has been given more granular control over when to use Opera Turbo, the company's proxy acceleration service. Rather than a simple on or off, there is now an option to set it for use only when on a cellular data connection.
In addition to the support for Symbian bookmarks, the URL bar now has a star icon, similar to several desktop browsers. This will speed up the process of saving of bookmarks. Given the release of Opera Link for Windows Phone, users now have a PC and Bluetooth independent migration path for their bookmarks, if they choose to get a Windows Phone device.
You can read more from the following links: Opera Mobile 11.5 (Symbian), Opera Mini 6.5 (Symbian), and Opera Mobile 11.5 (MeeGo).
The changelogs from these posts are provided below for your convenience:
Opera Mobile core 2.9.201 change log

ECMAScript 5.1, including strict mode
Optimized memory consumption of JS engine
HTML5 microdata
New IDNA specification implemented
Network performance improvements
CSS 2.1 compliant display:list-item
SVG optimizations
Support the intermediate state for Checkboxes

Opera Mobile 11.5 S60: change log

Added Data Usage view
Added star bookmark in URL
Added support for system bookmarks
Added support for Symbian Status Bar, Notification Bar
Added new Turbo setting (disabled on wifi but enabled on cellular network)
Added support for cache on mass storage/SD card on selected devices
Improved youtube/RealPlayer integration
Improved localization for more languages
Device-specific improvements and fixes
Fixed various stability and performance issues
Core update 2.9.201

Opera Mini 6.5 S60: change log


Added Data Usage view

Added star bookmark in URL

Added crash logger*

Added support for system bookmarks

Added support for Symbian Status Bar, Notification Bar*

Added protocol setting in advanced options

Added share pages through emailImproved compression with WebP instead of JPEG images*

Improved localization for more languages

Fixed various stability and performance issues

*Not Supported on Symbian S60 2nd edition
David Gilson for All About Symbian, 02 November 2011