Software on the phone allows you to control the DAB radio; features include the ability to choose and save stations, view track information, and show pictures (where supported by the broadcaster). A smart tuning feature means that the clearest option will be chosen when a station is available on two or more frequencies (especially useful where there are multiple multiplexes available).
Although the headset is supplied with a set of earphones, you can also use your own, providing they have a 3.5 mm jack (a welcome feature given the audio quality of DAB radio). The headset can also function as a stereo music headset and standard phone headset (calls) and includes both calling, volume and music controls.
In style terms the headset is a sister accessory to the Nokia DVB-H Headset, which was announced in September. Both accessories are good examples of how USB OTG technology can be used to enhance the software and hardware features available on a phone.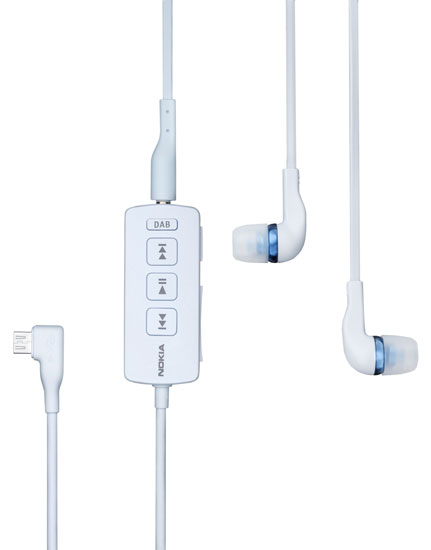 Key points
Dimensions: 55 x 23 x 14.5 mm

Weight: 30.5 g

Supports both DAB and DAB+

Connects via microUSB port, uses USB OTG technology

3.5 mm audio jack, music controls, volume controls microphone and call controls.

From the press release
The Nokia Digital Radio Headset is a breakthrough for Digital Radio in the UK, enabling listeners to enjoy their favourite DAB radio stations while on the go. With the many popular national radio stations plus a growing number of exclusively digital stations it's the future of UK radio. Love music? There's BBC Radio 6 and Radio 1 Extra, Absolute Radio Extra and Absolute Radio 80s and much more. Love sport? Then BBC Radio 5 Live Sports Extra offers coverage of a wide range of sporting events including Premier League and Championship football as well as the Ashes Cricket tour this Winter.

Mark Selby, Vice President, Industry Collaborations at Nokia comments: "Over 90% of UK adults listen to the radio weekly and 24.6% listen via a digital platform. Listeners are enjoying the range of channels, exclusive content and quality of digital radio. The Nokia Digital Headset now makes DAB listening possible on your mobile. Pedestrians and drivers can use the free navigation on their N8 and listen to their favourite DAB station. The Nokia Digital Headset is a great addition to the already feature-packed N8 and C7 smartphones."

Ford Ennals, Chief Executive of Digital Radio UK, said: "There is now real momentum in the transition to digital radio and the launch of the Nokia Digital Radio Headset is a real consumer milestone, delivering full DAB digital radio services and functionality in a mobile phone for the first time".

DAB Radio
Countries with regular DAB service include Australia, Belgium, China, Croatia, Denmark, Germany, Malta, Monaco, Netherlands, Norway, Singapore, South Korea, Spain, Switzerland, Taiwan, Republic of China, United Kingdom and their are trials going on a many other countries. The number of stations available in each country (and different parts of the country vary greatly). London, for example, has over 50 digital radio stations available, but other parts of the UK receives less than 20.
The UK is the leading DAB market with more than 250 different stations spread over the country. Sales of DAB radio units now outnumber than of FM radio, thanks, in part, to government subsidies. Around 25% of radio listening in the UK is via DAB. Nokia say that OFCOM estimates that 19% of radio listening takes place in the car, but only 1% of cars have DAB radio. Nokia clearly sees a market opportunity in those statistics.