Key points
Download music, from pay-per-track store, in MP3 format (256 kbps bit-rate).

Re-download previously purchased DRM protected music in DRM-free MP3 format.

Ovi Music Unlimited (previously Comes with Music) continues to be DRM protected.

Ovi account for sign in, shares credit cards details with Ovi Store (Ovi Payments platform).

Access, purchase and download using Ovi Music web site, Ovi Player PC client or Ovi Music client on mobile device.

Ovi Music website is now accessible by most browser on most platforms (adds Firefox, Chrome and Mac support).

Ovi Music DRM-free in detail
All music files are available as 256 kbps MP3 files and can be downloaded through the Ovi Music website, Ovi Player (Nokia's Windows PC client) or the Ovi Music mobile client (present on all recent Nokia Symbian-powered phones). Previously downloads were provided in a DRM-restricted WMA format.
If you have previously purchased music from the Nokia Music store you will be able to re-download it in DRM-free (switching from WMA to MP3 format in the process).
DRM remains in place for music downloaded using the all-you-eat Ovi Music Unlimited service (previously known as Comes with Music). This seems unlikely to change in the short term, due to the economics of subscription-based services. However, removing DRM from the pay-per-track version of the store makes it much more attractive to music consumers, who have become increasingly savvy about the options available to them.
With the DRM removal Nokia is now providing a music service comparable with its main competitors. Nokia's scale advantage, with its Music client pre-installed in tens (if not hundreds) of millions of phones, now has a real chance to make a significant impact.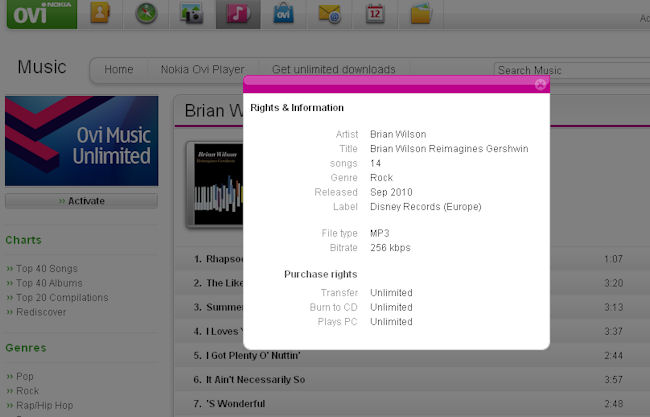 Nokia Music to Ovi Music
As we mentioned, a few weeks ago, as part of the change the service switches from Nokia Music to Ovi Music branding. Ovi Music is now available in 35 countries including Australia, Austria, Brazil, China, Finland, France, Germany, India, Italy, Ireland, Mexico, Netherlands, Norway, Portugal, Singapore, South Africa, Spain, Sweden, Switzerland, United Kingdom and United Arab Emirates. More countries are expected to launch shortly.
With the switch from Nokia Music to Ovi Music comes a design refresh and a switch to the standard Ovi/Nokia account for sign-ins. Current Nokia Music users will receive an email with details of their converted account.
A key benefit of the new design is a move away from the proprietary technology for handling downloads. Flash is used for some elements on the site, but in general the web version of the store should support a greater number of browsers (e.g. Firefox and Chrome) and additional platforms. The smoothest user experience (automatic downloads, device sync, and more) is provided by the Ovi Player Windows client. While this is a relatively resource-hungry program, it has been greatly improved in the last few iterations.
One of the benefits of using the Ovi account system is that credit card details can be shared between Ovi services. This means that, if you have used your credit card for purchasing Ovi Store content, you will not have to enter it again to buy tracks from Ovi Music. This type of seamless integration and account management makes for a much better user experience.

Ovi Music on your phone
With the change to Ovi Music comes a refreshed version of the mobile Ovi Music store. The application is usually found in the Music/Entertainment folder, but can also be accessed from within the Music application. In the screenshots below you see the home page of the store, a typical album listing and a rights and information screen (note that the file type is now MP3, a generic move that means that music files are now twice the size they were back when WMA format was used - but there are obvious advantages in terms of compatibility with devices from lots of manufacturers).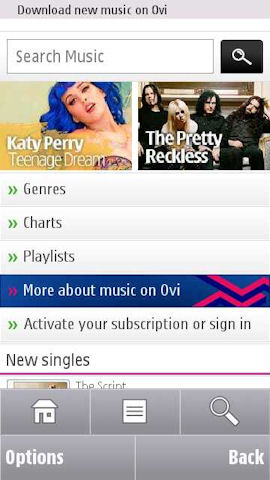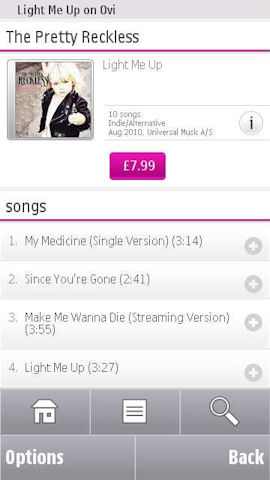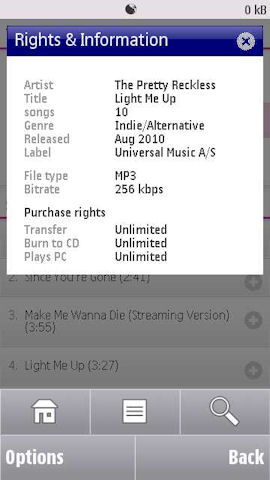 The screenshots below show the typical process for making a music purchase. Once a track or album has been purchased, it will be automatically downloaded and add to the phone's music library.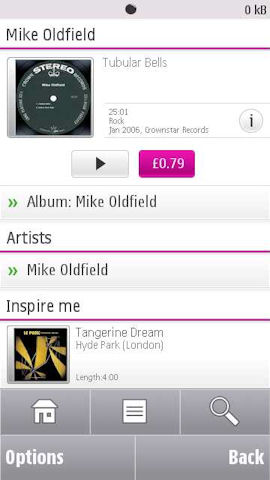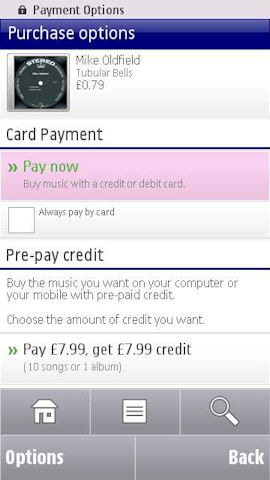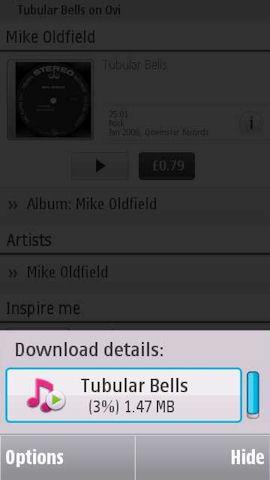 You are also able to access a download history, through which you can download previous purchases (e.g. bought on another phone, or on the (desktop) web version of the store).

Ovi Player
Ovi Player is Nokia's PC Music client, which plays a similar role to Microsoft's Zune Software or Apple's iTunes. It has two main sections/tabs: My Music and Ovi Music.
The My Music section collates all the music on a PC into a single library, includes CD ripping functionality and is used to sync music to Nokia devices.
The Ovi Music section provides access to the Ovi Music Store. It is web-based, but tightly integrates with the My Music section of the client so that purchases are automatically downloaded and added to the music library.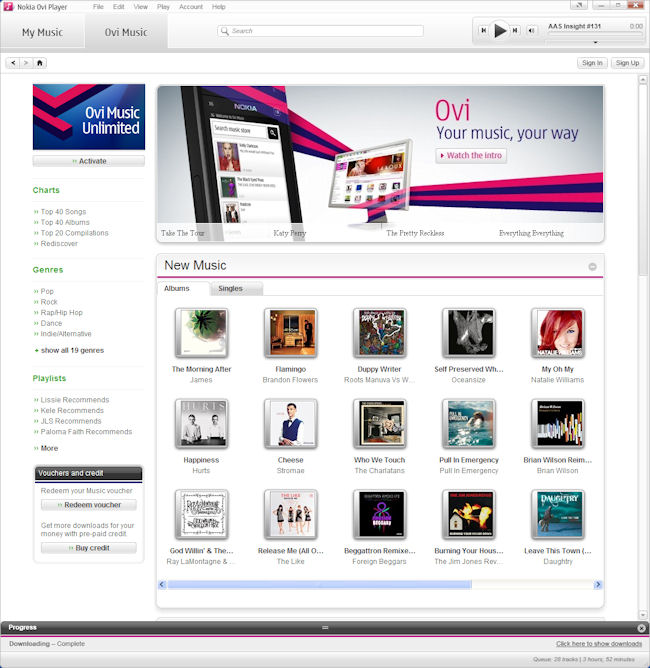 Ovi Music Store on the web
The Ovi Music Store is also available in most browsers. The design and functionality is similar to the store portion of Ovi Player, but downloads must be started and filed manually. However, as we noted above, the web version supports a wider range of platforms and browsers.